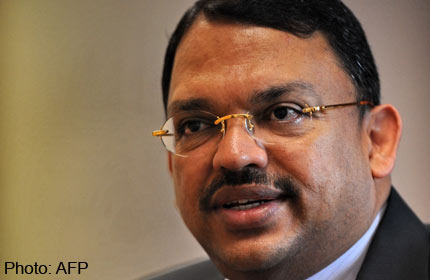 CHICAGO/NEW YORK - Bonds of Olam International Ltd are approaching levels considered "distressed" after research firm Muddy Waters LLC likened the world's second-largest rice trader to Enron Corp and said it is likely to fail.
Olam's unrated US$500 million of 5.75 per cent, five-year notes issued at par in September have tumbled to 85.059 cents on the dollar to yield 9.716 per cent as of 5.02pm in Singapore, according to prices compiled by Bloomberg.
Muddy Waters, founded by short-seller Carson Block, rated Singapore-based Olam a strong sell in a 133-page report published on Tuesday, saying the company will need to raise or refinance as much as S$4.6 billion of debt over the next year to remain solvent.
But Olam said yesterday that it faces no risk of insolvency and the allegations are "false and misleading".
"There is just a lot of uncertainty around the name and I think right now simply nobody knows whether Olam or Muddy Waters is right," Markus Bossard, a money manager at Mirante Fund Management SA, said in Zurich. The firm oversees about US$440 million in its funds, including Olam's debt.
Bonds yielding 10 per centage points or more over US benchmarks are considered distressed; five-year Treasuries yield 0.64 per cent.
The yield on Olam's bonds are closer to the 11.2 per cent average for debt rated CCC than the 6.36 per cent for securities graded one tier higher at B, according to Bank of America Merrill Lynch indexes.
Average yields on junk-rated notes, ranked below Baa3 by Moody's Investors Service and lower than BBB- at Standard & Poor's, are 7.04 per cent, after reaching an all-time low of 6.84 per cent on Oct 18, according to the Bank of America Merrill Lynch US High Yield Master II index.
Briony Mathieson, an Olam spokeswoman, declined to comment on the company's bond performance.
Mr Block first publicly questioned Olam's accounting methods on Nov 19.
He told an investment conference in London that he had "shorted" the company's stock, seeking to profit by selling borrowed shares now and buying them back later at a lower price.
The 5.75 per cent notes dropped 7.2 cents to 89.8 cents on the dollar on Nov 20, Bloomberg prices show.
"We will continue to vigourously defend the reputation of the company," Olam said yesterday in its 45-page response to Muddy Waters.
"We believe that the report's assertions are motivated to distract and create panic amongst our continuing shareholders, bond holders and creditors, to enable Carson Block and his associates to benefit from their short positions in Olam securities."
Muddy Waters' claim that Olam makes acquisitions for the purpose of boosting profits with non-cash accounting gains "could not be further from the truth", the company said yesterday.
"In the past few years, Olam saw an opportunity post the global financial crisis of acting counter-cyclically and acquiring assets and businesses at a deep discount to their fair value."
The company has the capacity to meet its debt obligations of S$1.5 billion in the next 12 months, in addition to its planned spending, Olam said yesterday.
"We also have the option of phasing out some of our fixed capital investments if the debt markets completely dry up for some reason."