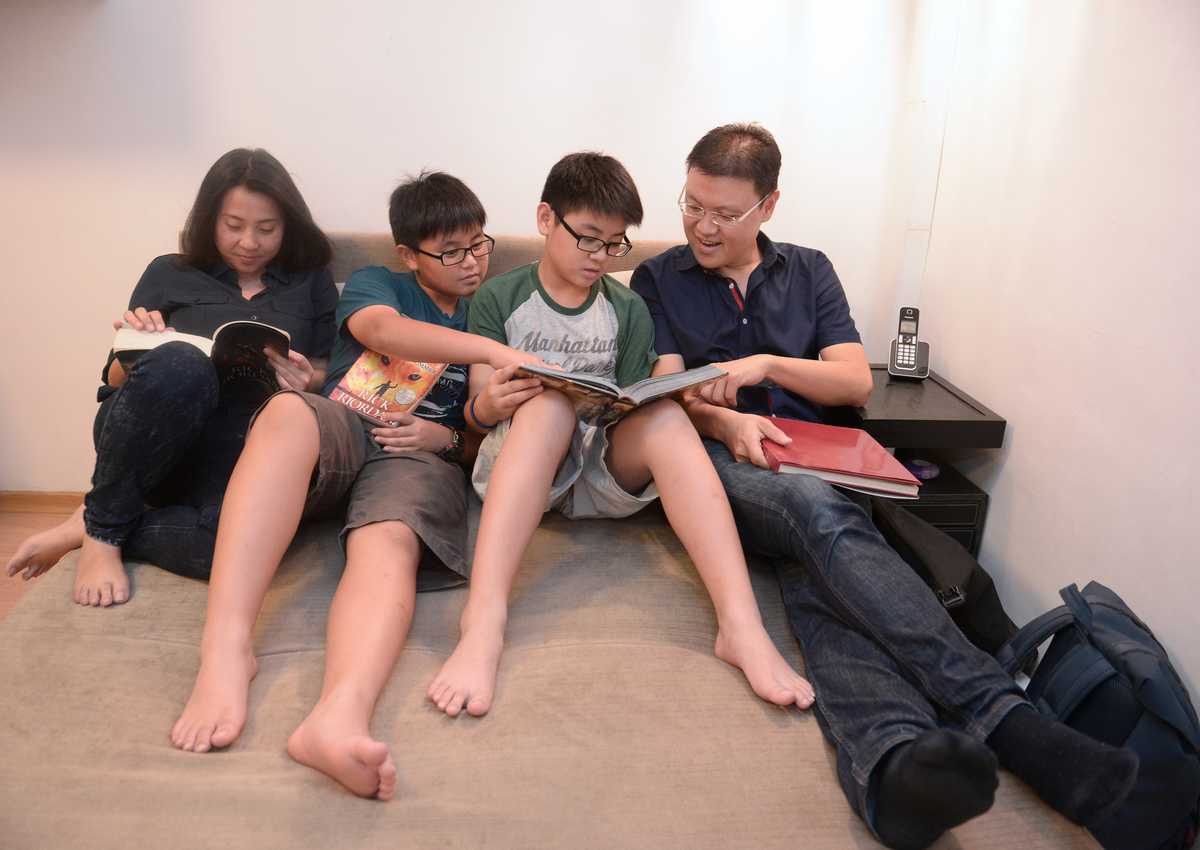 By reading to or with older kids, parents can provide perspective and make language fun
By reading to or with older kids, parents can provide perspective and make language fun
Many parents now know the benefits of reading to their young children, not least of which is that it promotes literacy in the little ones.
Here is something else parents are encouraged to do: They should continue to read to their children even after the kids can read on their own.
Reading to children beyond their pre-school years is one of the best gifts parents can give to their kids, says storytelling trainer Sheila Wee.
"It is a form of bonding and shows children that parents are willing to invest their time in them. For teenagers who tend to want to retreat into their own space, it is good to create as many 'touch points' as possible between the parent and child, and reading to children or reading the same books as them is one of the best ways of doing so," says Mrs Wee, founder of storytelling company Storywise, which runs story reading and storytelling courses.
This has been the experience of businessman Yeo Chuan Hong, who reads to his two sons, aged 13 and 11, every weeknight.
His younger son Nicholas says he and his brother Noah enjoy interacting with their dad during the sessions: "We can ask him questions any time and he would do the same."
Mr Yeo, 43, adds: "It's a good bonding time. It's not so much the content, but the interaction we have. They share their views about things. For instance, when I read John Maxwell's Failing Forward to them, they shared with me their fear about failing in school."
He started the nightly ritual a few years ago when Noah asked him to read the story of Exodus in the Bible.
"Noah was interested in the action-packed story, but couldn't understand some words," says Mr Yeo.
"My wife used to read to them when they were younger and they already know how to read, but there are still some words which they cannot understand and general knowledge which they lack."
Since then, he has also introduced self-help books that he reads, such as Stephen Covey's 7 Habits Of Highly Effective People, to his sons.
In the United Kingdom, research released last month by BookTrust, the largest reading charity in the territory, shows that the frequency of parents reading to their kids begins to tail off sharply around the age of seven. While 86 per cent of parents read to their five-year-old, nightly or every other night, the number slips to 38 per cent when the child turns 11.
Similar Singapore studies do not appear to be available. But it is not difficult to find parents here who stop their reading sessions after their children can read on their own.
Civil servant Regina Cheang, 52, stopped reading to her daughters, now aged 27 and 25, when they were about six or seven.
She recalls: "They were able to read independently. When I came home from work late sometimes, they had finished reading the books. They also seemed to prefer to read at their own pace."
In contrast, human resources operation executive Lalinee Seshaa Chandrasegar, 27, says she and her mother have shared a love of thrillers and crime romance fiction since she was in secondary school and that has helped bond them.
"Our conversation around books has made it easier for me to talk to my mum about almost any other thing in my life, including my work, likes and dislikes."
Some of their favourite authors are Jeffrey Archer and J.D. Robb. Her mother, an avid reader of crime fiction, had introduced her to these books when she was in secondary school.
Mr Robert Playfair, head of secondary courses at the British Council, says that when parents read to or with their older children, they can supply the general knowledge to help in understanding the text.
For instance, he says a newspaper story about American presidential candidate Donald Trump wanting to build a wall along the Mexican border requires the child to know who Mr Trump is, what a border is, where Mexico is and reasons for and against building such a wall.
"When parents provide children with this information, they help them comprehend the text more, leading to greater enjoyment," says Mr Playfair. "Doing this regularly helps build children's general knowledge. This helps them in comprehension and composition at schooland shows that learning language can be fun."
He advises parents not to judge what their children choose to read. "It is better to read anything enthusiastically rather than do so reluctantly. Once your child has caught the reading bug, you can offer him what you consider to be more suitable reading choices."
Another tip is to leverage on their school. "Each day, your child could be reading up to five new texts: historical accounts, a play, a description of a scientific discovery. Ask him which he enjoys most and struggles with. Perhaps with the help of your perspective, he will understand it better and find future lessons more accessible."
Doing this has benefited the three children of Madam Foo Chek Chiang, 55. For more than 10 years, she and her husband have been taking newspapers and magazines to the dining table to share stories they have read with their daughters.
Her eldest, Shirleen, 25, is a lawyer; second daughter Suleen, 19, a medical student; and youngest, Mayleen, 15, a Secondary 3 student.
Suleen says: "We would discuss an issue and voice our opinion. It really helps hone our communication and language skills."
Madam Foo has introduced books she loved, such as the mystery novels by Agatha Christie, to her daughters. She has also read the Harry Potter series because her older children were caught up in the craze more than 10 years ago.
She says: "I wanted to get clued in on what interests them."

This article was first published on Oct 2, 2016.
Get a copy of The Straits Times or go to straitstimes.com for more stories.