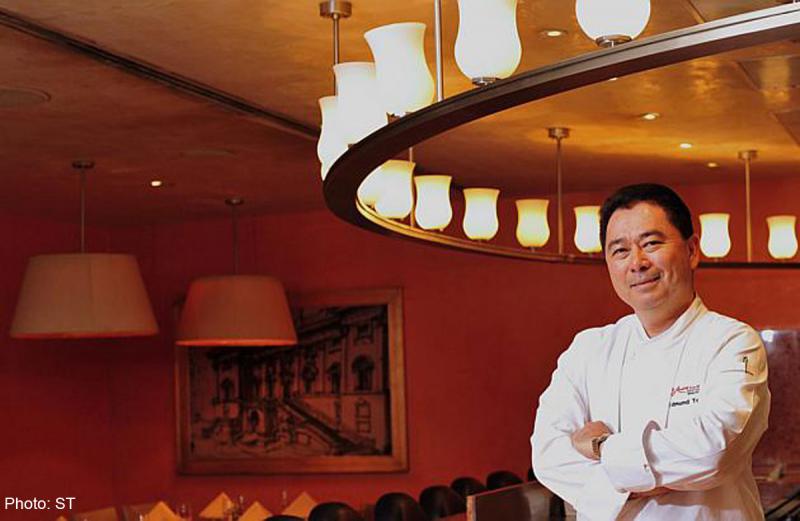 Mr Edmund Toh flunked his O-level exams in 1976, passing only two of five subjects.
A neighbour took pity on him and found him a job cleaning pots and cutting potatoes for chefs at the former Ming Court Hotel on Orchard Road for a few hundred dollars a month.
"It was not my first choice job, but I was 16 years old without O levels, so I didn't have much choice," he said. "It was the lowest job in the kitchen. I was a kitchen porter and everyone ordered me around."
Today, the 53-year-old runs Singapore's largest banquet kitchen at Resorts World Sentosa (RWS), heading a crew of 600 chefs and cooks.
The head chef drives a Lexus and is responsible for whipping up some 35,000 meals daily for casino gamblers and visitors to Universal Studios. He takes home a "five-figure" monthly salary.
Mr Toh says budding chefs today have it easier than he did, with structured training programmes, including overseas stints. Last month, the pioneer batch of 19 Institute of Technical Education culinary students graduated with a technical diploma and all had job attachments in France, including at Michelin star restaurants.
In contrast, Mr Toh's formal training started four years after he began working as kitchen help. In 1981, the then 21-year-old enrolled in hospitality and culinary school Shatec after completing his national service. He was one of 20 pioneer students at the school and the only one who was Chinese-educated.
One of his biggest headaches was having to learn French, so he came up with his own short cuts. One word that he struggled was "garde manger", or cold kitchen.
"The spelling looks like garden manager, that is how I memorise it," he said.
Although the aspiring chef did not get to travel as a student, he made up for it after graduation by landing jobs in the kitchens of top hotels in South Korea, China and Egypt.
He was headhunted by RWS in 2009 and promoted to its assistant vice-president of food and beverage, or head of culinary. He also became president of the Singapore Chefs Association in February.
Asked if his roles make him Singapore's top chef, he replied, after some persuasion: "I don't think about it. Maybe I am. I don't get to cook as much as I like to."
It is equally hard to pin down his favourite recipe."I don't like to waste food, so I use leftover trimmings to cook something new."
However, he is irked by two things: Poorly groomed chefs with long hair and the difficulty in raising funds to send Singapore teams to compete in overseas culinary competitions.
The association sends two teams abroad to compete each year, which costs about $300,000 in total. Last year, it pulled out of a competition in Frankfurt after it could not find enough sponsors.
"We had to give up because we could not raise funds, but we definitely would have done well in the competition," Mr Toh said. He finds it ironic that the association helped the Singapore Association for Mental Health raise $500,000 in a charity dinner last year, yet it could not raise funds for its own activities.
Mr Toh has long put his O-level failure behind. "In this line, experience and hard work count, not paper qualifications."
But fine dining and globetrotting has not eroded his heartland roots. He lives in a Housing Board flat in Tampines with his wife and three grown-up children and enjoys hawker food - though his favourite meal may come as a shock.
"After a hard day's work and having tasted all the expensive food, what I enjoy most is having instant noodles with my wife at home," he said.
"Instant noodles are the simplest to cook, just pour hot water. It reminds me that I started at the lowest job in the kitchen. I cannot forget that."
tohyc@sph.com.sg

Get a copy of The Straits Times or go to straitstimes.com for more stories.