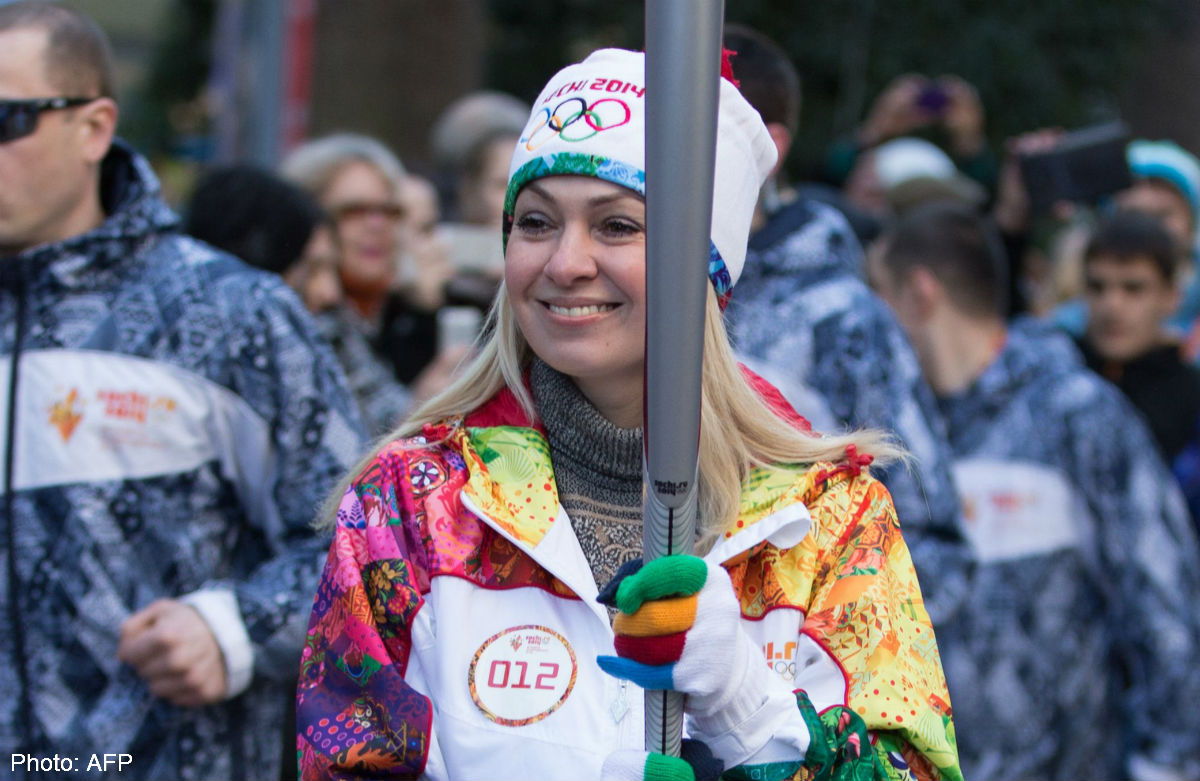 MOSCOW - As Yevgeny Plushenko took to the ice to make his remarkable Olympic comeback, his wife Yana Rudkovskaya unfurled a banner showing the couple with the caption: "My heart is with you!"
Wearing a pink fur hat, she was watching his performance a few rows in front of President Vladimir Putin.
A pop promoter who took Russia to Eurovision victory for the first time, Rudkovskaya has now become a tireless promoter of the Plushenko brand - which wins her both fans and foes.
The 39-year-old former beauty salon owner with a love of designer clothes and links to one of Russia's richest families regularly appears with 31-year-old Plushenko on the covers of glossy magazines.
On her website, Rudkovskaya refers to herself as Plushenko's manager.
Her other protege is pop star Dima Bilan, who won the Eurovision Song Contest in 2008 with "Believe".
Plushenko pirouetted on a miniature ice rink during Bilan's performance, hinting at his close ties to Rudkovskaya, with whom he was beginning a relationship.
The couple married in 2009 and have a son, Alexander, together, while both have children from previous marriages. Rudkovskaya regularly updates the Instagram account of their one-year-old son, nicknamed "Gnome."
Thanks to the couple's many media appearances, he was voted the "most expected baby" by a gossip website, Spletnik.ru.
Rudkovskaya's relationship with Plushenko comes after a troubled marriage to another high-profile figure.
Her first husband, Viktor Baturin, formerly a multi-millionaire businessman, was last year jailed for seven years for embezzlement.
The couple reportedly met in Sochi, where Rudkovskaya ran several beauty salons.
Baturin is the brother of the wife of Moscow's former mayor Yury Luzhkov.
His sister Yelena Baturina became Russia's richest woman through her plastics and construction empire with wealth estimated at $1.1 billion by Forbes magazine last year. She now lives abroad after her husband was ignominiously sacked in 2010.
Baturin worked together with his sister before they had a falling-out. He was also initially Bilan's producer, despite his somewhat eccentric view that Bilan should sing only in Russian.
The couple divorced acrimoniously in 2008. Baturin, who subsequently married a backing singer, has been behind bars since 2011.
-'Confessions of a concubine'-
In her 2009 autobiography, "Confessions of a Concubine," Rudkovskaya wrote that Plushenko first asked her on a date when she was still formally married.
She admitted her first thought was that the legendary skating star should get a nose job.
Under Rudkovskaya's guidance, Plushenko has ventured into show business, from a reality show on Russian MTV to catwalk modelling and performances with an Ukrainian violinist, Edvin Marton.
But such crossover activities do not always appeal to sports fans.
When Plushenko announced he was having back surgery a year before Sochi, some assumed that this was yet another publicity stunt organised by Rudkovskaya.
A commentator on Russian-language Eurosport-2 television, Andrei Zhurankov, gave his opinion on air that "there was no such operation," prompting a threat to sue from Plushenko.
Rudkovskaya responded by posting photographs on Twitter of Plushenko in a hospital bed, hooked up to a catheter.
"I think this situation all flows from the fact that Plushenko's wife is Yana Rudkovskaya. This is all in the sphere of PR," top football commentator Vasily Utkin told Sovetsky Sport daily at the time.
Her strong support was praised, however, by the general director of the Russian Figure Skating Federation, Valentin Piseyev.
"I am relying on Yana Rudkovskaya. Only she can stop him from making a premature return to the ice," he told Sovetsky Sport.
Rudkovskaya's prolific use of social media makes the couple's private life very public and offers glimpses of her strong influence on Plushenko's career.
When in December he came only second in the Russian national skating championship for the first time in 15 years, he talked bluntly of giving up his solo slot at Sochi.
But Rudkovskaya wrote to him on Instagram:
"Dear beloved Zhenya, we all love you very much and believe in you! Come home, we'll celebrate your silver medal and prepare for the Olympics!"