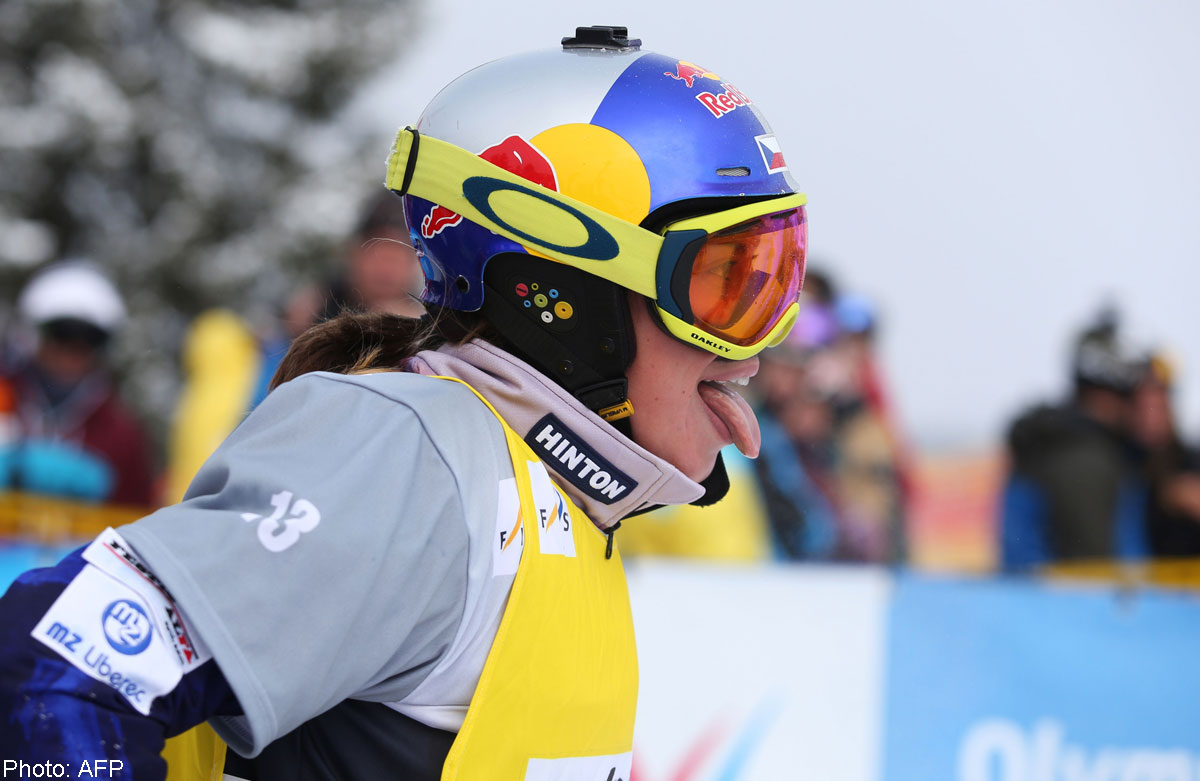 ROSA KHUTOR, Russia - With tea bags stuffed inside a bra and drawn-on moustaches, snowboarders are making a name for themselves as much for their quirky superstitions as from their dare-devil, gravity-defying tricks.
It goes without saying that to accelerate up to a jump and fling yourself into a 'triple cork' or 'Yolo flip' takes a certain amount of guts, perhaps even a touch of craziness.
But at the Olympic Games in Sochi, snowboarders are relying on more than just their own skills or divine intervention, some are also turning to witchcraft to help them in their daring quests.
One of the most unusual such superstitions was that of British slopestyle boarder Jenny Jones.
The 33-year-old used to stuff a specific teabag inside her bra on competition days.
"That's a long time ago, I haven't had that for a while," she laughed.
"It's from when I was younger, it pretty much disintegrated into nothing.
"I was working as a chalet maid and it was very rare to get teabags out in the mountains - this was quite a long time ago - so when people brought out British teabags I managed to get one of those teabags and kept it secure in my undies.
"I had a really good day that day and landed loads of new tricks, and decided that was the teabag."
Jones, who competed in the slopestyle qualification heats on Thursday but missed out on direct qualification to the final, is not the only one.
Czech snowboarder Eva Samkova draws a moustache on her face for good luck and she's convinced this is no mindless ritual.
"It just works," she insisted.
Italian Leoni Tommaso has a lucky song, listening to 'Three Little Birds' by Bob Marley and the Wailers as he makes his way to the start line.
It's not just snowboarders but the equally madcap freestyle skiers have similar personalised routines.
Canadian Mikael Kingsbury always wears the same T-shirt - which says "It's good to be the King" - under his competition bib because he had donned it the day he won his first World Cup podium place.
"Even if it goes badly, it's still got some magic to it," he said.
His team-mate Rosalind Groenewoud is another to put her faith in music and listens to 'The Game Needs Me' by Dyme Def before her races, while she also wears a sticker on her helmet with the name 'Sarah' written on it.
That's in memory of her mentor and former teammate Sarah Burke, who died in 2012.
Yet not everyone in those two disciplines subscribes to superstitious habits.
Norwegian slopestyle snowboarder Gjermund Braaten said: "I think a lot and I think my thinking is what puts me back sometimes.
"It'll get in your head, everything: the weather, the speed, the condition of the jumps and the condition of everything.
"Being a good snowboarder is about not thinking about that and just going for it no matter what.
"I try not to be superstitious, that's kind of my superstition I think."