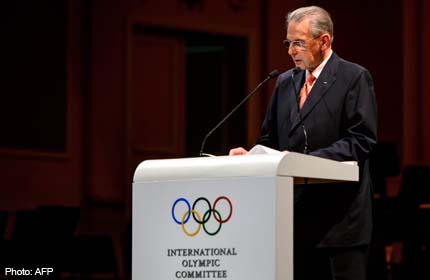 MADRID, Community of Madrid - Recession-pounded Spain pleaded for Olympic chiefs to award Madrid the 2020 Games on Saturday as the Spanish capital set the stage for a massive party in case of victory.
Scaffolding workers put the finishing touches to a stage and giant screens along the granite arches of the central Puerto de Alcala city gate to follow the decision taken in Buenos Aires.
Roads leading to the gate, which stands in the huge Plaza de la Independencia square, were lined by metal barriers and guarded by police as TV trucks parked nearby and camera crews took early morning positions.
Nearby, two more large screens were erected on each side of the city hall in Madrid's landmark central square Plaza de Cibeles. Flags fluttered in the square declaring: "United for a Dream".
Spain's biggest selling sports daily Marca ran a front-page plea for the International Olympic Committee, presided over by Jacques Rogge, to select Madrid over the bookmakers' front-runner Tokyo and outsider Istanbul.
"MR ROGGE, SAY MADRID" blared Marca's front page, asking the Games chief to do so "for the children" and 18 other causes from sports stars like Rafael Nadal to the unemployed, the workers, and "for everyone".
In a play on the name of Buenos Aires, which means Fair Winds in Spanish, rival sports paper AS declared: "Fair Winds are blowing for Madrid 2020." Even business daily Expansion gave front-page space to the bid with the headline: "The stock market votes for the Olympics and rises 4.4 per cent in a week."
As preparations were laid in Plaza de la Independencia for an eight-hour party starting mid-afternoon with music, acts, appearances by sports stars and a live transmission from Buenos Aires, Spaniards were hopeful of an economic boost.
"I think it is really positive if they can get it. There will be more visitors, more tourists," said 63-year-old doctor Arturo Machicado.
"For tourism, they will spend more on hotels and restaurants," said Jesus Santos, a 50-year-old office worker at a nautical school.
"I think we have a pretty good chance," he said, citing the radioactive leak at Fukushima overshadowing Tokyo's bid and the risk of social tensions in Istanbul.
"We are very well prepared even if the economy isn't where it should be," Santos said.
Debt-laden Madrid is proposing a low-cost Games because 28 of the 35 venues have already been built. Madrid 2020 says it will spend just $3.1 billion (2.35 billion euros) to host the event and another $1.9 billion in construction investment.
In a country battered by a two-year recession and an unemployment rate of more than 26 per cent, people seem to be backing the bid and hoping for an economic windfall.
A survey released this week by market research group Opinea said 77 per cent of Spaniards questioned were in favour of Madrid's bid.