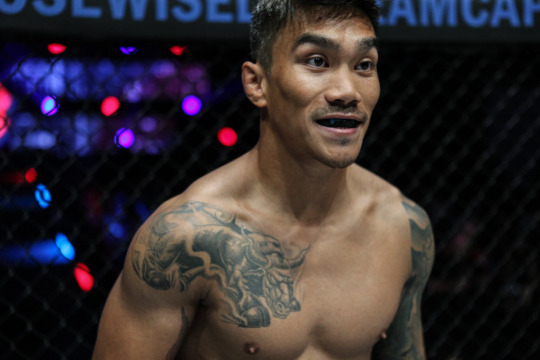 Vaughn "The Spawn" Donayre is grinning from ear to ear.
Nearly two months removed from his last fight, the Dubai-based mixed martial artist will make his return to the ONE Championship cage on Saturday Night, 14 January, when he meets Vincent Latoel at ONE: QUEST FOR POWER, live from the Jakarta Convention Center in Indonesia.
Both athletes have a reputation for being fierce combatants who push the action, and those attributes could make this lightweight contest the most memorable bout of the evening.
That especially motivates Donayre: "I am actually excited. [Latoel] comes to fight. For him, it is just a fight. For me, it is the same way, too.
"I was watching his videos and I could be scientific about this fight. I could win in a boring way, but I do not want to change my style of fighting for a win, so I am coming into this fight my way."
Latoel, who is cleverly nicknamed "Magnivincent," is extra motivated as well. A Dutch fighter with an Indonesian heritage, he holds a 16-18-2 record and is looking to snap a two-fight losing streak, all while entertaining the masses. 
With a thrilling kickboxing style that was fine-tuned at the famed Golden Glory, the 37-year-old Tatusjin Dojo product has rounded out his MMA game and is prepared for war.
A stand-up war is exactly what Donayre envisions.
"I see him swinging and I see myself swinging. We are both going to be swinging," he predicts. "I just hope and pray he will stand up and bang, and if so, this will be fight of the night."
Unlike other competitors, The Spawn is not afraid to lay it all on the line, and that is a quality he may have inherited.
Born and raised in Cebu City, the second largest metropolitan area in the Philippines, Donayre comes from a family of boxers. His grandfather and father were both boxers, and by the time he was in high school, he had picked up the discipline known as the sweet science.
Though boxing may have been a family affair, it is a revered sport all throughout the Southeast Asian country. 
"Every weekend, there were fights," Donayre says. "It was something like where every weekend there is a basketball game, so it was just a sport. It was a normal sport for me growing up."
Despite the sport's normalcy in the community and his family circle, his parents did not want him to skip university for an unstable career in professional boxing.
"Actually, the pressure was to get out of the sport," he admits. "My dad was a seaman. He works in a boat, so he was like, 'I did not finish any four-year degree, so this is the job I chose. You have an opportunity to finish college and do something for yourself.'"
The lightweight obeyed his parents' wishes. He went to Don Bosco Technical College and graduated in 2002 with a Bachelor Of Science in Mechanical Engineering.
"I think I am one of the first [from my family] who graduated [with a] full college degree, so the whole plan was to take me out of the sport. That was the pressure," he explains. "Everyone was in college, but they did not finish because everyone was just boxing and doing that stuff."
Inevitably, Donayre did 'that stuff', too. Although he became a professional boxer and kickboxer when he was a 21-year-old undergrad, The Spawn carried that desire to compete into his post-graduate life. He worked as a mechanical engineer during the day, and fought professionally during the night.
The Filipino had a strong boxing pedigree, but quit the sport following his 16th match. He had a throbbing headache for two weeks and realized he was not as talented at the sweet science as other family members, so he concentrated on kickboxing instead.
In 2011, however, Donayre was offered an MMA match with Filipino local promotion Universal Reality Combat Championship, otherwise known as URCC, and immediately developed his ground game.
He debuted that June and submitted his opponent with a first round rear-naked choke. Over the next few years, he won his next five bouts in the organization with relative ease.
Two years later, he switched careers. The lightweight relocated to Dubai to work under The Champion Club's master instructor Prince Amir as a trainer. Finally, he could financially support himself and follow his passion. He even began earning more in Dubai than as an engineer, with fighting being the icing on the cake.
Simply put, "The Spawn" is living the dream. He says: "It is humbling to be a professional fighter. It is a privilege. I am just happy to be here. It is a luxury."
A lot has changed since Donayre moved to Dubai. He is married with a son, left The Champion's Club for Fit Republik, and is now a Brazilian jiu-jitsu purple belt who won the Pan Asian BJJ Championship.
Donayre's record, however, has slipped. He is 8-6 and is on a three-fight skid, which includes his most recent lost to Amir Khan this past November.
Replacing the injured Samir Mrabet, Donayre fought Khan on less than two weeks notice at ONE: DEFENDING HONOR. While he did not have a full fight camp, he thrilled the crowd and nearly submitted the Singaporean before succumbing to a rear-naked choke in the third round.
"I was confident going into the fight because I knew he was a kid and I had experience on him," he says. "Even though I took the fight on two weeks notice, it is hard for your conditioning to throughout three rounds. He got tired too, but he recovered pretty fast, better than I did. The fight felt good, but a loss is a loss. I could have done better."
He is indeed determined to do better. In fact, immediately after the loss, Donayre contacted ONE and requested to be on the next fight card. Officials came back to him with Latoel, and that particular name had his interest. 
"When they offered me that fight, I had a smile on my face," he admits. "This is going to be a fun fight."