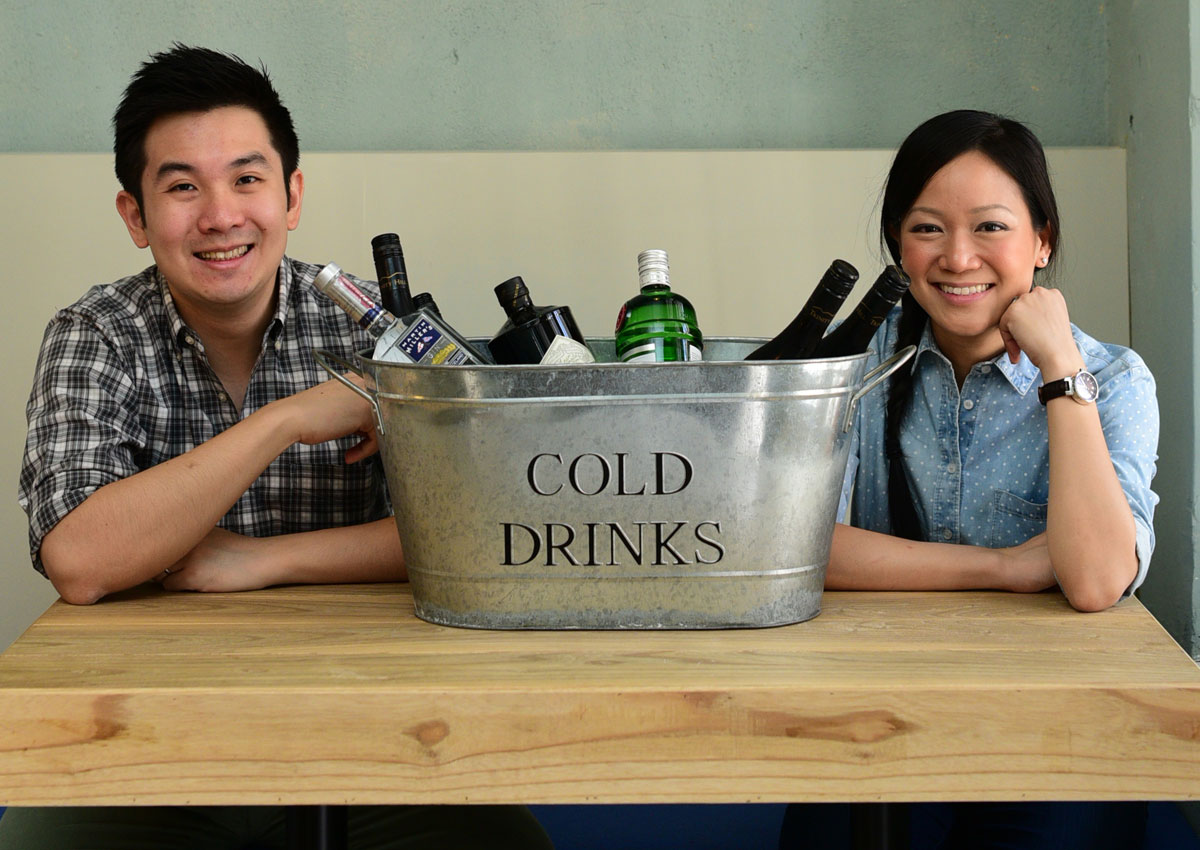 The 80-year-old Gan Clan Association building in Bukit Pasoh Road is getting some new, funky tenants.
Three food and beverage places, including a dive bar, are opening in the shophouse.
Mr Indra Kantono, 32, and his wife, Ms Gan Guoyi, 31, who own the popular cocktail bar Jigger & Pony and Sugarhall grill, both in Amoy Street, are opening Humpback, a seafood and small plates restaurant, and The Flagship, a dive bar, on Thursday .
Next month, Gibson, a cocktail bar which also serves cured seafood dishes, will also open.
They take up the first two floors of a four-storey conservation shophouse, which was formerly occupied by Asian fusion restaurant The Clan.
Mr Kantono, who is from Indonesia, says that he and his Singaporean wife were won over by the cavernous space.
He says: "We are excited by how the space can fulfil our ideas and concepts for bars which can be conversation starters."
They have carved up the space into three venues, each with a distinctive identity.
Mr Kantono adds that business at Jigger & Pony has been good enough to give his company "the luxury of doing something big and ambitious like opening three venues at once".
It also helps that there is some sentimental value for co-owner Gan, whose late grandfather, Mr Gan Yue Cheng, was the founding chairman of the Gan Clan Association.
The association still operates from an office on the third storey of the shophouse. The couple bid for the space when they found out that it was available in January this year.
Occupying the first level is a breezy 40-seat seafood restaurant called Humpback. It has a nautical decor with navy blue upholstered seating, high tables and stools, reminiscent of oyster restaurants in Seattle in the United States.
The couple was inspired by a trip to Hama Hama Oyster Farm in Washington state three years ago, where they shucked oysters while standing waist-deep in the water.
Humpback features an oyster bar which offers about four types of oysters, such as Kumamoto and Virginica, air-flown from Seattle.
Complementing the oysters are 12 cocktails made with white spirits such as gin and aquavit.
These will be concocted by bartender Long Yishu, 25.
Oysters will cost $6 each. Humpback will also serve 15 to 20 small plates, including hamachi ceviche with yuzu and avocado, mussels with pork belly, and salads such as roasted beetroot carpaccio. Prices range from $10 to about $25.
Adjacent to Humpback is a whisky bar called The Flagship, which is accessed through a metal door with a porthole.
The grungy space stocks about 100 labels of whiskies on wooden shelves set amidst exposed brick walls, harsh pink fluorescent lighting and a bare concrete floor.
The whisky list includes labels such as Chichibu whisky from Japan and Rittenhouse Rye Whisky.
Mr Kantono hopes to shatter the upmarket image often associated with whiskies with The Flagship's "rock 'n' roll-inspired vibe".
He says: "Whiskies have been misrepresented as for snobs, so I want to make it less intimidating for those who want to explore these drinks."
It will also serve bar grub such as fried chicken wings seasoned with Vietnamese and Thai spices, peanuts and potato chips.
On the second level is cocktail bar Gibson, which is named after the gin and vermouth drink that is garnished with a pickled onion.
The 36-seat bar will feature about 40 cocktails in vintage glassware and will be headed by the group's bar programme director, Mr Aki Eguchi, 34.
Paired with the cocktails are raw dishes such as ceviche, carpaccio and tartare.
There is also a two-tier seafood platter filled with oysters, scallops, cocktail prawns, razor clams, lobster and sea urchin. Prices range from $20 to about $100.
When asked about coping with the competition from the neighbouring bars and restaurants in the area, Mr Kantono is unfazed.
He says: "We are adding a lot to the conversation with our comprehensive whisky selection, cocktail menu and oysters. We are not a destination dining place.
"With more options in the neighbourhood, it can increase its appeal to diners and can come alive."
kengohsz@sph.com.sg

This article was first published on August 1, 2015.
Get a copy of The Straits Times or go to straitstimes.com for more stories.