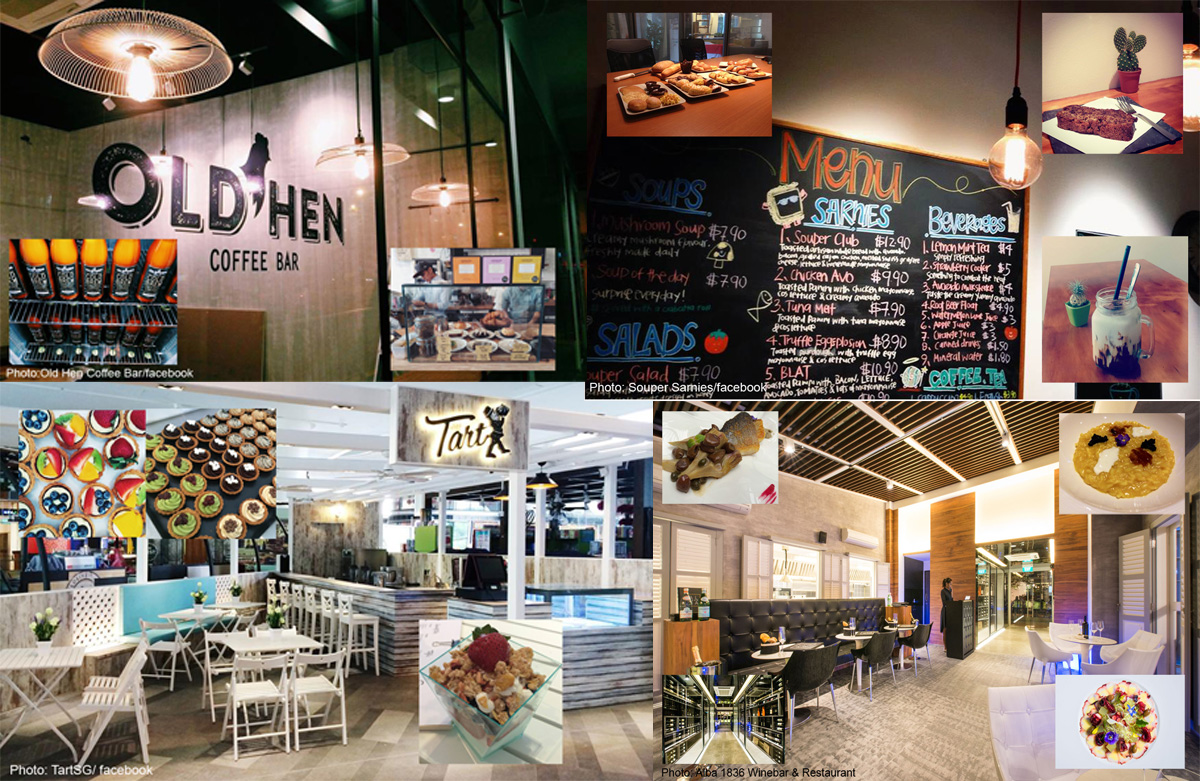 Jewel Coffee
Jewel Coffee, with outlets in One Shenton Way and Rangoon Road, has opened a third in Collyer Quay. The 14-seat cafe uses single-origin beans for its espresso drinks. There are new food items such as the Asian BLT ($10), roasted pork belly stuffed in a baguette; and favourites such as the Ribeye Hero ($12.50), ribeye steak on foccacia bread.
Where: 16 Collyer Quay, 01-13, Income at Raffles
Open: 7am to 8pm (weekday), 8am to 5pm (Saturday), closed on Sunday and public holidays 
Info: Call 6536-2091 or e-mail collyer@jewelcoffee.com
---
Old Hen Coffee Bar
This 22-seat cafe, which opened on July 12, offers items such as buttermilk waffles served with blueberry compote, fresh strawberries and honey-infused Greek yogurt ($9), Valrhona chocolate drinks ($5 for hot, $6 for iced) and long black coffee ($4).
Where: 88 Rangoon Road, 01-03
Open: 7.30am to 5.30pm (Tuesday to Thursday), 10am to 10pm (Friday to Sunday), closed on Monday
Info: Call 6341-5458 or go to www.facebook.com/oldhencoffee
---
Alba 1836
This 50-seat restaurant combines classic Italian dishes with modern cooking techniques. Offerings include tuna tartare with Ligurian olives, Sicilian capers and bottarga ($29), a salted cured fish roe; and housemade tagliolini with Maine lobster, Sicilian tomatoes and fresh oregano ($38).
Where: 28 Duxton Hill, 01-01
Open: Noon to 2pm, 6.30 to 10.30pm (weekday), 6.30 to 10.30pm (Saturday), closed on Sunday
Info: Call 6222-2048 or go to www.facebook.com/alba1836
---
Agnia at once upon a bar
Agnia is located in Once Upon A Bar, a concept restaurant featuring different food brands and selling a variety of dishes. Dishes include Croq Nuggets ($6.50 for six), nuggets made with crocodile meat and served with an aioli dip; and Albondigas En Adobo ($8.50), a Spanish-style meatball dish served with chipotle sauce.
Where: 25 Church Street, 01-01
Open: 11.30am to 2.30pm, 5 to 10pm (weekday), closed on the weekend
Info: Call 9296-0062 or go to www.facebook.com/agniadd
---
Baker's 13
This bakery specialises in cakes and sweet treats made from fresh fruit and natural sugars. It encourages takeaways, although it has six seats for diners. Items include the Citrus Black & White ($5.50) cake, made with fresh oranges; and the Fro-Mango ($5.50) cake, made using sweet Thai mangoes.
Where: 116 Changi Road, WIS@Changi, 01-07
Open: 11am to 9pm (Tuesday to Sunday), closed on Monday
Info: Call 6440-6003 or go to www.facebook.com/sgbakers13
---
Tart
Speciality tarts here include jackfruit, kiwi and coffee, with prices starting at $4.50 for a box of three. Whole tarts with flavours such as chocolate oreo (left), blueberry cream cheese and matcha azuki are also available. Prices range from $30 to $35 for an 18cm tart and $55 to $60 for a 23cm tart.
Where: 1 Vista Exchange Green, The Star Vista, 02-27C
Open: 10am to 10pm (Monday to Thursday and Sunday), 10am to 11pm (Friday, Saturday, eve of public holidays and public holidays)
Info: www.tart.com.sg
---
Souper Sarnies
This 18-seat cafe specialises in soups, sandwiches and salads. Try the Souper Club ($12.90), a white-bread sandwich with avocado, bacon, grilled Cajun chicken, lettuce, melted Swiss gruyere and housemade mayonnaise. The cafe also offers a classic creamy mushroom soup ($7.90) and citrus salad ($7.90).
Where: 1 Tras Link, 01-07, Orchid Hotel
Open: 8.30am to 9pm (weekday), 9am to 9pm (Saturday), closed on Sunday
Info: Call 9115-9566 or go to www.facebook.com/souper.sarnies

This article was first published on July 20, 2014.
Get a copy of The Straits Times or go to straitstimes.com for more stories.