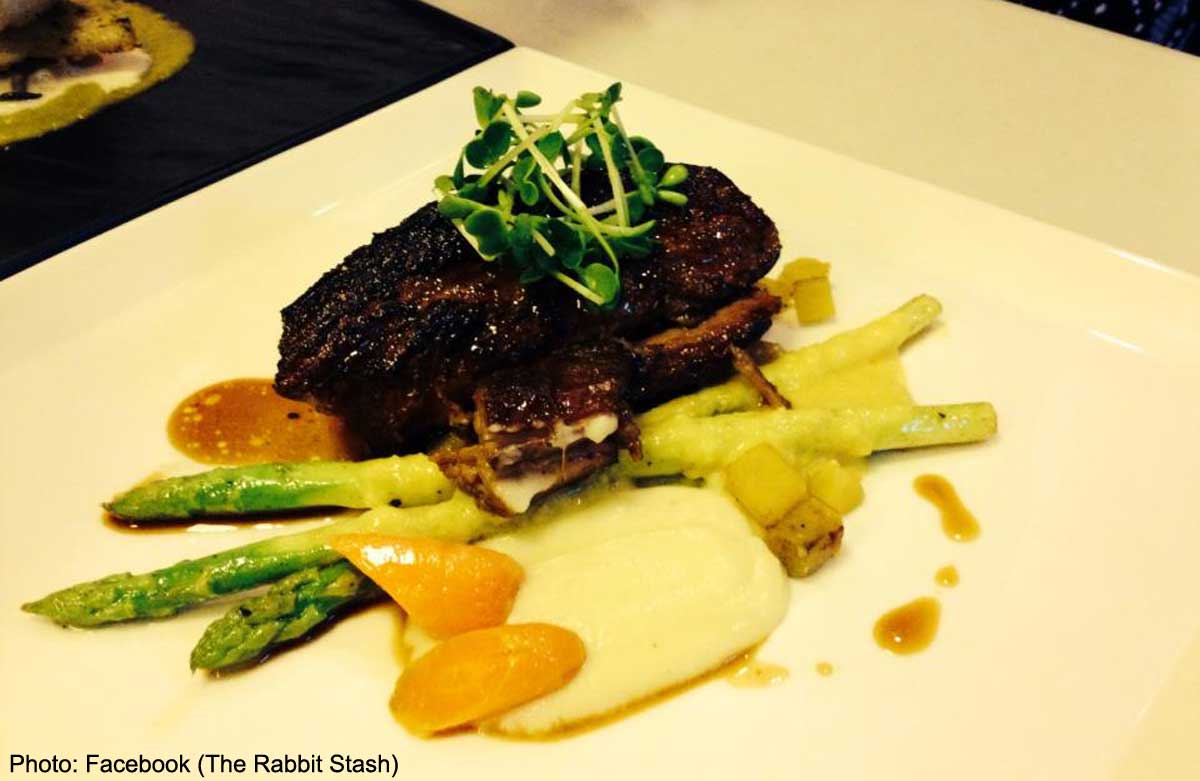 THE RABBIT STASH RELOCATES
The Rabbit Stash, which opened in a condominium shophouse unit back in 2011, has found a new home on the rooftop of Wangz Hotel in Tiong Bahru.
Chef-owner Matthew Mok's menus are inspired by what he calls "Ensophi", an acronym for his food philosophy of seven elements - Exotic, Nostalgia, Soil, Ocean, Pristine, Heritage and Impression.
These are highlighted in his degustation menus (from $36+ for a two-course lunch to $148+ for a seven-course dinner), with dishes such as lobster broth with handmade noodles and purple crab (above) to evoke Nostalgia of mum's home cooking and a green curry sorbet with mango fromage blanc and poached pear for Exotic.
Menus change every quarter.
Where: Wangz Hotel, 231 Outram Road, Level R (rooftop)
Open: Noon to 2pm (Tuesday to Friday), 6.30 to 10.30pm (Monday to Saturday), 3pm to midnight (rooftop bar from Monday to Saturday)
Info: Call 9858-8607 or 6595-1380 or go to www.therabbitstash.com.sg
FYR
Fire up the grill at FYR (pronounced fire), a modern European restaurant which opens tomorrow for dinner service in Boon Tat Street. All dishes are cooked in a Josper wood charcoal oven. The restaurant uses lychee wood.
Start your meal with small plates such as baked freshly shucked oysters ($15), roasted United States bay scallop ($13), and baked aubergine and chickpea ragout ($10).
Mains include spiced deboned red snapper with sambal belacan ($25), grain-fed US Holstein cow ribeye 365 days ($32) and whole Maine lobster ($35).
For dessert ($10 each), choose from baked pistachio melt and pandan ice cream; banana parfait with grilled banana; and grilled fruit with basil sorbet.
Where: 19 Boon Tat Street
Open: 11am to 11pm (weekday), 9am to 11pm (Saturday), 9am to 4pm (Sunday)
Info: Call 6221-3703
CAKE AVENUE BISTRO
The owners of home-grown online cake shop Cake Avenue, which started selling customised cakes in 2000, have set up this 50-seat cafe which opened yesterday.
Besides offering their signature cakes, the cafe also offers food such as Smoked Salmon Sandwich ($10.90) and Baked Mussels ($9.90), Creamy Tomato Prawn Linguine ($15.90) and Double Dog Baked Rice ($14.90), baked rice with two jumbo sausages in marinara sauce and cheese.
The cafe also provides themed party celebrations with decor and dessert tables as well as cupcake-decorating classes.
Where: 01-01 Kilat Centre, 33 Lorong Kilat
Open: 10am to 5pm (Monday), 10am to 10pm (Tuesday to Sunday)
Info: Call 6877-9008 or go to www.cakeavenue.com
LONG CHIM
This David Thompson restaurant seats 150 and offers modern Thai street food. It opened last Monday and is led by head chef Yingyod Raktham, who previously worked at Grand Hyatt Doha and Park Hyatt Dubai.
It offers dishes such as aromatic beef with cumin, coriander and turmeric ($12); grilled lamb rib curry ($25); and Prin's noodles with Sriracha chilli sauce, pork and prawns ($20).
The desserts include Banana Roti, which is Thai roti with caramelised bananas ($10), and durian ice cream with sesame wafer ($15). Or have its Sticky Rice Sour cocktail, which is made with aged rum, rice wine, fresh mango juice and pandanus and coconut foam ($18).
Where: 02-02 The Shoppes at Marina Bay Sands, Atrium 2, 10 Bayfront Avenue
Open: Restaurant: 6 to 10pm (daily, will be extended to 5 to 11pm soon). Bar: 5pm to midnight (Sunday to Wednesday), 5pm to 2am (Thursday to Saturday)
Info: Call 6688-7299 or go to longchim.com.sg

This article was first published on March 22, 2015.
Get a copy of The Straits Times or go to straitstimes.com for more stories.