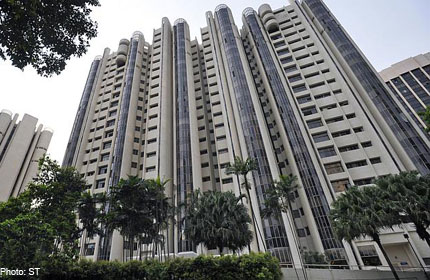 A lengthy and bitter wrangle over the ill-fated $500 million en bloc sale of Horizon Towers finally came to an end last week.
A group of minority owners failed in their suit against two members of the sales committee, closing the chapter on one of the most drawn-out disputes over a collective sale in years.
The three sets of minority owners, comprising five plaintiffs, wanted to recover a total of $585,370 in costs and expenses incurred in a series of hearings that eventually killed the sale.
The five are Mr Then Khek Koon, his wife Jasmine Tan, Mr Rudy Darmawan, his wife Widia Seteono and Mr Darmawan's aunt Maryani Sadeli.
They were earlier awarded $354,370 by the Court of Appeal in a separate action after it blocked the sale.
However, their claims were dismissed in a judgment released last Friday by High Court judge Vinodh Coomaraswamy, more than a year after hearings for this suit began on Sept 17 last year.
The legal dispute over Horizon Towers began in early 2007.
The $500 million that Hotel Properties had offered for Horizon Towers in January 2007 was, at that time, the highest price ever paid for an en bloc sale in Singapore. It worked out to about slightly less than $850 psf.
But when the property market started rising in early 2007, the minority owners contested the sale, saying the price was too low. They fought all the way to the Court of Appeal which eventually overturned the sale in 2009.
By then, the courtroom battle had lasted 21/2 years and likely cost up to $4 million in lawyers' fees.
The Court of Appeal awarded the minority owners some costs, but not all they had asked for.
That left a gap between what they recovered and what they had to pay their own lawyers.
The five minority owners went back to court last year to argue that the two sales committee members were obliged to compensate them for unrecovered costs.
These two committee members were Mr Arjun Samtani, chairman of the first sales committee, and committee member Tan Kah Gee.
Both men were named as the prime movers of the sale by the Court of Appeal in its 2009 ruling to disallow the transaction of the Leonie Hill Road property.
Mr Samtani and Mr Tan said at the hearing in September last year that at the 2009 Court of Appeal hearing, the five plaintiffs did not seek any costs orders personally against them.
The judge said in his judgment last week that the minority owners' claim must fail because they did have an opportunity earlier to seek an indemnity for their legal costs but "failed to grasp it".
"It is to me preposterous to suggest that the Court of Appeal would have concluded this long, drawn-out, bitter collective sale litigation which pitted neighbour against neighbour for well over two years by inviting and authorising the plaintiffs to commence fresh proceedings to reopen its orders on costs," he said.
"There must be finality in litigation."
melissat@sph.com.sg

Get a copy of The Straits Times or go to straitstimes.com for more stories.