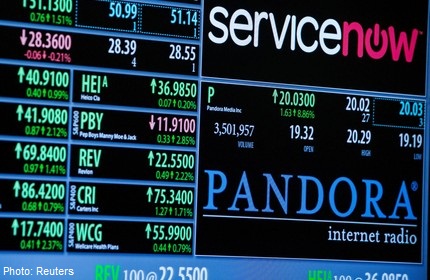 Pandora Media Inc warned on Monday that its business is slowing and proposed a follow-on offering of 10 million shares for capital expenditures, according to a regulatory filing.
The online streaming music company also said an additional 4 million shares will be offered by Crosslink Capital Inc, a venture capital firm.
Pandora shares fell almost 5 per cent in after market trading after closing at US$23.99 (S$30.32) on Monday.
The company said in the filing that it does not expect to sustain "the rapid growth" experienced in both listener hours and advertising revenue in the future, and will continue to incur losses in the near term.
Pandora estimates the net proceeds from the sale of the shares of common stock it is offering will be about US$230.8 million, and it expects to invest "heavily" to support future growth, the filing said.
Almost a decade old with 72 million active listeners, Pandora is one of the most popular streaming music services in the world. It makes its money primarily from advertising, but it also faces stiff competition from the likes of Apple Inc , Spotify and Sirius XM Radio Inc. The company said in the filing that it expects its growth rate to decline because of increased competition.
In addition, it has been actively lobbying congress to recalibrate how royalties are paid to artists in order to hold down the costs of licensing music. The more people who listen to Pandora, the more expensive it becomes to legally access millions of songs.
Last week the company named Brian McAndrews, a former advertising executive who worked at Microsoft Corp and venture capital firm Madrona Venture Group, as its chairman and CEO.