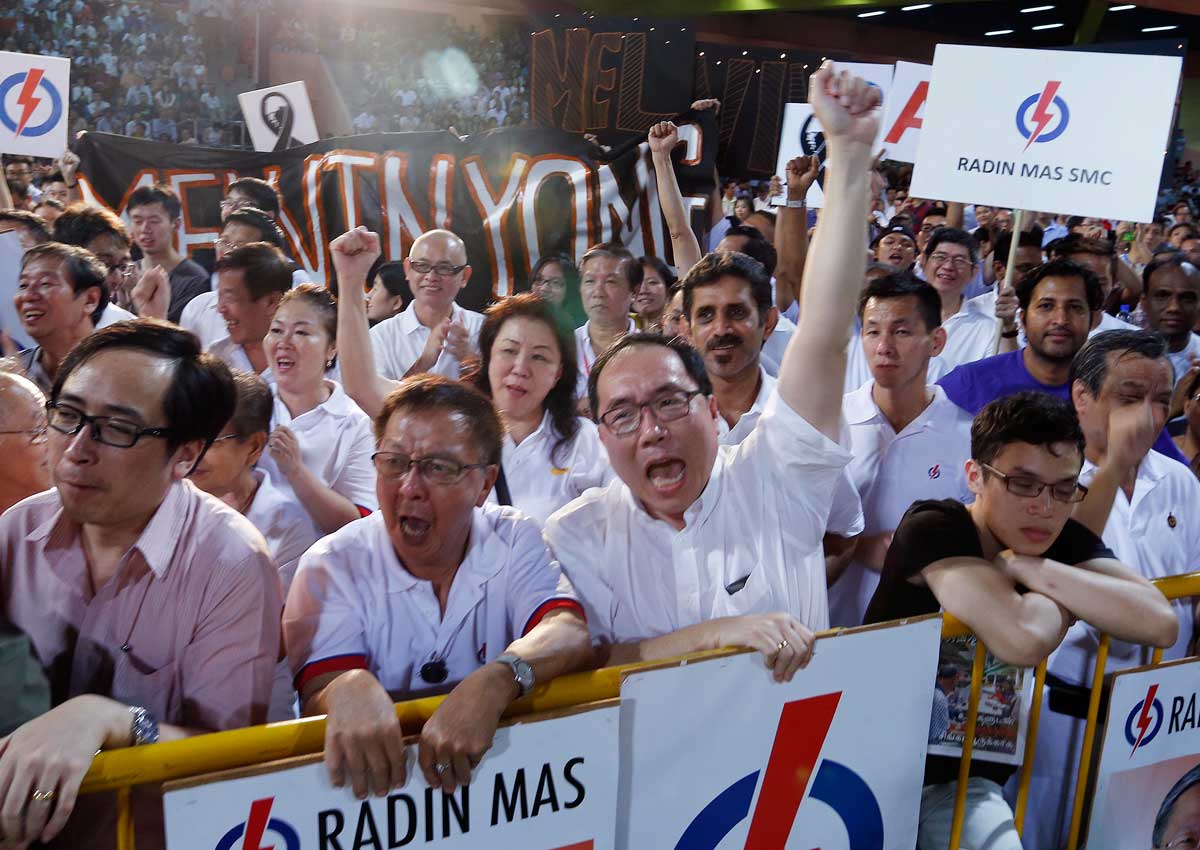 That trust between Government and people is crucial to success in future, says minister
PAP candidates for Tanjong Pagar GRC and Radin Mas SMC put the focus on the special trust between the Government and people of Singapore, saying that was crucial to the success of the first 50 years and will remain so in the future.
They were led by anchor minister Chan Chun Sing, who said that on Polling Day, voters need to ask themselves just one question, and that is which party deserves their trust.
Speaking at the People's Action Party's first rally of this campaign at Delta Hockey Pitch in Tiong Bahru, Mr Chan cautioned voters against opposition party members who seemed more interested in getting into Parliament to make grand speeches than in helping residents.
While he did not name anyone, Mr Chan and his GRC team are up against a slate of five from the Singaporeans First (SingFirst) party led by Mr Tan Jee Say.
The PAP, Mr Chan said, looks after people first, which is why its MPs know what to say in Parliament. Observing that trust is built up over years, he said of the opposition: "If you appear every four years for one week, 10 days, you think you know our residents, you think our residents will trust you? I will say no."
He also challenged several planks of SingFirst's platform, including a monthly $300 allowance for children and the elderly, putting less into the reserves and further restrictions on foreign labour. "Some of them promised you $300 per month," he said. "I say, please don't insult my residents. You think... they are here to be bribed?"
As for the reserves, building them up is a "responsible", long-term move, in anticipation of the larger sums that the Government will have to spend to meet the needs of an ageing population. "If we don't take care of our young by saving up now, by the time 2030 comes, guess what will happen? Our young will have to shoulder the burden of all these challenges themselves."
As for SingFirst's criticism of the Government's policy on immigration and foreigners, Mr Chan said the right way to help PMETs was not by "closing our shores" as that would, over the long term, cause jobs to leave Singapore. The right way is to help these workers become competitive, and that is what the labour movement is doing, said Mr Chan, who is NTUC chief.
His Tanjong Pagar teammate Indranee Rajah rebutted SingFirst's claims that the Government favoured foreigners over Singaporeans. "If anyone tells you that Singaporeans are not centre, or first, that is not true," she said. For the PAP, "Singaporeans are front and centre of every single thing that we do", she added.
Radin Mas candidate Sam Tan said of Singapore's exceptional success: "It is built upon the high level of trust between the people and the Government".
Addressing the crowd in both Mandarin and Hokkien, the latter because of the many elderly residents in the estate, he said: "For the next 50 years, if Singapore is to remain an exceptional country, the new generation of leaders and the new generation must forge an even more durable trust."
PAP new face Melvin Yong said the party "makes promises, keeps promises and delivers on promises".
Rounding up the rally was Prime Minister Lee Hsien Loong, who said Singapore's secret to success is that if the Government does well, the people support it.
Voting for the opposition to protest against existing policies is understandable, he said.
But if you do so even when policies are good, then the Government will not know if it is not doing enough, is doing things wrongly, or should return to its previous path.
"If you trust the Government, then please let the Government do things for the people," he added.
janiceh@sph.com.sg

This article was first published on September 3, 2015.
Get a copy of The Straits Times or go to straitstimes.com for more stories.