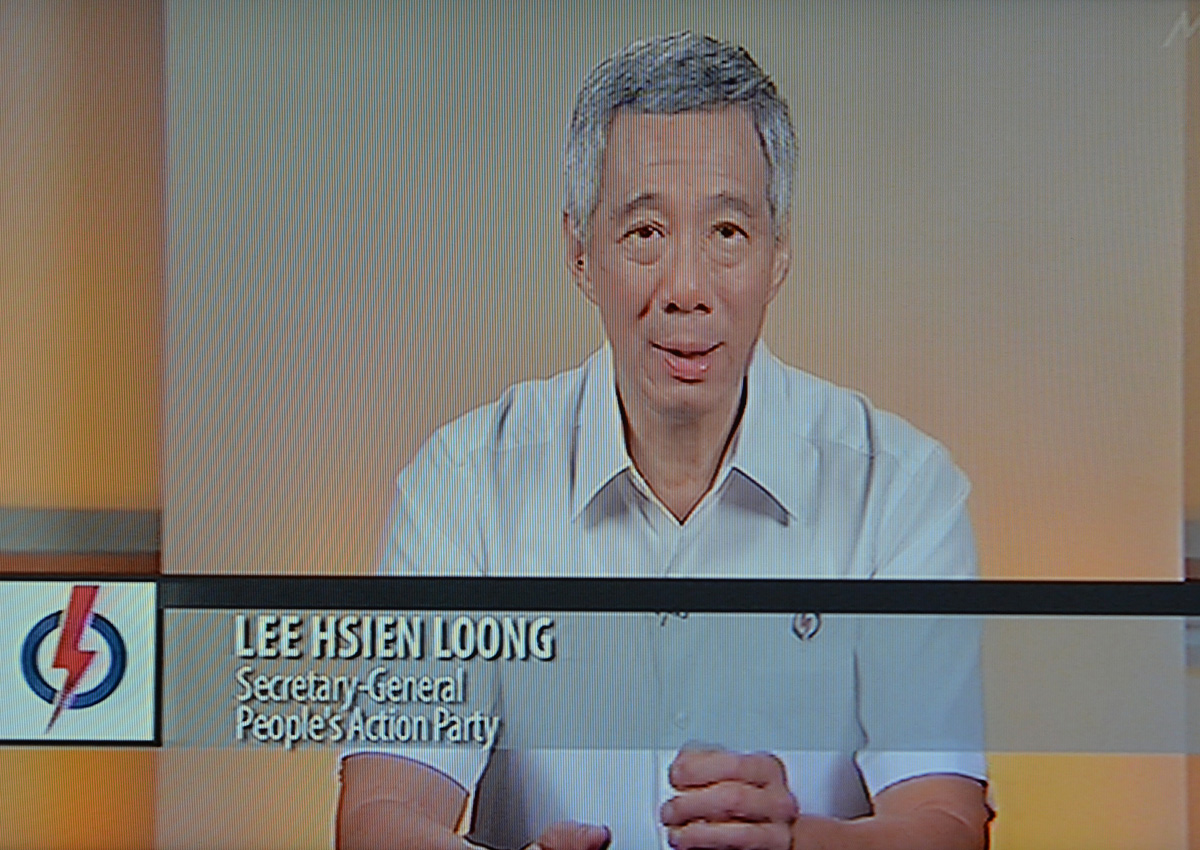 Party broadcast
Seven political parties delivered their second party messages on television and radio last night. The time allocated was based on the number of contesting candidates. We reproduce the messages that were delivered in English.
Singapore People's Action Party
My Fellow Singaporeans,
Tomorrow, you will cast your vote. You will be deciding our future as a nation.
During the campaign, you would have heard many views and proposals from many parties. Before you vote tomorrow, please consider: What future do you want for yourself and your children?
This year, we celebrate 50 years of independence and progress. Together, we brought Singapore from Third World to First. At SG50, we are starting a new chapter. Now we must decide which way we want Singapore to go. Are we satisfied with where we are now, or do we take Singapore higher, and create something lasting for our children?
I believe all of us want to climb higher, because that is the Singapore spirit. Singaporeans do not settle for less than the best. If our pioneers had not resolved to build a better Singapore, we would not be here today. We must never be content just to get by. If ever Singapore is no more than ordinary, we will be bypassed and forgotten. We must keep faith with one another and with our children, so that our next 50 years will be even better than the last 50 years.
As a "little red dot", we have to keep a watchful eye on the outside world. ISIS and terrorism are at our doorstep. The bomb attacks in Bangkok last month could very well happen to us. The Bangkok attacks may have links to Indonesian terrorist groups, and some of these Indonesian groups have shown interest in attacking Singapore. Next week, there will be an anti-Bersih rally in Malaysia, with serious racial undertones. If Malaysia is unsettled, we will be affected. In the South China Sea, if Chinese and American planes collide by accident, tensions will rise. We will be in a difficult spot if we are forced to choose between our friends.
I cannot promise you an easy journey. But I am confident we can navigate safely through the storms. Together, we have overcome tough odds throughout our history. Despite the challenges, our lives got better with each passing year.
Whom do you trust to make this journey with you? Over the past nine days, across Singapore, PAP candidates have knocked on doors, held rallies, engaged you and asked for your support. You know us because we have been on the ground working with you and for you, for many years, often decades. I thank you for the many kind words of support we have received. Your support and encouragement boost our confidence that we are on the right track, and making a difference to you.
What is the Singapore that the People's Action Party wants to build with you? A nation where the elderly lead dignified lives; where the middle-income have their burdens lightened; where the needy and disadvantaged are given an extra hand; and where tomorrow is always better than today. One of the leading cities in the world, where the human spirit flourishes, and Singaporeans, young and old, can chase rainbows and build a better world.
I am confident we can achieve this together. Whatever the PAP promised to do, we have done. For seniors, we have reduced medical bills through the Pioneer Generation Package and MediShield Life, to give you greater peace of mind. For young couples, we launched 100,000 flats, enhanced housing grants and the marriage and parenthood package, and provided affordable, high-quality childcare. For the young, we are making every school a good school, and opening up more pathways and opportunities. We strengthened our social safety nets - ComCare, Workfare, Silver Support - so that no one is left behind.
We are helping workers to upgrade through SkillsFuture. Singaporean wages have risen across the board, unlike in most developed economies.
We have a full and exciting agenda ahead. We are building new hospitals - Sengkang Hospital, and Yishun and Outram Community Hospitals. SIT's new campus will add buzz and character to Punggol Town. By 2030, eight in 10 people will live within a 10-minute walk of an MRT station. Jurong Lake District is being transformed into a vibrant business hub, to bring more jobs closer to where you live. When Tanjong Pagar Port moves to Tuas, we will build the Southern Waterfront City, three times the size of Marina Bay, where Singaporeans can live, work and play. After Paya Lebar Airbase moves to Changi, the entire eastern part of Singapore will be transformed. Your support will help us to make all this happen.
As the People's Action Party, we put people at the heart of all that we do. The PAP will always serve the best interests of Singaporeans, both for today and for tomorrow. Unlike some opposition parties, we do not write ourselves cheques that our children will have to pay. We do not make empty promises that we cannot fulfil. The PAP will always stand for clean and honest politics. We take a hard stand against corruption and wrong-doing. When we discover anything wrong, we will bring it out into the open, and take steps to put things right.
Politics in Singapore is changing. Singaporeans' views are becoming more diverse. The PAP welcomes full debates on national issues in Parliament, but this depends on the quality of the MPs, rather than their numbers. The social media enables all citizens to express themselves and be heard directly. Our MPs and activists hold Meet-the-People Sessions every week. They go door to door so that you can speak to us directly. We have been engaging Singaporeans widely to hear their aspirations and wishes for themselves and Singapore. That is how we have developed our policies, programmes and plans.
The PAP values every Singaporean's views and will strive to form a national consensus on the way forward. The PAP stands for a broad majority of Singaporeans, regardless of race, language and religion. Singapore has succeeded because we have been one united people, and the PAP will fight to keep it this way. Mr Lee Kuan Yew's passing this year reminded us of the vital importance of being one people together, and of having capable leaders. Mr Lee and his team worked closely with Singaporeans to build this Singapore.
I have a good team too. But to take Singapore higher, we need to prepare the next team to carry the torch forward. In this election, I have put before you a team of candidates, including both experienced and new faces. They come from diverse backgrounds, and represent people from all walks of life. I believe they will serve you well. Please support me and my PAP candidates, so that we can put together the best possible team for you, to secure your future.
When Mr Goh Chok Tong asked me to join politics in 1984, I said yes. I felt a duty to make Singapore a safe, secure and successful country, to make your life better, and to make sure our children have better lives and brighter futures. That is what drives me to tackle difficult issues, to work with you to solve problems, and to make bold plans so that, together, we can achieve our aspirations. Thirty years later, I am still convinced we can make Singapore better, and still working at it.
All my candidates feel this way. We promise to work with you, for you and for Singapore. If you support what we have done together, if you look forward to the future we have sketched out, and if you want to build a better Singapore for you and your children, when you vote tomorrow, please vote for the People's Action Party.

This article was first published on Sept 11, 2015.
Get a copy of The Straits Times or go to straitstimes.com for more stories.