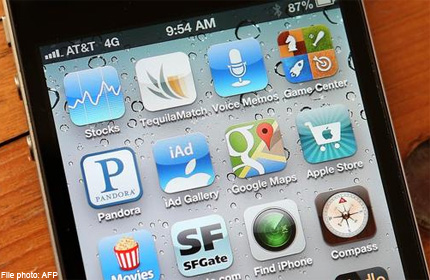 SINGAPORE - Customers will be able to pay for apps, e-books and games through their monthly phone bills, with major telcos announcing plans for such a scheme.
On Tuesday, StarHub announced that its post-paid customers will be able to pay for purchases made in the Google Play store for Android devices and the Windows Phone Store this way - though they can still choose to use their credit card if they prefer.
The move came after SingTel last month allowed app purchases for Microsoft's Windows Phone to be charged to customers' bills. Last August, it allowed the billing option for purchases from the Google Play store.
M1 said it will offer carrier billing for the Google Play and Windows Phone stores to its post-paid customers next month.
It also said it will allow taxi drivers to use their monthly M1 bills to make payments for using an app called GrabTaxi - which can help them find passengers.
StarHub said carrier billing is in line with its push to make payment on phones for digital content easy and secure for users.
Such an option is also ideal for customers "who are looking for an alternative to credit card payments", said SingTel.
However, iPhone and iPad users will have to stick with credit card payments. No payment tie-ups have been announced between the telcos and Apple for iTunes and the iTunes App Store purchases.
StarHub's assistant vice-president of mobility Tian Ung Ping said: "As far as we are aware, direct carrier billing is not a payment option for purchases made from Apple. We are exploring other mobile payment services for our customers."
One possible reason for Apple being out of the picture is that the iPhone maker does not share its app store revenue, said Mr Shiv Putcha, research firm IDC Asia-Pacific's associate director for mobility. Telcos typically get a cut of app sales if they support carrier billing for app purchases.
He explained: "Apple generally operates in mature markets where users are in the high end of the economic spectrum and tend to have credit cards. So, Apple doesn't need carrier billing."
Apple declined to comment.
Housewife Choi Siew Ping, 50, who uses a Samsung Android phone, said she is wary of using credit cards, partly because she fears credit card fraud."I trust the telco because I have been a customer for many years," she said.
kennyc@sph.com.sg
This article was published on April 25 in The Straits Times.


Get a copy of The Straits Times or go to straitstimes.com for more stories.