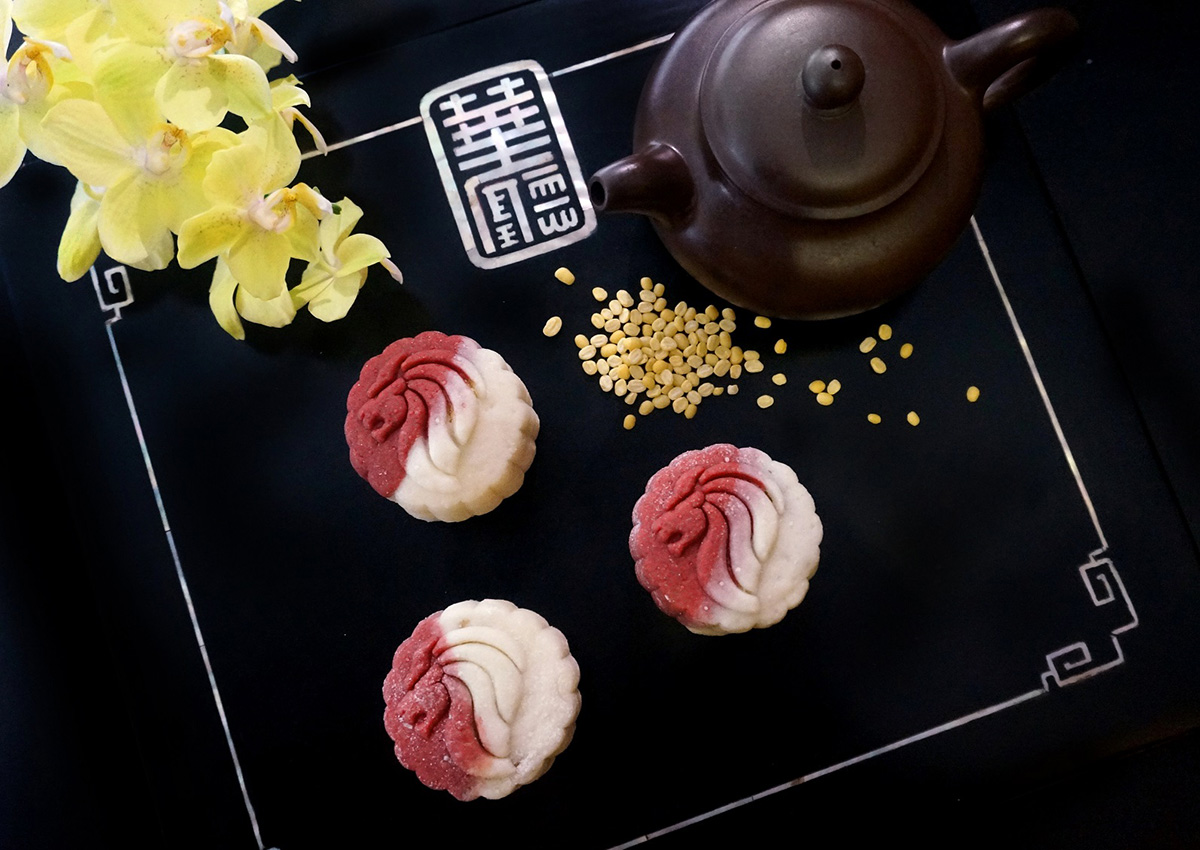 The Mid-Autumn Festival celebrates the full moon of autumn in the traditional lunar calendar.
The one-night event falls on Sept 27 this year and is an occasion for drinking tea, viewing the moon and enjoying mooncakes.
"Sipping tea while tasting mooncakes helps to rid the sugar and grease," says a spokesman from Tea Chapter, the heritage teahouse at 9 & 11 Neil Road that is best known for hosting Queen Elizabeth II during her royal visit to Singapore in 1989.
Today, during the Mid-Autumn Festival, "prince and princesses" of a different kind - dozens of school children - descend upon the teahouse to try their hand at making snowskin mooncakes and appreciate the traditions, making this the busiest time of the year for the tea masters.
The saying, "traditional teas go well with traditional mooncakes" is true.
For traditional mooncakes - such as black sesame with melon seeds, white lotus seed paste with single egg yolk, and Teochew orh ni - a good pot of Tie Guan Yin (oolong tea) is the perfect accompaniment.
For popular snowskin mooncakes, enjoy them with Dragon Well (green tea) or White Peony (white tea), he advises.
If there is one tea that goes well with almost any type of mooncakes -including the more unusual red bean paste or mixed nuts - it will be Pu'er (black tea), he says.
There is a difference between cooked Pu'er and raw Pu'er, however.
"Cooked Pu'er tea is great when pairing mooncakes containing bitter alcohol-chocoloates. But for something like the spicy bak kwa mooncake, go for the raw Pu'er," he explains.
The sweeter the mooncake, the stronger the tea to balance the experience.
What to drink with durian mooncakes?
Durian mooncakes, however, are more diffcult to pair with tea.
"Durian mooncakes are too strong to enjoy with tea. If you really want to choose a tea to pair with it, try Lapsang Souchong tea, which has strong fragrance and taste," he says.
Tea-inspired creations
InterContinental Singapore (tel: 6820-8519/8520) is celebrating its 20th anniversary with a special commemorative box and has introduced a Snowskin Tea Mooncake Selection ($66*) - Earl Grey and Baileys Truffle with White Lotus Paste; Japanese Matcha; Oolong with Black Sesame Paste; and Rose and Pistachio with White Lotus Paste.
Peach Garden (tel: 6252- 9833) - located at chic spots such as Gardens By The Bay, OCBC Centre, The Metropolis and Chinatown Point - is taking inspiration from tea with its Premium Ginger and Jasmine Tea Mooncake ($56*).
Mandarin Orchard Singapore's (tel: 6831-6320/6262) Mini Snow Skin Green Tea Paste Mooncake ($56*) will satisfy even the fussiest vegetarian as it is infused with azuki red bean.
Award-winning Masterchef Lap Fai from Hua Ting Restaurant at Orchard Hotel Singapore (tel: 6739-6577), has created the special Merlion-shaped Mini Snow Skin Red/White Twist SG50 ($9.50* per piece) mooncake, which is a surprise combination of red bean paste and salted green bean paste imbued with luxurious gold foil and sprinkled with popping candies. It is a nostalgic touch that will magically transport you back to your childhood.
* Price for per box of mooncakes - which typically contains four pieces of normal-sized mooncakes, or eight pieces of mini-sized ones. Additional GST charges may apply. Please check with respective restaurants or outlets.
Get your lantern
- Concorde Hotel Singapore's intricately carved mooncake jars double as a lantern or a vase. Prices for its mooncakes start from $64.
- Holiday Inn Singapore Orchard City Centre will give customers a complimentary paper lantern with each purchase.

This article was first published on August 30, 2015.
Get a copy of The Straits Times or go to straitstimes.com for more stories.