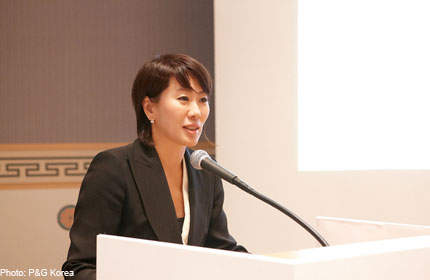 JEJUDO ISLAND - "All SK-II products are 100 per cent safe," Procter & Gamble Korea's chief executive Lee Sue-kyung stressed Friday at a media meeting about radiation concerns here over made-in-Japan products after the deadly earthquake and tsunami in 2011.
"We have strengthened inspection into the whole import process as well as the manufacturing site in Japan. No cases of contamination have been detected thus far," she said, adding the brand is still the biggest revenue source for the Korean unit.
SK-II is a skin care and cosmetics brand that P&G, the US household-products maker, launched in Japan in 1980. Its global sales exceeded the 1 trillion won ($941 million) mark last year, with Korea being one of its top-selling markets.
Amid fears about the radiation leak at the Fukushima nuclear power plant in northeastern Japan and made-in-Japan products overall, Lee denied any serious business impact on SK-II sales here. She declined to elaborate on specific figures.
Lee, who took office in July last year as the first female CEO in P&G Korea's 24-year history, stressed that her company still has strong growth potential, saying the Korean market is also crucial for P&G's global innovation strategy.
"P&G Korea's sales stand at sixth or seventh in Asia now. Considering Korea is the (fourth)-largest economy and we have more products waiting to be introduced, I think there are more business opportunities for us," she said.
The company has introduced 13 brands thus far in Korea, a modest business considering P&G, the world's largest household products maker with 175 years of history, owns more than 300 brands.
"The head office is also well aware that Korea is a trend-setting, test-bed market for new products. They have a particularly keen interest in the nation's advanced e-commerce and home-shopping retail channels," Lee said.
The Korean chief said the company would also ramp up efforts to develop new products together with local manufacturers, adding that it was reviewing potential business partners among some 300 firms recommended by the government's trade agency.
"Our growth engine is consumers. P&G's success story is based on efforts to better understand consumers that have led to innovative products," she said.
Amid a prolonged market slowdown, she added, consumers are pickier about their spending. "But through R&D and innovative efforts, we will continue our sustainable growth in the coming years."
By Lee Ji-yoon (jylee@heraldcorp.com)