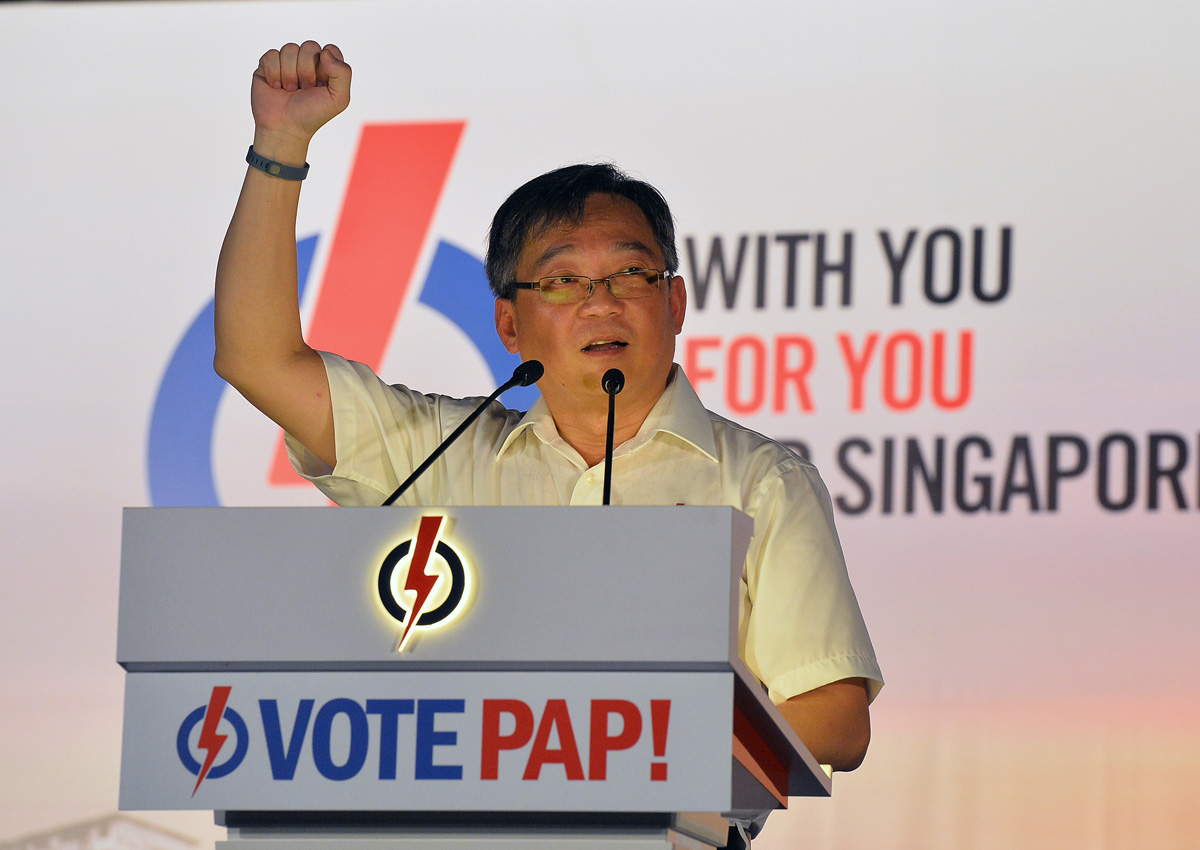 The Pioneer Generation package, given to Singaporeans aged 65 years and older, benefits not just them but also their families, said Health Minister Gan Kim Yong.
The package helps seniors pay for their healthcare needs, including the premiums for the soon-to- be-launched compulsory health insurance scheme, MediShield Life.
It also helps with outpatient bills at specialist clinics and polyclinics. This is considered especially helpful for people with chronic diseases, such as diabetes, that require monitoring and medicine.
Both seniors as well as poorer people can also get treatment at private medical and dental clinics while enjoying hefty government subsidies on their bills.
Speaking last night at the People's Action Party (PAP) rally in Chua Chu Kang GRC, where he is anchor minister, Mr Gan said: "This Pioneer Generation Package doesn't only ease the burden of the pioneers. It also eases the burden on their children - on you, our residents, as their caregivers."
He said such help is possible only because the Government has been careful with its finances. And he promised: "We will do more." Mr Gan, who is also minister-in-charge of ageing issues, said the healthcare masterplan will expand capacity to meet growing needs, ensure quality and improve affordability.
More hospitals are being opened. At the end of last year, the 280-bed Integrated Building opened next to Changi General Hospital. In July this year, the 700-bed Ng Teng Fong General Hospital opened.
"Jurong Community Hospital has also opened and Yishun Community Hospital will also open shortly. We are also building nursing homes as well as polyclinics," he said.
The launch of MediShield Life on Nov 1 will mean that patients with big hospital bills will pay less.
While premiums will be raised to provide for this better coverage, Mr Gan said: "You don't have to worry about premiums as the Government will provide premium subsidies for the middle- and lower-income households."
But he said that preparing for Singapore's rapidly ageing population - one in five people here will be aged 65 years or older by 2030 - is not just a matter of building more hospitals and nursing homes.
Mr Gan said the ministry is "changing our healthcare system even as we expand it, to take care of the older population today and going forward. We are investing in training and capability development so that our healthcare professionals are better prepared for an ageing society".
The other area of investment, he said, is in keeping people healthy throughout their lives.
He said: "We are all getting older. Singapore as a whole is getting older. But we can remain vibrant, connected and active, and we can lead a fulfilling life even as we age."
Building an elder-friendly infrastructure is one way of ensuring this, he said, adding that many such changes have been happening in his constituency, such as more senior citizen fitness corners which will give the elderly "ample opportunities to keep fit and stay fit".
Mr Gan said he and his team will "encourage the seniors to stay healthy, so that they not only live long, (but) they can live healthily and live well". The team will also foster inter-generational bonding, with more green spaces where families can meet their neighbours.
All these are long-term policies "that will span 10 to 15 years to implement and require huge resources". He urged the people to vote for the political party - the PAP - that can make all this happen.
salma@sph.com.sg
facebook.com/ST.Salma

This article was first published on September 6, 2015.
Get a copy of The Straits Times or go to straitstimes.com for more stories.