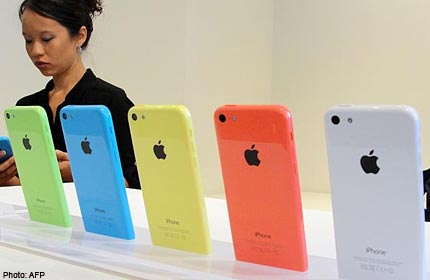 This is probably one of the stranger opinions to come from me, but plastic isn't so bad.
Yes, I'm talking about the iPhone 5c, and no, I'm not exactly an Apple fan. What's also unusual is that I'm using a rival phone, which some people dismiss, to argue in favour of plastic.
On Tuesday, Apple unveiled the iPhone 5s and iPhone 5c.
As expected, the 5c is colourful. What surprised - and troubled - many was its price. Despite the plastic casing, the 5c isn't much cheaper than anticipated, starting from $848 without contract. That's $140 cheaper than the 5s, which has more bells and whistles, like a metallic finish.
The thing is, a lot of people think plastic is supposed to be a cheaper material than metal.
But that hasn't always been true. This year's Samsung Galaxy S4 is even more expensive at $998, and there's no denying that it has a pretty plastic build.
In 2008, when the iPhone first landed here as the plastic iPhone 3G, it could be bought only from SingTel with a contract for up to $848. Not exactly cheap.
Beyond price, there's the issue of plastic feeling cheap. This is fuelled by consumers, geeks especially, thinking that metallic phones exude a premium quality and superiority that can't be found in plastic ones. The cost perception certainly plays into this, but metal's looks play a part, too.
Still, plastic can have a premium quality. It's a matter of what plastic is used and how.
Let's take a look at Nokia. Some of the Finnish phone-maker's plastic phones in recent years have shown that plastic can be very beautiful and classy.
Exhibit A for me would be 2011's N9, which some of the firm's newer Windows Phones take design cues from. Whatever your opinion on the MeeGo OS it runs on, the phone's build and design have won praise from many technology observers.
The N9 feels reassuringly solid when held, thanks to its unibody design that uses a single piece of high-quality plastic. The design gives the phone a stylishly minimalistic and seamless look.
The N9's plastic is also sturdy, and isn't of the bendy quality some gadget lovers had concerns with over the back covers for the Samsung Galaxy S III and S4.
One reason some plastic phones look cheap to me is that they are very glossy, which makes them look a tad tacky. This glossy plastic can attract fingerprints too, so the phones may look dirty over time without a wipe.
Glossy variant aside, the N9's matte finish doesn't have these issues. This finish also gives the phone a better grip than shiny plastic ones, which can be more slippery.
Another thing about plastic phones is that they're less heat conductive than metal ones. So, a metal phone - like the HTC One, whose design I like, by the way - can be uncomfortably cold to the touch in an air-conditioned room.
If you take into account the fact that the iPhone 5c is made of high-quality plastic with a unibody design, some merits of Nokia's N9 might be found in the 5c as well. However, the 5c does seem quite shiny.
Even so, give plastic a chance - good plastic, that is.
kennyc@sph.com.sg

Get My Paper for more stories.