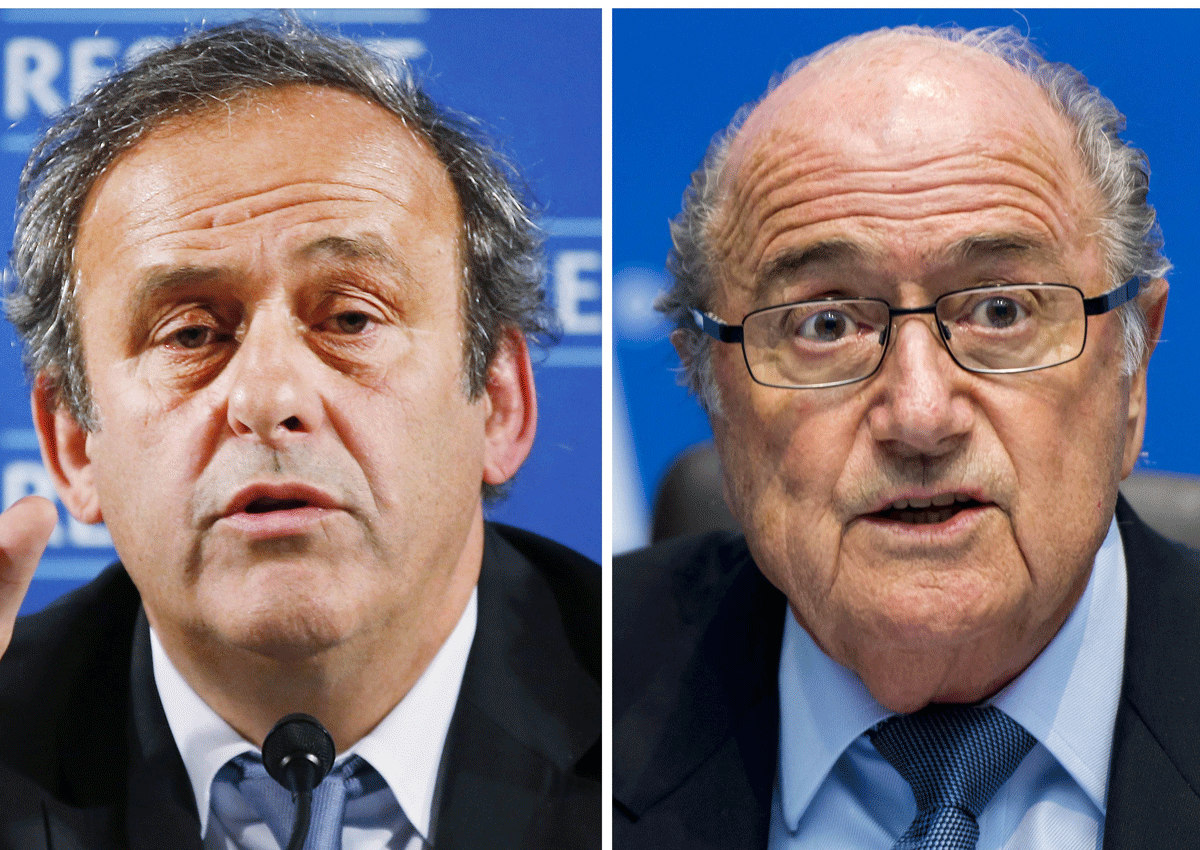 PARIS - Michel Platini, president of European football body UEFA and suspended amid a huge corruption scandal rocking the game, admitted Monday there was no written contract for remuneration he received from world body FIFA.
FIFA's suspended president Sepp Blatter said last week that a US$2 million (S$2.8 million) payment made to Platini in 2011 was "a gentleman's agreement." Platini told French daily Le Monde the deal was made "man to man" but that he understood that under Swiss law "an oral contract is worth a written contract".
In a lengthy interview, former France and Juventus star Platini, who also had a spell as France coach, indicated he felt Blatter was seeking to "kill me politically" over the payment which looks to have doomed any chance of his succeeding the Swiss.
Platini had been seen as favourite to take over in February until he was named in a Swiss criminal investigation into Blatter's management of FIFA.
Blatter, who has headed FIFA since 1998, last Friday indicated that the payment was a "gentleman's agreement" between the two.
"It was a contract I had with Platini, a gentleman's agreement," said the 79-year-old in an interview with Swiss media RROTV.
"It was implemented. I can't give any more details, the issue is being discussed in two investigations." Blatter insisted that the payment "was within the rules."
Blatter and Platini, 60, have both been suspended for 90 days by FIFA's ethics committee as Swiss authorities conduct a criminal investigation into corruption allegations at the scandal-tainted world football governing body.
Platini told Le Monde he felt "shame at being dragged through the mud." He explained that Blatter had wanted him to work alongside him at FIFA after the Swiss took over but turned down the request as he was organising that year's World Cup which France hosted and won.
Blatter then came back and asked for his services as an advisor, asking "how much do you want?" Platini said he replied. "A million." Asked to specify which currency he said: "Whatever you want, rubles, pounds, dollars." He said Blatter agreed to pay a million Swiss francs (S$1.4 million) per year.
Platini added: "I am not a money man" and said he told Blatter to "choose what you want to pay me," saying he had full trust in FIFA.
Blatter was duly elected to head FIFA and Platini said: "I started working in the September." He said several months passed with no payments to him and he asked at the time if there was a problem.
Blatter said that it was difficult to pay him three times the 300,000 Swiss francs that FIFA's secretary general was earning at the time.
Quoting Blatter, Platini said: "'So we will draw up a contract for 300,000 Swiss francs and give you the balance later.' "But later never came."
FIFA's congress is due to meet on February 26 to elect a new president.
But Platini's chances of succeeding Blatter appear to have imploded.
Last week, the English FA suspended support for Platini, despite UEFA's 54 members having previously offered backing.
The FA said it had been told of more information "relating to the issues at the centre of this case from Mr Platini's lawyers" at a UEFA meeting last Thursday.