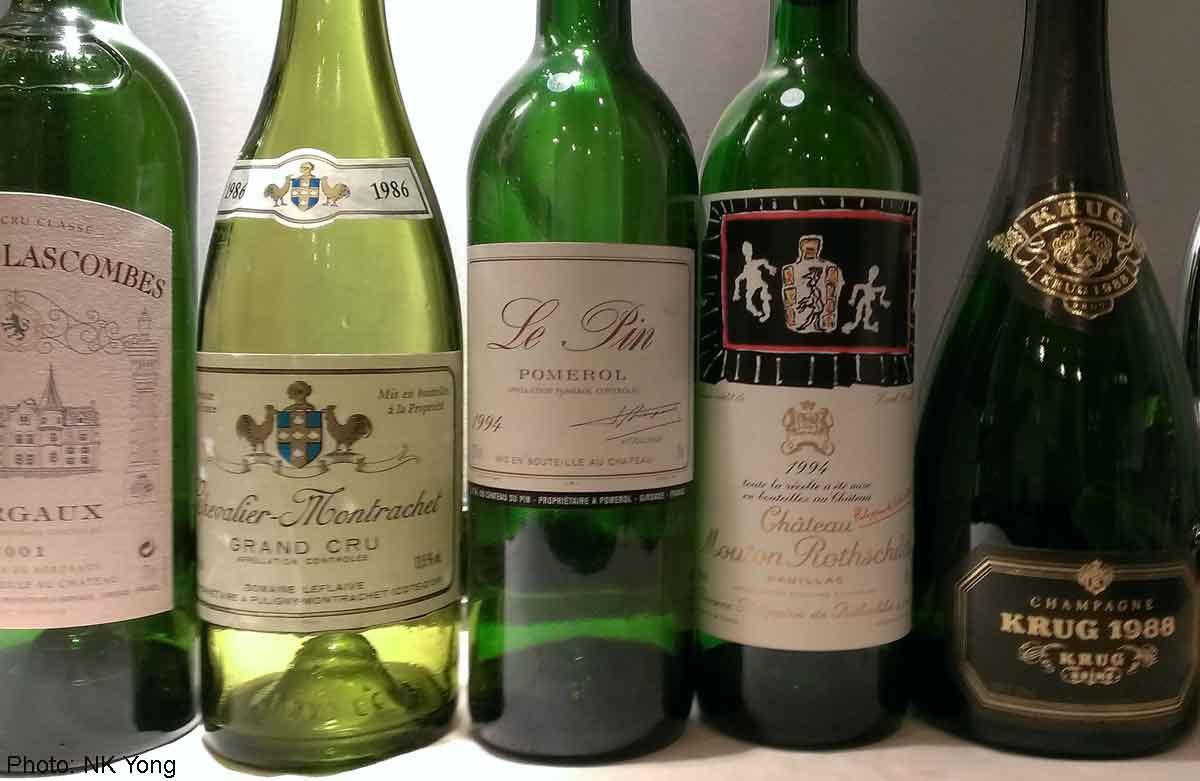 It should be apparent to regular readers of this column that I place great store on patience.
I have repeatedly encountered the astonishing and beautiful development of wines which have been stored upwards of 10 years - Chablis, for instance, starts out bone dry and closed at first sighting shortly after release, but transforms like Cinderella with maturity into lovely wines after a decade or more of storage.
Still, it needs more than just patience. It needs adequate storage capacity under the right conditions so that the wines can be left to slumber for a decade or more before being broached. A recent wine dinner with 1986 First Growths reminded again of this need for patience.
The 80s brought wine lovers and consumers into a New World of 100-pointers with the reviews and individual wine scores of Bordeaux 1982, published in the Wine Advocate in early 1983.
The glare of publicity generated by Robert Parker opened the floodgates of wine journalism and the wine world has never been the same since. The 80s was memorable for quite a number of other vintages.
They include 1983 and 1985, and then the trilogy of 1988, 1989 and 1990. Quietly developing in the background was 1986, only just recently emerging.
Favourable weather conditions in the growing season foretold a good vintage in Pauillac and Saint Julien in particular.
The weather had favoured the Cabernet which meant that properties with high percentages of Cabernet would show well in comparison with those with high Merlot content. The predominance of Cabernet dictated a long wait. But Patience has its virtues. The time had come.
The wines at dinner
Chateaux Lafite Rothschild, Mouton Rothschild, Latour, Margaux, Haut Brion, Cheval Blanc, Lafleur, Leoville Lascases, preceded by "Y" 2006, the dry white of Y'quem, and Montrachet Grand Cru 1997, Baron Thenard.
Chateau d'Yquem "Y" Ygrec, Bordeaux Superior
A 50 per cent Sauvignon Blanc and 20 per cent Semillon blend, the dry wine of Chateau d'Yquem made during those years when it was not possible to make the sweet Y'quem. Pale yellow, with lightly sweet fruity aroma of peaches and pears.
Quite sweet on the palate, peaches, pears, good freshness but could do with more acidity. Pleasant, a little too fruity and sweet for some palates.
Montrachet Grand Cru 1997, Domaine Baron Thenard
A lovely deep golden colour, with a surprisingly youthful lightly sweet fruity aroma; on the palate rather sweet, fruity, almost dessert wine in sweetness, lacked enough acidity and minerality. Not the best example of this great wine.
I have had older vintages of Thenard's Montrachets in the past and they have all been very enjoyable, not the least because they were all reasonably priced, among the best-priced Montrachets.
The Montrachet vineyard in question belongs to the Baron Thenard Domaine but until 2005 much of the wine produced was sold to the negociant Remoissenet and bottled under their label.
The bottles I have had in the distant past had the Remoissenet label but were imported into UK by the wine company Avery's of Bristol. That was a long time ago. This bottle was sadly disappointing. It was not at the same level of those I had bought from Avery's which were really quite magnificent.
All the First Growths
Chateaux Haut Brion, Margaux, Mouton Rothschild, Latour, Lafite Rothschild.
All the Firsts were very good, almost evenly so, but each in its own way.
Colour:
All: very dark reddish-brown generally, Haut Brion perhaps more reddish than the others.
Bouquet:
General characteristics displayed by all were the marked aroma of cedar and ripe blackcurrants.
Haut Brion: very sweet ripe fruit.
Margaux: very fine and delicate.
Mouton: very Pauillac, cedary aroma dominating the blackcurrant.
Latour: aroma dominated by very ripe blackcurrants and cedar, unmistakeably Latour.
Lafite: very refined, very cedary, more elegance.
Palate:
General: very ripe blackcurrant, prominent cedar influence, great complexity, well balanced, and great length.
Haut Brion: had a light touch of sea breeze (the kind you find walking along the beach) in the aroma and taste.
Margaux: very cedary palate, very elegant.
Mouton: very Pauillac taste, big wine, complex and well balanced.
Latour: Latour signature on the palate, strong cedar and blackcurrant notes. Very long finish.
Lafite: very ripe, very refined palate, very long and fine finish.
All five shared the same characteristics in colour, bouquet and palate. Each had its own individuality. But tasted blind it might be difficult. Did any one of the five Firsts stand out? Depending on personal preferences.
I would find it difficult to leave anyone of them out in my own cellar. Forced to choose just one, I would pick the Latour, for its classic Pauillac virtues, power and intensity.
Chateau Leoville Lascases, Second Cru Classe
Coming after the powerhouse of the five Firsts one would not expect the Lascases to stand up to them. This wine therefore suffered that evening by being tasted and drunk after the Firsts, its proper place should have been at the start.
It was not meant to be opened, just a stand-by, but the enthusiasm, (and the thirst), fired up by the Firsts, and the fact that it was a 100-pointer required that it prove its worthiness of the accolade.
Colour brownish-red, slightly lighter in hue than the Firsts. Light elegant bouquet of fresh ripe fruit with distinct citrusy notes blended with the cedar and blackcurrant. On the palate, very ripe fruit with very good acidity and freshness.
Perhaps just a touch of tannic bitterness on the long finish. A mite disappointing for a 100-pointer wine, perhaps it was just this bottle.
Chateau Lafleur 1986 Pomerol
It seemed fitting to finish with a Pomerol, but instead it proved a trifle disappointing. Very dark black-brown, with a bouquet very different from the classic cedary blackcurrant of the Firsts.
Plummy very ripe orange aromas, no blackcurrant and no cedar. Medium-bodied, good ripeness and well balanced, good length. But in the end, not impressive.
Summing up
An exceptional experience, a luxury given the current prices of these bottles. The 1986 Firsts lived up to expectation.
At 28 years' age, they look fit to go on for another five, perhaps even 10, if obtained directly from Chateaux and well stored. No real need to store them further, unless to celebrate a 40th birthday or anniversary!!
This article was first published on Dec 12, 2014. Get The Business Times for more stories.