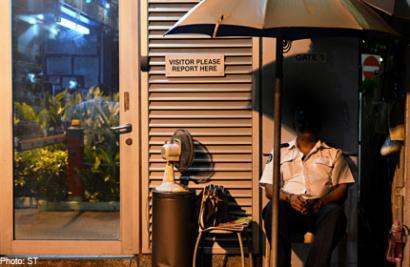 An apartment complex in the wealthy neighborhood of Apgujeong-dong in Seoul has apparently given termination notices to its security guards, technicians and supervisors.
A total of 106 people stand to lose their jobs.
This is the same apartment complex where a security guard recently set himself on fire in an apparent suicide.
The guard's colleagues said that the man, who was taken to hospital but later died from his injuries, had been verbally abused and badly treated by one particular resident.
He also worried about job security.
The group representing the apartment residents apparently decided not to renew the contract with the contractor that they had engaged for more than 15 years.
By cutting off the contractor, the residents' group effectively fired the security guards and other personnel employed by the contractor.
When the news of the mass layoffs broke, the residents' group backpedaled, claiming that nothing had been decided.
Yet, others say that the decision to terminate the contractor was taken as retaliation against the firm.
Some of the residents are said to have complained that the security guard's death has damaged the apartment complex's image. They were concerned that apartment prices may fall as a result of this.
If these reports are true, they force us to reflect on our humanity. If a loss of life is being discussed on the same level as housing prices, if on hearing about the death of a man, people worry about the value of their apartments, our society is seriously ill.
The impending wage raise for security guards may have also been a factor in the decision by the apartment complex not to renew the contract.
Starting next year, the security guards will have to be paid the full minimum wage - 5,580 won (S$6.60) per hour for next year - and this has led to a mass firing of security guards in apartment estates across Seoul.
Currently, the security guards are paid 90 per cent of the 5,210 won per hour minimum wage, or 4,689 won per hour. The pay for next year represents an additional 900 won per hour.
When divided by all the households in an apartment complex, this may mean as little as an additional 1,000 won to 9,000 per household each month, depending on the apartment.
There is campaign now underway to save the security guards' jobs. If a person's job can be saved for the price of a cup of coffee on the part of each household, why not?
As for those who believe technology can replace men, consider this: Installing CCTV for security purposes is a viable option only when there are personnel to monitor the screens.
And then, there are all the other services that these security guards perform - recycling, parking supervision, cleaning, to mention a few.
Apartment residents should think twice before firing their security guards to save a few thousand won.