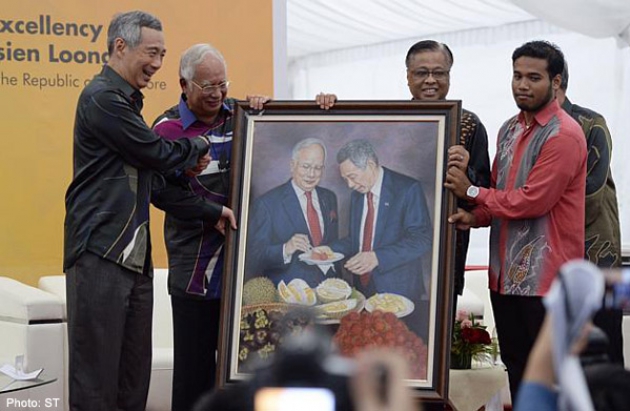 SINGAPORE - The leaders of Singapore and Malaysia gave a taste of the warm ties between the two countries yesterday, when they officially opened a bazaar to promote the food and fruit from across the Causeway.
Malaysian Prime Minister Najib Razak said the 5,100 sq ft Agrobazaar Malaysia in Sultan Gate, off Beach Road, is a "testament to the strong and enduring relationship" between the two neighbours. Noting their common culinary heritage, he added: "We may occasionally differ on terminology, but Singaporeans and Malaysians taste with one tongue."
Similarly, Prime Minister Lee Hsien Loong, in a speech also peppered with nourishing references, likened the two nations' friendship to a "flowering fruit tree" that needs to be "continually nurtured and tended to".
"Sometimes, we enjoy the low hanging fruit, or even wait for the durians to fall. But sometimes, we have to work harder to climb the tree and pluck the coconuts from the top," he said, indicating that obstacles would need to be surmounted "from time to time".
But if both sides keep their communication lines open - not just between the leaders but between ministers and senior officials - "then we can manage anything that comes along", he added.
His confidence appears to be shared by the Cabinet ministers and top officials of the two countries who were among the 400 guests at the ceremony.
The Singapore bazaar, with a restaurant and cafe, is the first of several overseas outlets that Malaysia plans to open in places such as Brunei and Beijing.
It sells fruit like durians and guavas, with their states of origin indicated alongside the prices. Also available are grocery items.
These distinctive exports, said Datuk Seri Najib, "are a perfect vehicle to introduce our cuisine, our culture and our customs".
Malaysian entrepreneur Fauziah Mohamed Yah told The Straits Times that she hopes the Agrobazaar will be a "stepping stone" for promoting her 15-year-old My Haiz company internationally. Its Dor and Heidy brands of cookies are on the bazaar's shelves.
But the bazaar is about more than food, PM Lee said. "It shows that if we work together, there is much benefit to both parties."
Singapore also looks forward to deepening ties with the building of the Rapid Transit System link between Johor Baru and Singapore, and the High Speed Rail between Kuala Lumpur and Singapore.
"It will create opportunities for our peoples to mingle and to understand each other's cultures and heritages better," he said.
Yesterday, he also expressed condolences to the families and loved ones of the victims of the Malaysia Airlines MH17 tragedy.
After touring the Agrobazaar, the leaders enjoyed top-grade Mao Shan Wang durian before visiting the Singapore Sports Hub's Promenade and National Stadium pitch. They ended the night with more food. Mr Lee and his wife Ho Ching joined Mr Najib and his wife Rosmah Mansor for a meal of nasi briyani at My Briyani House in Kallang Wave Mall.
waltsim@sph.com.sg

Get a copy of The Straits Times or go to straitstimes.com for more stories.