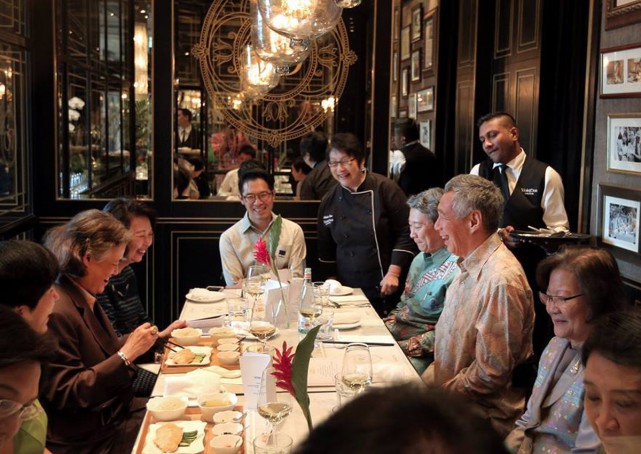 SINGAPORE - Prime Minister Lee Hsien Loong hosted Thai Princess Maha Chakri Sirindhorn to lunch at a restaurant in the National Gallery yesterday and also revealed her favourite Singapore dish - chicken rice.
Writing on his Facebook page this morning, Mr Lee talked about how he "enjoyed catching up" with the princess who did a short tour of the recently opened gallery showcasing modern SE Asian art.
They then had lunch at the National Kitchen by Violet Oon restaurant at the gallery, tucking into dishes like ngoh hiang, kueh pie tee, satay and chicken rice.
Although the prime minster did not name the restaurant, the photo shows them at the restaurant with their name-sake boss, food doyenne Violet Oon, fussing over them.
The princess, who was in town for the opening ceremony of the Global Young Scientists Summit yesterday, is one of the most popular members of Thailand's royal family. The down-to-earth, well-liked princess is known for her ability to bond with the common people and having many passions, which range from food and farming to science and photography.


Mr Lee's post quickly garnered nearly 4,000 likes one hour after he had put it up. There were praises for both the host and the VIP guest.
One of the page visitors, Linda Chuan, commented: "Good graces and good hospitality makes wonderful neighbours. Cheers everyone."
Mr Lee's mentioning of the local dishes also got some salivating.
A 'Maureen Tang', who visited the post before lunch time, groaned: "I'm hungry. I want chicken rice now."



Apart from the local and Peranakan flavours that spiced the prime minister's post, his weekend entries with accompanying photos also smacked strongly of local colours and traditions. Mr Lee tried his hand at making thosai at a Pongal celebration at Cheng San CC yesterday morning.
On Saturday, he took part in an event celebrating the completion of a facelift for the 191-year-old Sultan Mosque. He described it as the "gem of the historic Kampong Glam area".
chenj@sph.com.sg