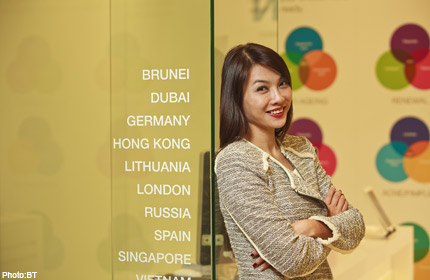 Deep in the heart of Macpherson, Sabrina Tan is plotting to take over the world - one skincare customer at a time.
As CEO of the Singapore- based skincare brand Skin Inc, Ms Tan presides over a young but fast-growing cosmetics business that has captured consumer imagination and made an impact on an international scale, and she doesn't intend to let the opportunity slide by.
By combining a quality product with modern packaging and savvy marketing that targets a young, fashion-conscious crowd, along with an aggressive expansion programme, Skin Inc has gained entry into the lucrative cosmetics world and succeeded in getting noticed in double-quick time.
That's no mean feat in one of the most competitive lifestyle industries around.
With a beauty mantra that offers skincare in "daily doses" - small, simple and easy-to-carry clear-glass containers similar to eye-drop bottles, each filled with a customised "serum" to meet a specific need - the company has found a niche with plenty of growth potential and is manoeuvring to take full advantage of it.
That's where Ms Tan's plans for world domination come into focus.
"I'm a consumer too and I noticed that there is a real vacuum in the marketplace," says Ms Tan during an interview at Skin Inc's regional headquarters in the light-industrial environs of Macpherson Road.
"A lot of women have real skin needs but many products only meet some and not all skincare needs. We provide all you need in one single, fuss-free dose - our lives are so busy, it's important to go after the best result in the shortest time possible."
After graduating with a degree in economics, Ms Tan, 38, spent a decade as an IT executive in a regional marketing role.
A few years ago, she decided it was time to make a career switch. "It's like half-time - for some people it comes earlier and for others it comes later. My half-time came when I was 34 and I decided I'd better start living my life," says Ms Tan, who is married to an IT executive and has two children, aged eight and six.
"The money was good in IT - it takes care of you financially - but I felt the challenge to do something different."
In 2007, after heading to Japan - home of high-end skincare - to work with chemists and suppliers and formulating a skincare product, she started the Skin Inc brand, positioning it as a cosmopolitan-chic offering.
The serums remain at the heart of the brand but there are now three dozen other items in its product line, with a new product launched every three months or so.
After a consultation, customers to its new Skin Supplement Bar at ION Orchard stock up on various serums that each have a different active ingredient, depending on what's required: a collagen for help with wrinkles, Vitamin A for tired-looking skin and dark circles under the eyes, for example, or placenta to deal with pigmentation and hyaluronic acid for dehydrated skin.
Every "dose" comes in bottles filled with tiny colourful globules that look good enough to eat.
"We have a high dose of active ingredients - each bottle has a different active ingredient so you know what exactly is in your skincare product," says Ms Tan.
The products, co-developed with laboratories in Tokyo and Osaka, also feature natural ingredients such as Okinawa deep-sea water and water derived from hot springs.
"We seek out the best in their field because you need good ingredients to deliver the results," she says. "It was a big breakthrough to be able to use Japanese manufacturers."
"I'm a creator; I'm able to identify gaps and the look-feel of things," says Ms Tan, a no-nonsense type who is involved in every aspect of the business, exuding passion for her work, confidence in the product and determination to succeed in equal measure.
She started with about $1 million of her own money and plunged into the business over the objections of friends and family.
She says she has had an independent streak from young and never considered asking her parents for help.
"I can lose my own money but I cannot lose other people's money," she explains.
The company currently has seven retail outlets strategically located across Singapore, and has franchisees in various countries, with more slated to come on-stream in the next few months.
Skin Inc is enjoying particular success in Spain - lending some credence to the notion that in times of economic distress, people tend to spend more money on making themselves look and feel better.
"It's the 'Lipstick Effect'," says Ms Tan. "We are enjoying exponential growth in Europe."
The business - with revenues in the tens of millions of dollars - has doubled every year since it started, according to Ms Tan.
"It will be 300 per cent growth next year, and the year after that," she says.
By the end of her first year of business, she knew she had a success on her hands.
Skin Inc had its first overseas outlet in Year Two and by the following year, it was clear the company was headed for the winner's circle, garnering product awards that now number over two dozen and thousands of new customers in the process.
"I started a marathon; some parts are nice but at other times the gradient is steep and the road is tough," says Ms Tan, who uses the analogy knowingly - she was a distance runner herself.
"I'm a very determined person and whenever I hit something difficult I tell myself that this is just a rough patch of the run."
She adds: "I discovered that I've become a lot stronger because of the decisions that had to be made over the last five years - it was a very steep learning curve. This is the first business I've worked on that I've had to scale to this size.
In my IT career I used to handle the Asia-Pacific region so I understand a fair bit but when people are betting their dollars on your brand and IP, there is the motivation to excel."
The business is currently about 70 per cent foreign and 30 per cent local, and Ms Tan says the objective was always to build an international label.
Her office in Singapore is still relatively small - 20-plus people or so - but there is a rep office in the US and also a team in Europe.
"The biggest challenge is to get the team to see what you see - you cannot assume anything," she says.
Ms Tan is used to making things happen, and happen fast.
In some markets such as Spain, the brand has been helped by celebrity endorsements and well-connected franchisees. "My strength is speed to market - we never expected to gain recognition so fast," she says.
Having a brand at the luxury end of the market is nice, but the mass market is where the really big bucks are and Ms Tan is working to spin-off just such a brand by the end of this year.
Naturally, her commitment to product integrity and the company's mission statement - "Beauty begins with empowering yourself" - will remain.
"There are a lot of myths in beauty care, a lot of false promises," she says. As a consumer, "you have to go back to the basics to know your products, to know your skin".
She adds: "We don't have giant marketing dollars but we believe in delivering more than what you pay for."
It is readily apparent that she enjoys what she does and that switching from the IT to the beauty industry - with all the risks and pitfalls involved - has been more than worth the effort.
"Coming from a tech background, IT people are generally proactive and into problem-solving," says Ms Tan, who usually takes the most direct route when it comes to dealing with issues at work. "Beauty is different, it's very fluffy - but it's art and science combined. You just need to know how to join all the dots."
These days, she also spends time mentoring young entrepreneurs and helping to instill in them a strong sense of purpose.
"They have to have a vision - to begin with the end in mind," she says. "When you are faced with challenges and disappointments, you just have to stick with it."
She's happiest when she sees her children, but Skin Inc is the big baby that takes up much of her time and energy.
The goal is to go global and eventually to go into brand consulting, says Ms Tan.
The immediate challenge is to find and develop the personnel able to handle the rapid expansion. "You need an A-team if you want to conquer the world," she says with a smile.