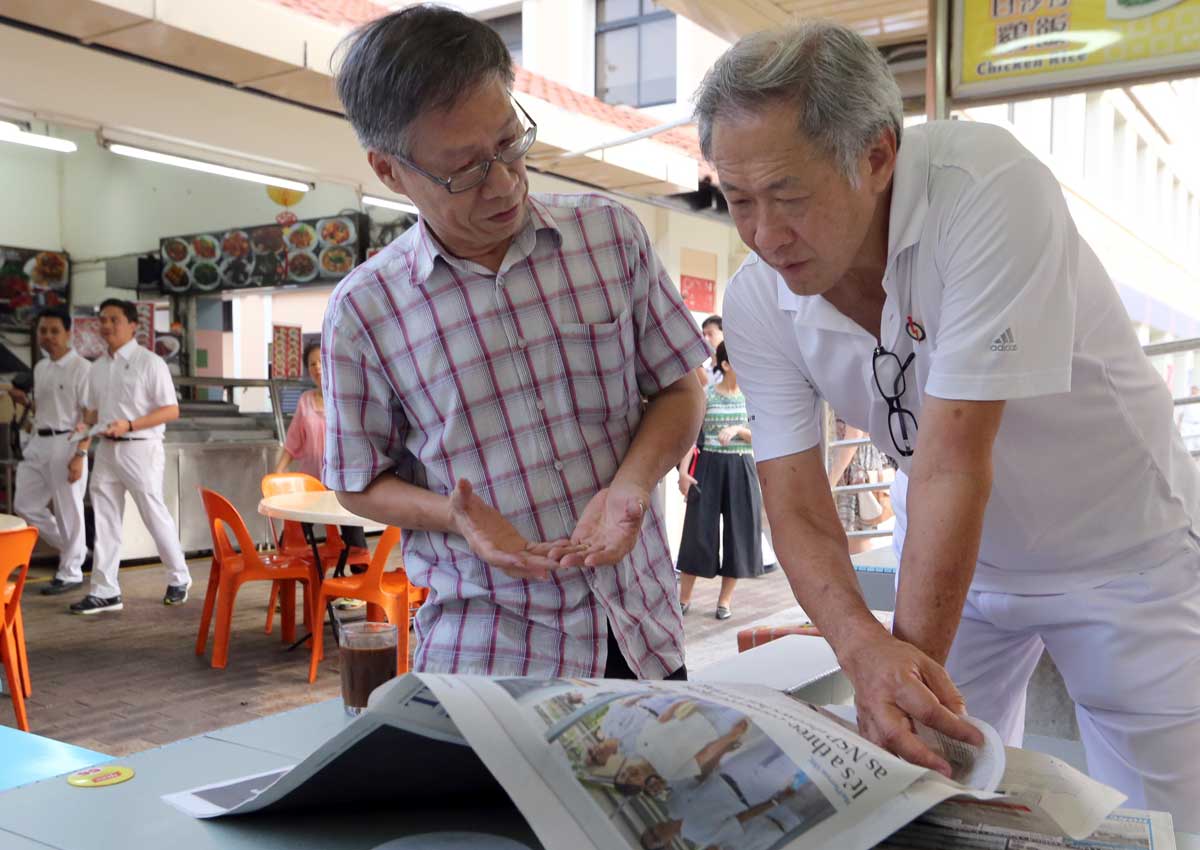 Govt considers their feedback when crafting policies as they are on the ground and have to meet their residents, says Ng Eng Hen
When the Government crafts policies, the key factors it considers are feedback from People's Action Party (PAP) MPs and socio-economic changes in the future, Defence Minister Ng Eng Hen said yesterday.
The PAP's organising secretary was weighing in on the argument that key policy changes under the PAP Government were driven by a stronger opposition presence in Parliament, a common refrain of some opposition parties in this election.
Dr Ng said all the policies that had been changed stem from the Government planning 10 to 15 years ahead and getting residents' suggestions from PAP MPs.
"I would say we give a lot more weight to our PAP MPs," he told reporters at Bishan MRT station, "because they're on the ground and are quite vigorous in their arguments as they have to meet their residents."
He was joining the debate sparked by Workers' Party chief Low Thia Khiang, who said Singapore needed more opposition MPs to be able to check the ruling party. He reiterated this point yesterday during a walkabout in Hougang, adding that at least 20 MPs from another party are needed to effectively check the Government, given the number of ministries and statutory boards.
Prime Minister Lee Hsien Loong had argued on Tuesday that it was not the number of opposition voices that mattered, but their quality. He said he was disappointed by the opposition MPs, likening them to a "mouse in the House" rather than the tigers they made themselves out to be.
Earlier, Dr Ng and his four team members contesting in Bishan-Toa Payoh GRC distributed fliers to residents and commuters at the station during the morning rush hour.
The quartet are Senior Minister of State Josephine Teo, Mr Chee Hong Tat, Mr Chong Kee Hiong and Mr Saktiandi Supaat.
Dr Ng said that while some of the feedback of opposition MPs is important, that of the PAP MPs is critical. PAP MPs also form the majority in Parliament, he noted, adding that the Government typically plans 10 to 15 years in advance.
Citing the ageing population, he said its demographics are the main driver behind the slew of new schemes for the elderly.
These programmes include the Silver Support scheme that gives payouts to the poorest elderly, MediShield Life that provides health insurance for life for citizens and permanent residents, and the Pioneer Generation Package that gives medical benefits to Singapore's pioneers.
"Come 2030, we will have close to a million people who are 60 years old (or older), so demography was the most important change."
charyong@sph.com.sg

This article was first published on September 3, 2015.
Get a copy of The Straits Times or go to straitstimes.com for more stories.