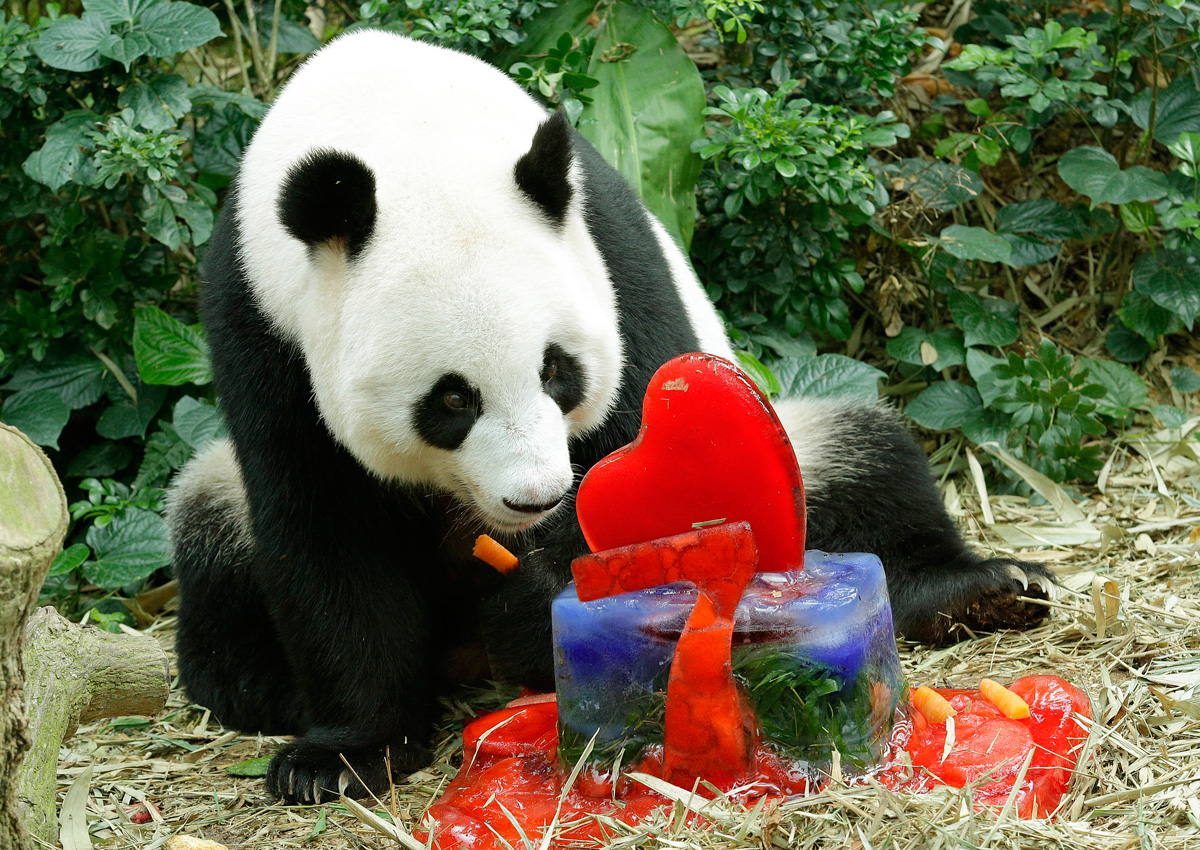 SINGAPORE - Resident panda of the River Safari, Jia Jia, celebrated her 7th birthday on Thursday. 
Other than enjoying her birthday cake, she has been keeping vets and zookeepers busy as they have been playing the guessing game as to whether the bear is pregnant or if she is just going through a state called pseudopregnancy - a common state in which pandas exhibit hormonal and behavioural changes that indicate they are pregnant, when they are actually not.
According to the Wildlife Reserves Singapore (WRS), the female panda has been displaying these telling signs. She has been eating less bamboo, sleeping more, spending more time in her den, and her hormone levels are rising, but vets have not detected a foetus in their weekly ultrasound scans so far, said WRS in a statement today.
River Safari's pandas were brought together to mate in April, after vets and keepers had successfully triggered breeding behaviours through controlled lighting and temperature in Giant Panda Forest. As the mating session appeared unsuccessful, Jia Jia was artificially inseminated on Apr 18.
According to WRS, it is common for giant pandas to display pseudopregnancies, and experts worldwide are often unable to determine pandas' pregnancy status until a late stage. This is because the gestation period for a giant panda is typically five months, and the foetus only starts to develop a few weeks before birth.
Dr Serena Oh, Assistant Director of Veterinary Services of WRS, said: "Her behaviours are in line with a rise in progesterone but it is not easy to confirm her pregnancy because the gestation period varies for each panda. Giant pandas have delayed implantation and it is difficult to see the small foetus during ultrasound scans. We can only definitively conclude she is not pregnant once her hormone levels return to normal and she has not delivered, but for now, it is still a guessing game."
Vets and keepers will continue to monitor Jia Jia's hormone levels and conduct ultrasound scans. The public can follow Jia Jia's development via Wildlife Reserves Singapore's Twitter account (@tweetWRS) with the hashtag #SGPanda.
Jia Jia's mate, Kai Kai, was also presented with a cake today where he enjoyed the birthday treat in the company of 30 pre-school kids from PCF Zhenghua. The male panda will turn 8 on Sep 14. 
To mark the pandas' birthdays, the River Safari is declaring a Panda Party Week from Sep 5-13, where both bears will receive daily treats as a form of enrichment. Visitors can also look forward to interactive booths to learn more about giant pandas, and get hands-on with arts and crafts. 
As part of the celebrations, children born in 2007 and 2008 enter River Safari for free in September. Free admission is extended to Singaporeans, permanent residents and long-term visit pass holders.
Visitors can also enjoy 1-for-1promotions on exclusive panda merchandise, as well as other treats.
maryanns@sph.com.sg