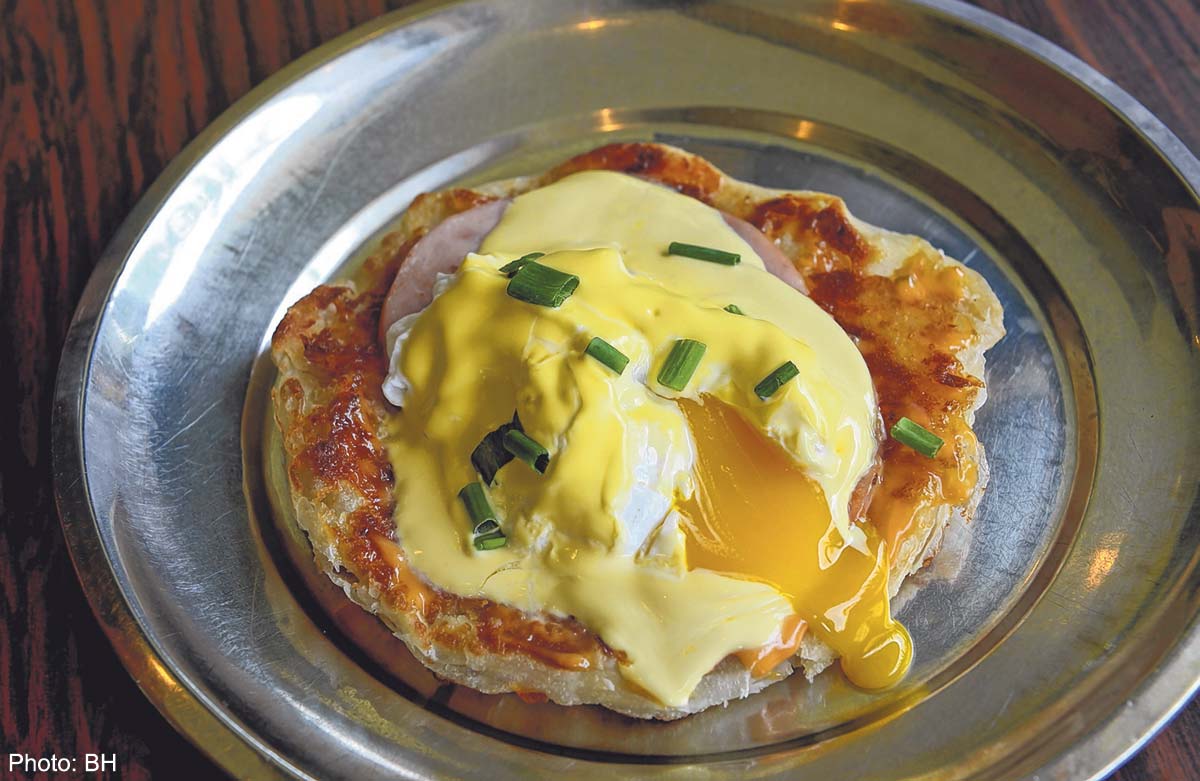 Roti prata, also known as roti canai in Malaysia, is an Indian bread cooked over a hotplate.
Roti prata can traditionally be eaten plain or with curry or sugar.
Lately, this dish has evolved to include garlic, banana, chocolate and cheese.
More recently, it has also developed into sweeter and crispier variants such as tissue prata and paper prata, panfried with butter, rolled into a cone shape and sprinkled with sugar.
But Mr S V Gunalan, director of Springleaf Prata Place, has taken prata one step further by blending Asian and Western flavours in his Prata Benedict.
The Prata Benedict is made by combining a piece of Springleaf 's signature prata (crispy on the outside but fluffy on the inside), a slice of turkey ham with thousand island sauce, with a poached egg perched on top of the prata-turkey ham concoction.
The egg is flavoured with "Indian" hollandaise sauce, a masala curry powder variation of the famous sauce.
The dish was inspired by Mr Gunalan's travels to Australia. He thought up the prata after he missed the poached eggs he tasted Down Under.
Innovative Dishes
Mr Gunalan is always trying to make new and innovative prata dishes.
During the Ultimate Hawker Fest 2012, he made the Ultimate Murtabak, a murtabak wrapped with tandoori chicken, Portobello mushrooms, red onions, spring onions and mozzarella cheese.
At Ultimate Hawker Fest 2013, he came up with the MurtaBurger, where the burger ingredients, including the lamb patty, egg, mayonnaise, Worcestershire sauce, were wrapped into a flipped roti prata.
TK Springleaf Prata Place
57B, Jalan tua Kong, singapore 457253
9025-8022 (Mr Gunalan)
1, thong soon avenue, singapore 787431
6459-5670

This article was first published on April 19, 2015.
Get The New Paper for more stories.