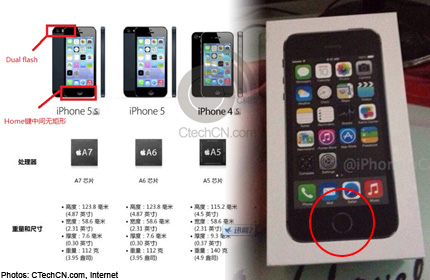 We are just less than two days away from Apple's iPhone event and it seems that a leaked promotional document has stolen the thunder.
According to a leaked "publicity plan" obtained by CTechCN.com, the Apple iPhone 5S will sport the new A7 processor, a fingerprint scanner, an 8-megapixel rear camera with f/2.0 aperture, dual-LED flash and a 2-megapixel front-facing camera. The standby time is increased from 225 hours to 250 hours.
As expected of an "iPhone S model", the upcoming device will sport the same physical dimensions as its predecessor (123.8 x 58.6 x 7.6mm, 112g). This also means that the iPhone 5S will retain the 4-inch display with a resolution of 1,136 x 640 pixels (326ppi).
If the leaked document turns out to be accurate, it is almost certain that there will be criticisms levied at the "lack of innovation" and game changing features on the iPhone 5S. However, it is a known fact by now that the "S" model usually has incremental upgrades.
Specs aside, Apple is widely expected to launch a gold-tone iPhone and our sources indicate that Singapore will be among the first wave of countries to get the new iPhone on September 20.

Visit Hardware Zone for more stories.