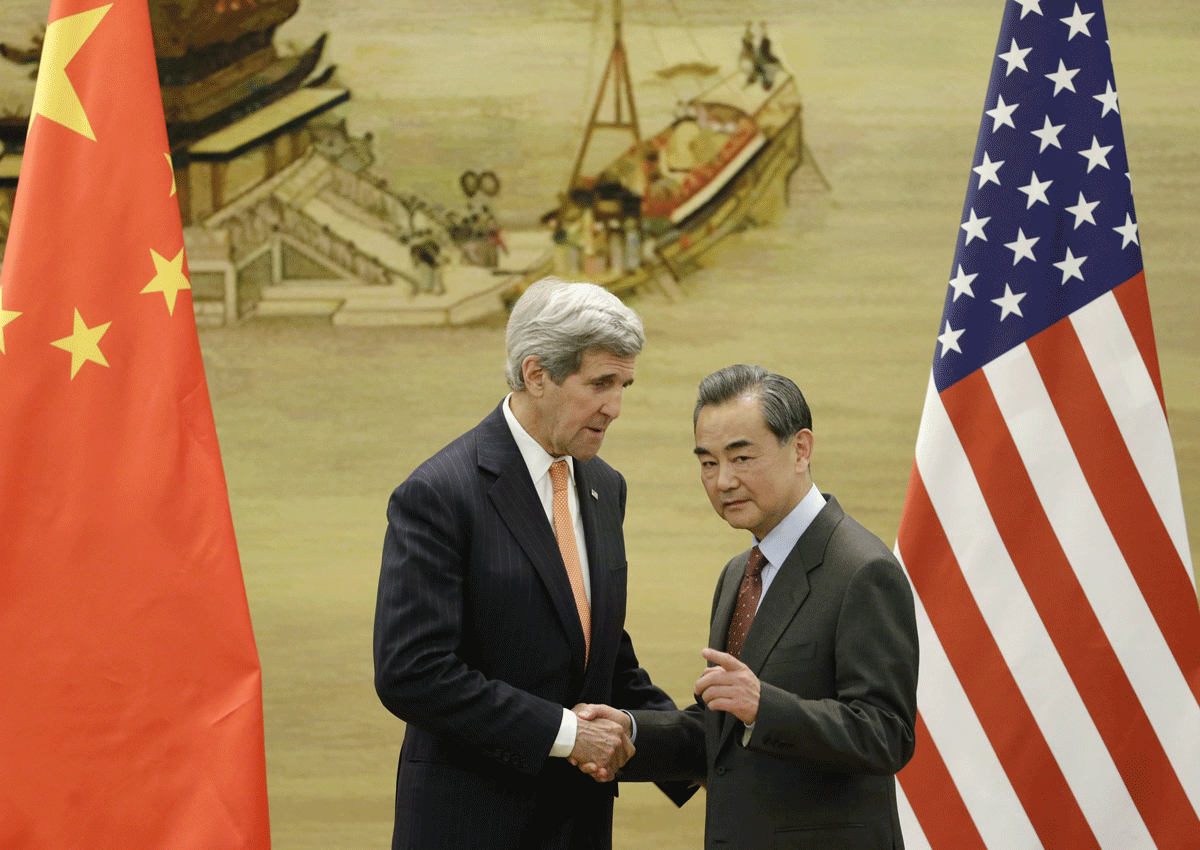 The prospects of adopting harsher international sanctions against Pyongyang for its recent nuclear test have dimmed with Beijing reluctant on a sanctions-centric approach and Russia seeking to expand trade with the reclusive state.
China's stance ― out of tune with that of South Korea and the US ― has further deepened skepticism about the allies' approach focused mostly on pressuring China to exert more influence to curb its wayward ally's nuclear programme.
Beijing's opposition to extremely stringent sanctions against its ally was reaffirmed Wednesday as Foreign Minister Wang Yi said that punitive measures should not be the sole objective, and that they should not provoke fresh tensions in the region.
Wang made the remarks during a press conference after his talks with US Secretary of State John Kerry in Beijing.
"Our position will not be swayed by specific events or the temporary mood of the moment," he added, reiterating its long-standing position that issues involving Pyongyang should be addressed through dialogue.
China has shown discomfort over ongoing moves by the South, the US and other nations to adopt a fresh UN Security Council resolution of inordinately tough sanctions for what the North claims was a hydrogen bomb test, although it shares the need for a new resolution.
Regarding China as the North's economic lifeline, the US has reportedly called on the Asian power to halt its most important trade with the North ― oil exports and imports of mineral resources ― and block North Korean aircrafts from flying over it territory, among other measures.
Trade between the North and China accounts for some 90 per cent of Pyongyang's aggregate trade, with all its oil supplies imported from China ― the very reason the South and the US argue China has the greatest leverage over its ally.
Complicating the efforts to further isolate and punish Pyongyang for its latest provocation are Russia's moves to expand bilateral trade.
Russia's Far East Development Minister Alexander Galushka told local media that his country intends to expand trade volume between Russia and the North to $1 billion (S$1.43 billion) ― a tenfold increase from the previous 2014 record of around $100 million.
Experts said that China might continue to refrain from taking any critical steps to seriously press the North, as an extremely hard-line stance against its ally would not serve its strategic interests in the long run.
"While it (China) may on the surface, or rhetorically, say it is putting pressure on North Korea, it is calibrated, and not total, even when pressure on China to do more continues to grow. Why? The answer is quite simple: Because it is not in China's strategic interests to alter the balance of influence on the Korean Peninsula," Balbina Hwang, a political scientist at American University, said via email.
"(In other words,) China cannot and does not want to lose its ability to influence (or perhaps ultimately control) the Korean Peninsula. This has been a priority strategic goal for China for thousands of years, and North Korea's behaviour, or nuclear status is not going to alter this core goal."
Amid skepticism over Seoul's reliance on Beijing to address Pyongyang's nuclear issue, analysts said that Seoul should devise a more creative way to take the initiative in addressing the decades-long issue rather than depending on other major powers.
"As it has employed a strategy of waiting (until the North decides to denuclearize itself), the US has applied a policy of strategic patience. South Korea should now lead the denuclearization efforts," said Koh Yoo-hwan, North Korea expert at Dongguk University.
"From China's perspective, the South and the US ― whose policies focus mostly on sanctions and pressure ― are shifting the blame for a bungled North Korea policy to China. This is the reason China has expressed its displeasure."
sshluck@heraldcorp.com