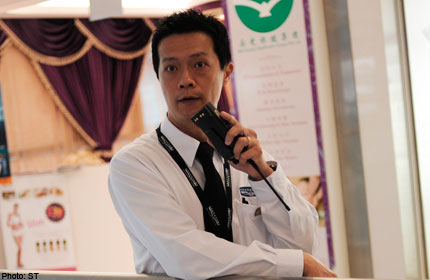 SINGAPORE - Private security is a big business here and it looks set to grow even further.
Civilian security officers may either be armed or unarmed, depending on the stakes involved.
They guard, patrol and inspect property to protect against fire, theft, vandalism, terrorism and illegal activity.
At other times, they escort and keep people and assets safe, such as being involved in major conferences and events such as the Youth Olympic Games.
All security officers have to be formally trained and licensed before they can start work, and the guards' work is often complemented by monitoring and surveillance services.
Why do we need civilian armed and unarmed forces to safeguard our properties when we have the police force?
Says Mr Daniel Marc Chow, director of Evtec Management Services: "The security officers will not only be on patrol and monitoring, but are meant to be highly visible, and will not replace traditional policing, but complement it. Their real mission is to observe and report.
"In areas where the police cannot always be present, security officers maintain and ensure safety."
According to security services provider AETOS Security Management, the auxiliary police force plays a supporting role to the police and security authorities in areas such as the protection of key installations.
This frees the police to focus on their core duties of preserving public peace and order, says its spokesman.
A resilient sector
AETOS observes that the security industry has grown significantly over the last decade - especially after the 9/11 attacks - to meet the increasing demand from condominiums, luxury bungalows, commercial and industrial buildings, government buildings, schools and factories.
Mr Paul Lim, chief executive officer of security firm Soverus, says: "From the macroeconomic perspective, the private security industry is a rather resilient one because regardless of strong economic growth or recession, there will always be demand for private security services, whether it is for security guarding of premises, or for security systems such as closed-circuit televisions (CCTV) and biometrics."
Security firms here have, in recent years, experienced increased demand.
Mr Chow observes that the number of newly trained security officers in Singapore has tripled over the past year.
"Now, people are more security conscious and are willing to pay higher rates to get skilled people," he says.
To combat a shortage of manpower, security providers have started relying on technology solutions such as impenetrable safes, intricate safety lock devices, CCTV cameras and alarm systems.
Companies are also trying to curb the shortfall of security personnel by coming up with better pay, benefits and work-life balance for their staff.