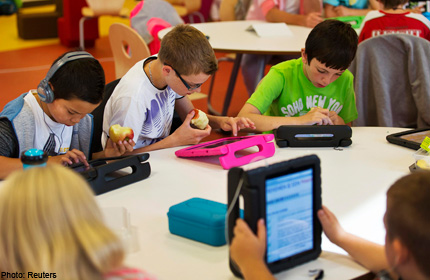 NEW YORK - In the couple of weeks since the Academy of Our Lady in Marrero, Louisiana, began its school year, three of the 450 students have already broken their school-issued iPads.
One got crushed by books in a backpack, and one got dropped on the ground while a girl was running for the bus. The third - well, it just "mysteriously" cracked, the teenage student told Melinda St. Germain, technology director of the Catholic school.
As kids across the United States head back to school this fall, they are likely to have some kind of device with them every day. More and more students are either bringing their own or getting one from their schools, from small private academies to the Houston Independent School District, which is handing out 17,000 laptops in high schools this year.
Studies show that electronic devices, particularly mobile ones, tend to break when kids are using them.
SquareTrade, which provides extended insurance policies for these products, says that 50 per cent of parents report that their kids have damaged an electronic device, costing families some US$2.8 billion (S$3.58 billion) over the last five years.
That is not to mention theft, which typically would have to be covered under a homeowner's or renter's policy.
Here are a few things parents can do to help keep these devices safe.
Insurance
For new devices, particularly cellphones or tablets, you will be hard-pressed to find a parent or an information technology manager who does not recommend insurance.
When it comes to phones, you need to know the replacement cost - excluding the subsidy from the service provider - if the product is lost or damaged. That tops out at $850 for a 64-gigabyte iPhone 5.
"I'd never buy a device to give to a 14- or 15-year-old without a protection plan on it," says St. Germain, who has insured all of Our Lady's iPads through SquareTrade. Plans start at US$99 for two years of coverage with no deductible.
For laptops, most schools have some kind of insurance on the machines they issue to students, as well as tracking software that can locate a computer if it is lost or stolen. (Experts say parents probably do not need an insurance plan for kids bringing in their own low-cost machines or older hand-me-down models.)
Cases matter
Lenny Schad, chief information officer for the Houston schools, says he has seen a cell phone dropped from the second story of a building (in an accident, not a science experiment). Because it had a proper case, the screen did not break. A tough case, like an Otterbox Defender or a Speck, can run around US$30.
Backpacks are particularly unforgiving to tablets. Screens often get crushed by books, or the corners get dinged when a bag is dropped or stepped on.
Without extra protection, laptops do not fare much better in backpacks. When Schad starts handing out the computers later this year, he is also making available carrying cases that can be slipped inside a tote bag. A simple neoprene sleeve can run just US$5.
Stick it to 'em
Beyond etching a name into a machine, simple stickers and other decorations help deter theft. In fact, the more personalisation, the better to provide easy identification of a device in the event that it is lost or stolen.
"I tell my students to bling it out," says Matthew Montagne, director of educational technology for Sacred Heart Cathedral Prep, a Catholic school in San Francisco with 1,240 students.
Instill ownership
Students tend to take better care of their own devices than school-issued ones. "It has their music and all of the things that are important to them," Montagne says. "They don't want to leave that out in the open for somebody else to take."
St. Germain now charges US$50 penalties for broken iPads and US$25 to get back a lost one that has been turned in. Students who get bad grades lose access to the App Store and cannot download games to play at home.
The school's efforts have paid off. About 20 per cent of the iPads had to be fixed last year, down from 30 per cent in 2011, the first year Our Lady gave them out.
Getting educated
It also helps for kids to learn how much it would cost to replace the item.
A recent study by electronics insurance provider Asurion found that teens typically underestimate what they would have to pay for a phone. More than 50 per cent thought it would cost under US$300, when the most popular phones start at about US$550 if they are not subsidised by the phone carrier.
Susan Filyk, who is director of marketing for US Global Investors in San Antonio, Texas, gets her 9- and 11-year-old sons to understand replacement costs by taking them to the repair shop.
For the last broken iPod, her sons asked if they could just get a new one, but the cost was US$400 versus US$100 to fix. "Guess which one we're doing?" Filyk said.
Now that the 11-year-old must bring a laptop with him when he starts middle school this week, she is willing to try almost anything to keep the machine as safe as possible.
"I probably can't just chain it to him," she says.