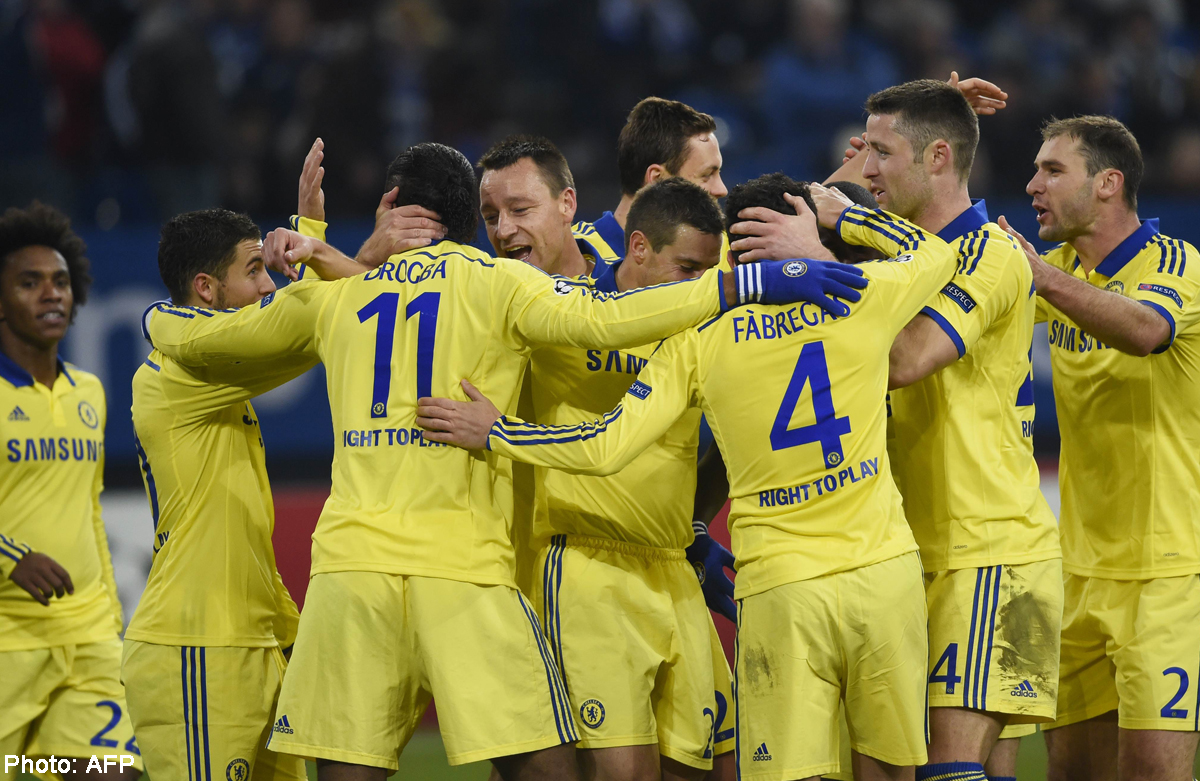 Jose Mourinho has challenged Chelsea to turn results into titles after their 5-0 away drubbing of Schalke 04 put them in the Champions League's last 16 as group winners.
The English Premier League (EPL) leaders brushed aside Roberto di Matteo's ineffective Schalke in Gelsenkirchen as captain John Terry put them ahead within just two minutes of the kick-off.
Further first-half scores by Willian and an own goal from defender Jan Kirchhoff were followed by second-half strikes from Didier Drogba and Brazil midfielder Ramires.
The self-styled "Special One", who won the Champions League with Inter Milan in 2010 and Porto in 2004, is bidding to win the European crown in the fifth attempt with Chelsea.
His all-conquering team are unbeaten in 19 matches this season and have opened a seven-point lead at the top of the EPL.
But Mourinho said they need to win titles at the end of the season if they want to be known as one of Chelsea's great teams.
"For this team to be so good or better than other Chelsea teams, they need to win (titles)," he said.
"At this moment, we have zero titles - we have to transform the quality of our game into the results.
"We have to try to win things to get into Chelsea's history as a brilliant team who also won something."
There was no disguising Mourinho's delight at drubbing Schalke, as di Matteo remains the only Chelsea coach to have won the Champions League, in May 2012, only to be sacked six months later.
"The team played a fantastic match. At this moment, this team are very mature and very confident," said Mourinho.
"To win 5-0 away in the Champions League is not normal. To win 5-0 in Germany is even more not normal. The performance was complete over the 90 minutes. It was very impressive.
"Obviously, we can lose and the bad result is waiting for us. But the reality is, the team are playing very well."
Mourinho could not resist lecturing di Matteo, who is just eight matches into his job, and had his four-match unbeaten home record ended in brutal fashion by his former club.
The result matched Schalke's record European home defeat, when they were hammered 6-1 by Real Madrid in last season's round of 16, first leg, in February.
"I think the best comfort they can take is that they lost against a very good team, a team who gave them no chances," said Mourinho.
"From the first minute, Chelsea were stronger and put in the perfect match and the perfect performance.
"You have to accept it and move on."
Schalke drop to third in Group G after being leapfrogged by Sporting, who won 3-1 at home to Maribor, and they must win their final game next month to have any chance of progressing.