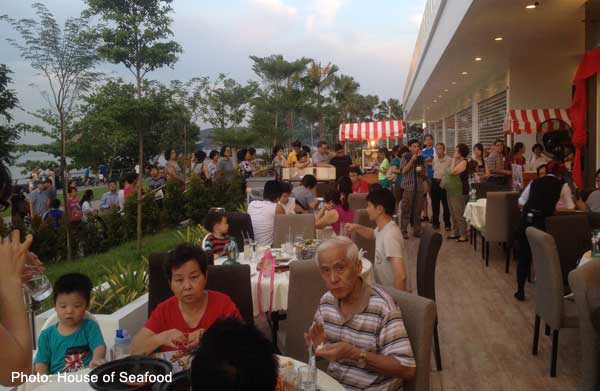 Ponggol Hock Kee Seafood restaurant, next to the Punggol Jetty, used to be a hot dining spot in the 1970s.
Now, the restaurant is back, 50m from its former location, in a new two-storey building called The Punggol Settlement.
The original restaurant moved out in 1994 after the land was acquired by the Government.
But after property developer Fragrance Group bought the site following a public tender in 2012, it invited Ponggol Hock Kee to move in again. The iconic seafood restaurant returned two months ago.
Tenants, including bistros, a bicycle rental store, an ice-cream parlour and other seafood restaurants, have also moved in since the building's completion in April this year. Only one of the 28 units is not occupied.
It was their fond memories of the place that brought the family behind Ponggol Hock Kee back.
The restaurant was started by Mr Ting Choon Teng, a former taxi driver who often drove past the area and thought it would make a good location for a seafood restaurant.
Mr Ting, 84, is now retired and the business is managed by four of his eight children - sons Anthony, 54, and Cheng Ping, 51, and daughters Cecilia, 55, and Teresa, 53.
Recalls Mr Anthony Ting: "The original restaurant had a kampung feel. It had a zinc roof and was next to a sandy beach."
On weekends, more than 600 customers would turn up for dinner and tables had to be set up by the roadside to accommodate them.
Adds his brother, Mr Ting Cheng Ping: "When the buses No. 82 and 83 - they no longer come here - did a three-point turn at the end of Punggol Road, they'd come within 1m of the tables.
"But our customers didn't mind. They just wanted to enjoy their meal under the stars."
After the land was acquired by the Government in 1994, the restaurant moved out and set up shop in various locations. Last year, it was operating at the Marina Country Club when Fragrance's marketing agents invited it to move back.
The Ting family agreed to move - lock, stock and barrel.
Says Mr Anthony Ting: "This place has so many memories for us. Coming back also lets us reconnect with many long-time customers."
Indeed, clerk Lily Meow, 52, who patronised the restaurant once every few months in the 1980s, quickly showed up as soon as she heard that it was back at Punggol.
She says: "I love their classic dishes such as chilli crab and mee goreng, and also their new dishes such as salted egg prawns.
Mrs Meow, who has taken her 20-year-old daughter to try the food, adds: "I hope she can experience the simple joys I had when I was her age."
Indeed, when SundayLife! was there last week, a number of the patrons said they used to be regulars.
Says engineer Daniel Ng, 53: "Coming back reminds me of old times, with delicious food and a pleasant atmosphere by the sea.
"This area was dead after the Government acquired it. It's great to finally see it come alive again."
Fragrance declined to reveal the building's construction cost. According to previous reports, it paid $11.4 million for the 11,606 sq m site last year.
But the nostalgia is not confined to just the Ting family and their customers. Almost all the new business owners at The Punggol Settlement have a personal connection to the place.
For example, the director of Jing Long Seafood, Mr Loh Siong Way, used to fish at the jetty twice a week when he was a teenager.
Recalls the 47-year-old: "I was then a kitchen hand at a coffee shop zi char stall. I'd come with a colleague in a taxi at 10pm and stay until 6am, when the first bus came.
"It was peaceful and quiet. I'd fish for catfish, grouper and flower crabs, all the while chatting with my colleague."
Mr Francis Ng, 42, chief executive of House Of Seafood, remembers eating at the seafood restaurants there with his family in the 1980s when he was a child.
"My cousins and I would run up and down the jetty while the adults ate. After peeling the prawns, we'd throw the empty shells into the sea to feed the fishes."
Adds Mr Francis Tan, 40, owner of Thai restaurant Trunk At Bay: "We'd come in my dad's pick-up truck. The ride was long and bumpy, but it was worth it for the fantastic seafood amid the salty sea air.
"There used to be rubbish floating in the sea. The area is so much cleaner now."
Some tenants - such as the owners of European bistro Just The Place, Mr Kenneth Sia, 29, and Madam Teresa Tay, 26 - are just starting to build their own memories of the place.
Apart from setting up shop in Punggol, the married couple bought a four-room HDB flat in the estate earlier this year.
Madam Tay says: "We came here because it looks like a good place for a business. But from all the nice things people have said about Punggol, it sounds like a good place to settle down - for our business and our personal lives."
bang@sph.com.sg

This article was first published on September 2, 2014.
Get a copy of The Straits Times or go to straitstimes.com for more stories.