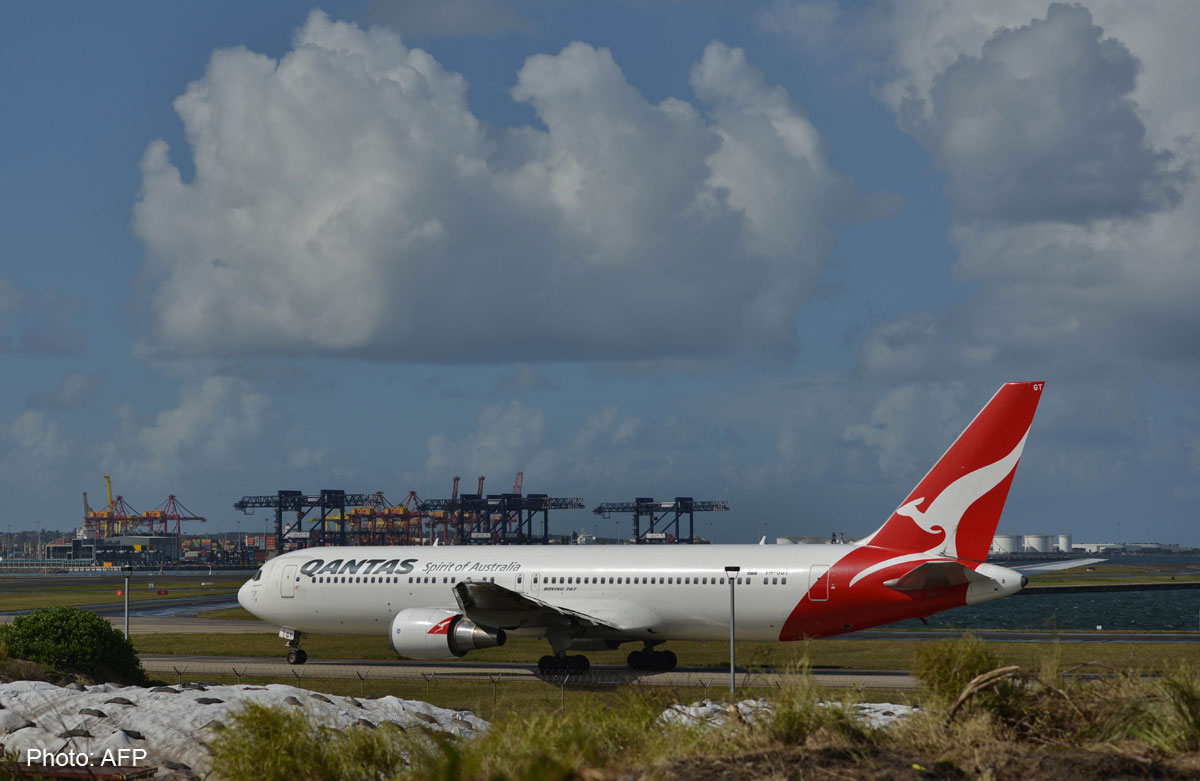 AUSTRALIA - Australia's flagship airline, Qantas Airways Ltd, is making a mint helping other companies keep their customers - even as it struggles to retain the loyalty of its own.
Hiding behind Qantas' staggering A$2.8 billion (S$3.3 billion) headline annual net loss announced last week is a hugely profitable loyalty programme that is the envy of the airline world - and the carrier isn't letting go.
Some investors have urged Qantas to sell all or part of Qantas Frequent Flyer, which is valued as high as A$3 billion. Rival carrier Virgin Australia Holdings announced on Friday it was offloading a stake in its loyalty plan. "The Frequent Flyer programme isn't a 'cash-in' for Qantas, it's a cash cow," said Steve Worthington, a marketing professor at Melbourne's Monash University. "They were the first mover in the domestic market and their programme runs far deeper than any other." Qantas Frequent Flyer boasts more than 10 million members - almost half the Australian population - in a programme that goes well beyond the traditional loyalty schemes that award points for travel and credit card services.
Qantas offers consulting services, data mining and even runs gift card programmes for top Australian retailers, giving the airline such an extensive reach that its loyalty points are often referred to as the country's de facto second currency.
The airline's loyalty division was the only ray of light in an otherwise gloomy earnings report last week. The unit posted its fifth straight year of double-digit earnings growth to hit a record underlying profit of A$286 million.
Chief Executive Alan Joyce said last week the airline had ruled out a partial sale of the loyalty division after a long-awaited review of the business. "This business is a great business," he said. "We believe there is shareholder value still for us holding that business."
Beyond Miles for Flights
American Airlines was the first carrier to start a frequent flyer programme in 1981, offering a straight flights-for-miles deal to gain an edge in the highly competitive US market.
As they were adopted across the industry, including by alliances such as Oneworld, Star Alliance and Skyteam, airlines began monetizing the programmes by selling miles to hotels, credit card companies and retailers.
That effectively gives them a licence to print money as they determine the value of the points. Companies pay to acquire them because they calculate customers will favour the points-earning option when choosing between products or services, gaining them loyalty also. The airline gains working capital as the points are generally not redeemed for a good 18 months.
Qantas, which counts the country's leading grocer Woolworths Ltd as a key partner, posted an 8 per cent rise in billing last year as it added 14 new partners. Others include Westpac Banking Corp, InterContinental Hotels Group and Avis Budget Group Inc.
That Woolworths alliance has given Qantas one of its key extras over other frequent flyer programmes, giving it deep market penetration via a valuable database of consumer spending habits - which it then uses in its consulting business.
While some carriers such as Cathay Pacific Airways Ltd , which charges for entry, like to keep their programmes exclusive, Qantas is extending its loyalty business.
More than 35,000 small-to-medium businesses signed up for its Aquire loyalty programme launched last year, which offers spending rewards. Around 300,000 people decided to activate a chip in their standard frequent flyer card that turns it into a debit card that can store money in nine currencies.
Like other airlines, Qantas also benefits in the old-fashioned way, using point scorers to fill seats and to persuade passengers to stay loyal. Helping out the carriers is points "inflation" - it now costs far more points to get a free flight than it did a decade ago.
Virgin Sale
Analysts said Virgin's surprise announcement on Friday that it was selling 35 per cent of its Velocity programme to private equity firm Affinity Partners was about gaining fast cash. "The timing for this proposed transaction is perfect for us as the programme is far from reaching maturity and there's no doubt that it will propel the business significantly forward,"Virgin CEO John Borghetti said after reporting a A$355.6 million annual net loss.
The sale values the unit at A$960 million, giving Qantas shares a bump in the process as analysts speculated about a higher valuation for Frequent Flyer. Virgin's plan has just 4.5 million members, fewer than half as many as Qantas.
Applying a similar valuation, Qantas Frequent Flyer would be worth somewhere between A$2.5 billion and A$3 billion, said Angus Geddes, an analyst at Fat Prophets in Sydney.
That's significantly more than the 185 million euros that Germany's ailing Air Berlin received from Etihad for a 70 per cent stake in its Topbonus programme in 2012.
Air Canada, which has the only programme that analysts said was comparable to Qantas' plan, raised C$287.5 million in a 2008 initial public offering of Aeroplan that valued the business at C$2 billon.
Analysts said the unit's long-term value for Qantas far outweighs the benefits of any quick cash. "It's the jewel in the crown of the Qantas asset portfolio,"said Bell Potter's O'Shea. "If they can get away with keeping it, it's what they should do."