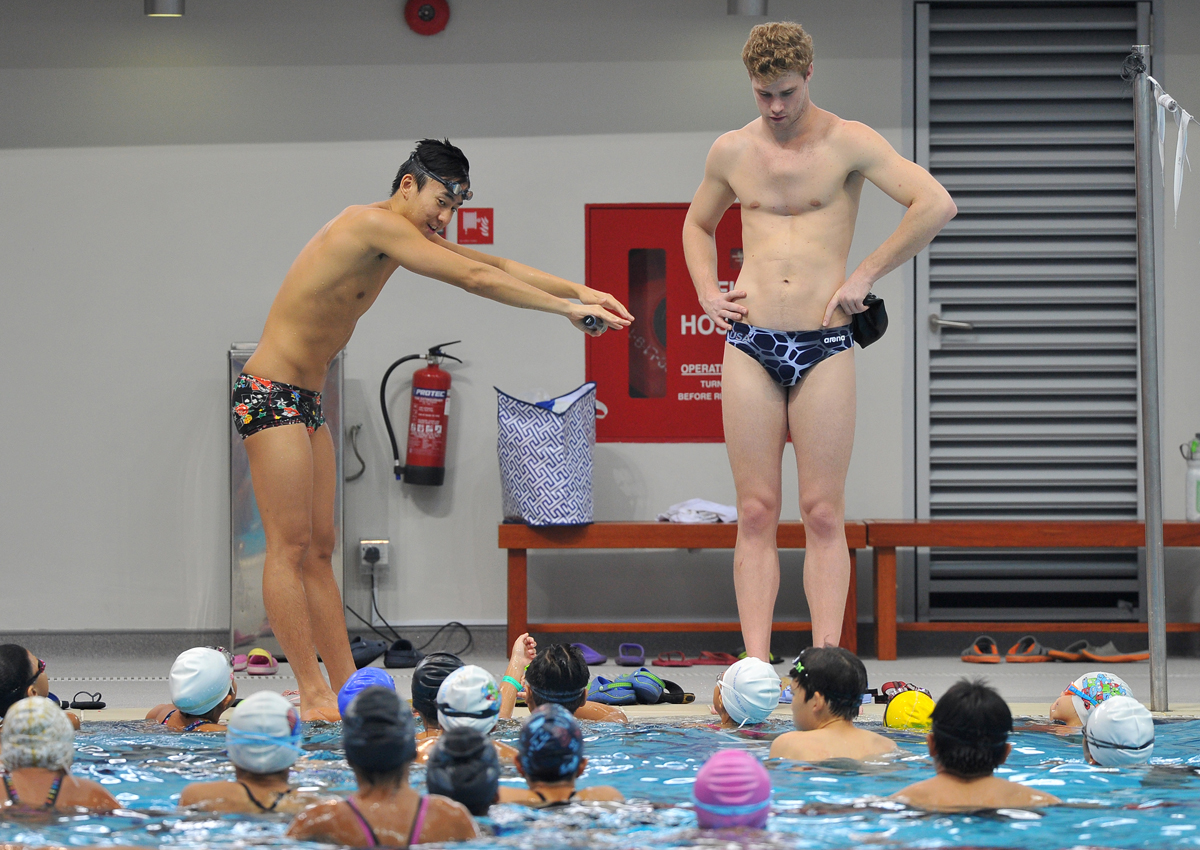 The past year has seen Singapore swimmer Quah Zheng Wen rise to prominence on both the domestic and international fronts.
At June's Singapore SEA Games, he clinched a medal in all 12 of his events, including golds in the 50m, 100m and 200m backstroke.
In doing so, he established himself as the undisputed backstroke king in the region.
The 18-year-old also met two Olympic 'A' times - in the 200m butterfly and 100m back - since returning from a four-month study break last November.
Now, fresh off a 11/2-week break, Quah said he is looking forward to building on the highs of the past season. He has set his sights on making one more Olympic 'A' cut.
Speaking on the sidelines of a coaching clinic which he co-held with Singapore-based United States swimmer Kevin Cordes, Quah said: "Coach Sergio (Lopez) thinks I've a good chance of making the 'A' time in 100m fly... it's encouraging to know I can go that far with the required training.
"Getting back in the swing of things is always difficult, it's a little tiring. But I think I'm getting there."
Quah's personal-best in the 100m fly is 52.69. The Olympic 'A' time is 52.36.
The past few months also saw him make his World Championships debut in Kazan, Russia, and clinch four medals over two legs of the Fina Swimming World Cup.
He believes the experience has prepared him for competing in the big meets.
"After Kazan and the World Cups, I'm getting used to racing with the big guys. They kind of lose a bit of that aura," said Quah who was granted deferment from national service in July.
It is this confidence that he hopes to bring to the Singapore stop of the eight-legged World Cup series this coming weekend, as he continues his preparations for next year's Rio de Janeiro Olympics.
He said: "I definitely hope to be hitting times that are expected of me and to continue to improve.
"There's pressure and expectations to deliver but it's positive pressure. I know I have the potential and I just want to swim to the best of my ability."
Setting top timings took a back seat at yesterday's clinic, as Quah and Cordes coached a group of 50 young swimmers at the OCBC Aquatic Centre.
Said Cordes, who won a gold (4x100m medley), two silvers (200m breaststroke, 4x100m mixed medley) and a bronze (50m breast) in Kazan: "It's always great to give back my knowledge of the sport."
siangyee@sph.com.sg

This article was first published on Sept 27, 2015.
Get a copy of The Straits Times or go to straitstimes.com for more stories.