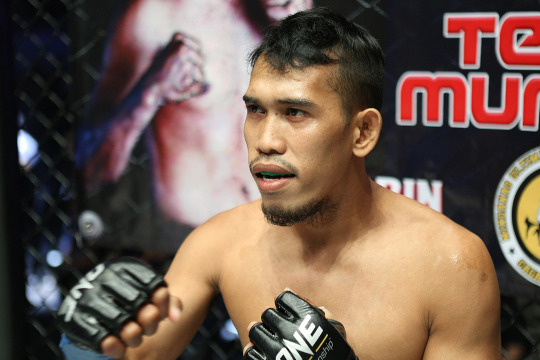 Almost one year ago, Rabin "The Rock" Catalan thought he had finally gotten his big break. The Filipino national wushu champion was about to make his debut for ONE Championship at ONE: GLOBAL RIVALS in Manila, after watching three of his brothers already compete in the promotion although he was the first to transition to MMA.
"I was so excited, but nervous at the same time because it was a short notice fight," says Catalan. "It is actually quite overwhelming doing the shows in ONE Championship, because it is different from the local fights. I was shocked when I first walked out, and I could not believe myself when I was standing inside the ONE Championship cage at that moment."
However, things did not go as planned for the 30-year-old Catalan. He suffered a second-round TKO loss to Joshua Pacio, undoing the momentum he had built for himself in the local scene. The 30-year-old strawweight was dealt a huge blow, and had to take some time off to recover.
"I had to really think whether I wanted to compete in MMA or not," ultimately putting the pain of his loss behind him. "So, I trained hard because I wanted to get better before coming back to ONE Championship."
Catalan's next challenge comes on 11 March, Saturday night, in the form of "The Smiling Assassin" Pongsiri Mitsatit, which is a tall order in spite of his opponent's small stature.
After all, Mitsatit is an undefeated 7-0 prospect with six finishes, a former Northern Thailand Muay Thai Champion, and the fight takes place in Mitsatit's home country of Thailand. It will be one of the preliminary bouts for ONE: WARRIOR KINGDOM at the Impact Arena in Bangkok.
"He is quick, and he looks strong and very fierce," says Catalan of his opponent. "I will do my best and really show what I have. I will put my best foot forward because I have trained very hard for this fight. 
To prepare for the bout, "The Rock" moved to Cagayan De Oro City for his fight camp, and trained extensively at Mindanao Ultimate Mixed Martial Arts to regain his focus. There, he slowly rebuilt his confidence in his abilities, and is fully prepared to perform at his best.
"Coming into this fight, I have confidence now and I am training hard. I came up to Cagayan De Oro City to really train and show that I am worthy to fight in ONE Championship. I have dreams of really becoming a World Champion someday."
Given his combat sports pedigree, that might not be just a pipe dream. Catalan has been training in martial arts for the past 20 years, starting even before his opponent Mitsatit was born.
"I will keep up with Pongsiri (Mitsatit), and I will try to top his toughness and quickness to make this my moment."