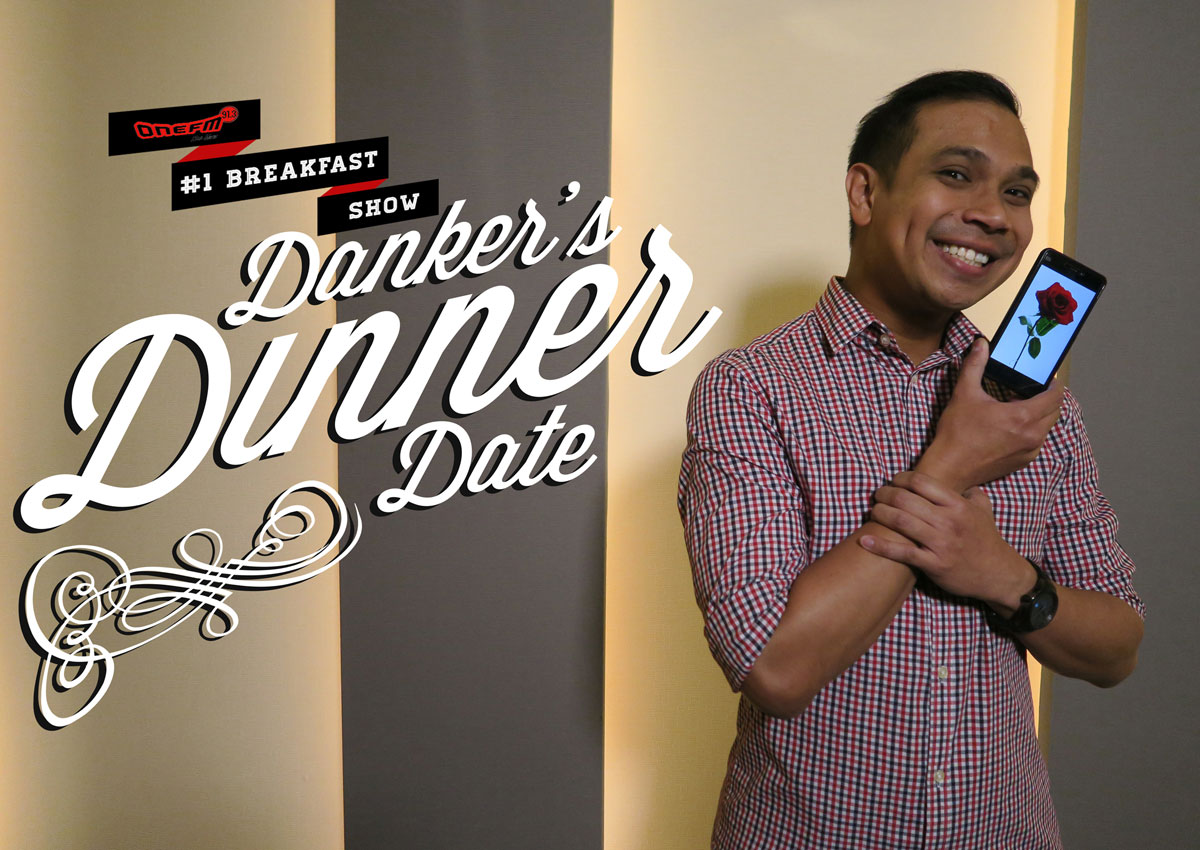 Elliott Danker's Valentine's Day date this year was a failed one. And the DJ's fellow presenters on ONE FM's #1 Breakfast Show teased him mercilessly about it over the airwaves.
But Glenn Ong, Andre Hoeden and Shaun Tupaz took it one step further.
They ended up playing Cupid and engineered a do-over by organising the Danker's Dinner Date contest to pick a lucky lady to go out with Danker.
But his romantic evening last Friday with the winner, Ms Betty Chan, a 38-year-old social worker, took a dramatic turn when a stalker attempted to crash the event at WoW - World of Whisky in Movenpick Heritage Hotel Sentosa.
The unknown woman, who is believed to be one of the finalists of the contest that ran on the #1 Breakfast Show last week, called the hotel three times and ONE FM twice, pretending to be the winner.
"She used a different name each time and asked what time the date was going to be and what other prizes she would be getting," Danker, 34, told The New Paper over the phone the day after the date. Hotel security was alerted and Ong, Hoeden and Tupaz hung out at the restaurant bar to offer Danker and Ms Chan moral support.
"Between the nervousness of going on the date and knowing about the stalker, I had to order a glass of wine to calm down," said Danker.
"Fortunately, Betty was really cool about it when I explained that a crazy woman was trying to gatecrash our dinner date. I also told her that since Glenn does MMA (mixed martial arts), he could be our bodyguard if anything happened."
Fortunately, the woman did not show up and Danker and Ms Chan were able to enjoy their evening in peace.
Ms Chan, who beat around 50 applicants, received a rose bouquet and enjoyed a VIP limousine ride to Movenpick Heritage Hotel Sentosa.
SINCERE AND FUN
While he had no say in the final selection, Danker did give his co-presenters some criteria, such as specifying he loves pets and was not currently interested in having children.
Said Hoeden: "Betty was one of our favourites because she seemed the most real, sincere and fun."
Ms Chan told TNP in a separate interview: "I thought (the stalker incident) was quite funny, actually. You hear about these things happening, but never think they would involve you."
She noted that Danker seemed more nervous than her and that she was not worried because "the stalker was probably not interested in me".
Ms Chan, who joined the contest "on the spur of the moment", said she did not expect to be chosen and had kept her win a secret until the last moment.
"My friends were excited and said, 'Oh, if I were single, I would do that too,'" she said.
"Before this, I just knew that Elliott does the news and sports (on the show) and seemed like a nice, quiet guy.
"My first impression of him was that he was taller than expected, gentlemanly, and had a nice smile," she said.
The pair kept the conversation going by sharing more about their personal lives and values and chatting about their common interests, like travel.
Said Danker: "This date went much better than my original Valentine's Day date, where I just didn't click with the girl.
"My faith in humanity has been restored.
"I appreciated how Betty was really chill and said we should just relax and have fun. I was pleasantly surprised by how sporting she was, agreeing to go on this date and having pictures and a video taken."
So will there be a second date?
"I had a good time and I would hang out with Betty for coffee again," said Danker. "As for what happens in future, we'll see how it goes."
Said Ms Chan: "I think we can definitely be friends and for anything more, it's too early to say.
"But I want to thank the guys for picking me - I have to say they look great in real life. They are nice, tall, hunky fellas, and, yes, that includes Elliott."'
lisat@sph.com.sg

This article was first published on February 22, 2016.
Get The New Paper for more stories.