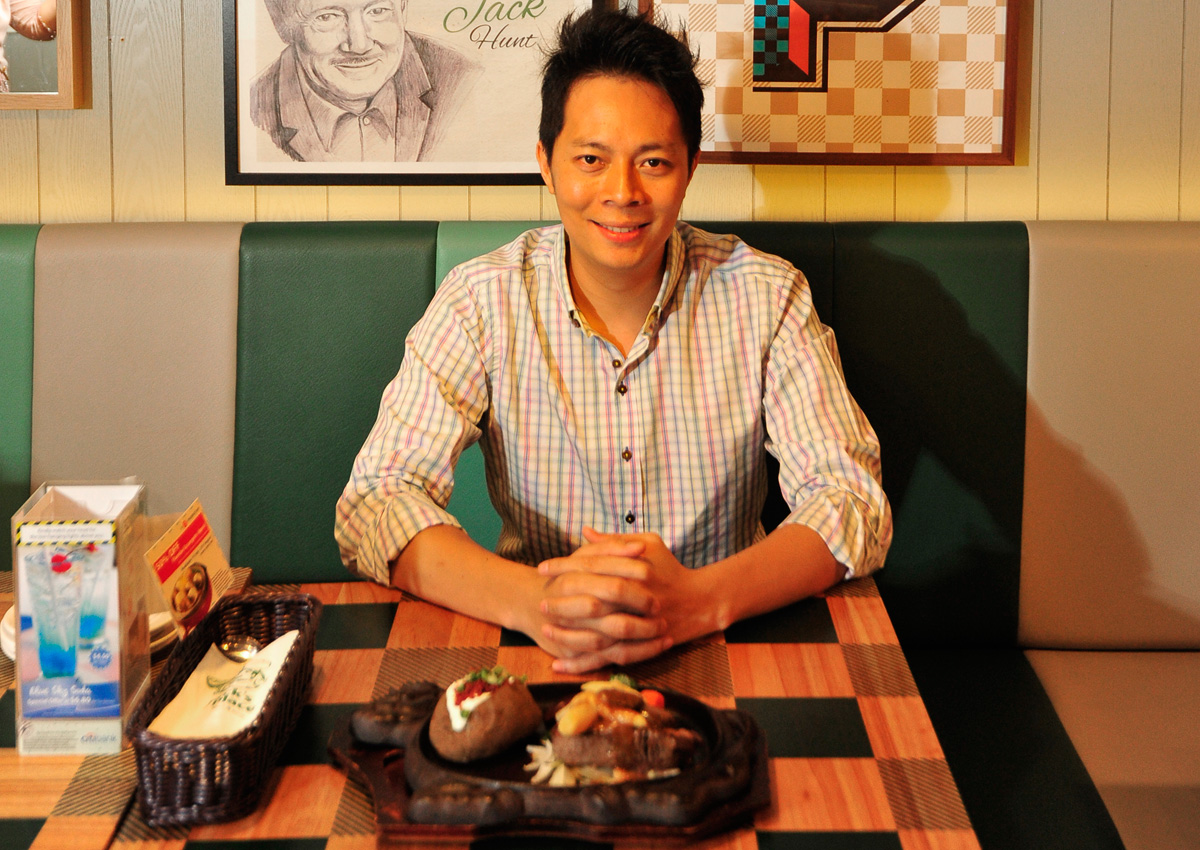 There is a sense of nostalgia associated with home-grown Western restaurant chain Jack's Place.
Over the years, the 49-year-old brand has become a family favourite and is known for its affordable Western food and sizzling steaks.
And in Singapore's competitive food and beverage scene, its chief operating officer Jerry Lim is not going to let the brand fade into a distant memory in the minds of diners.
To keep up with the times, the 37- year-old is spearheading a facelift of Jack's Place, something he first did 12 years ago.
All 15 restaurants will undergo a $2-million revamp within the next two to three years, modelled after the company's chic new restaurant at Paya Lebar Square.
Gone are the stiff table cloths and dimly lit dining rooms. Instead, the revamped restaurants will be brightly lit, with specially designed crockery lining the walls. The decor will be in shades of green - the restaurant chain's signature colour.
The menu, too, has been streamlined from 63 items to 48, with more pretty plating for Instagram moments.
The signature steaks remain - now with a clearer explanation of the beef cuts - along with the classic jacket potatoes topped with sour cream, chives and bacon bits.
New dishes include Caesar Salad With Lava Egg ($10++); Jack's Best Beef Stew In Trendy Mini Casserole ($18++); Flambe Fire Chicken Steak With Salmon And Sea Prawn ($24.80++); and Salted Egg Lava Chocolate Pudding With Fruit Compote ($7.90++).
It is a collaborative effort with the group executive chef Heman Tan and group pastry chef Poh Lo.
The space next to Jack's Place at Paya Lebar Square houses a trendy dessert and retail cafe called Jack's Cola Cafe. Here, the group has partnered popular brands Udders Ice Cream and Smitten Coffee to reel in younger customers. The cafe also sells beef, wine and a range of products such as pies and sauces.
Mr Lim hopes to open 10 Jack's Cola Cafes islandwide, whether as standalone outlets or as part of an existing Jack's Place restaurant.
Other subsidiaries include Japanese restaurant chain Restaurant Hoshigaoka, with outlets at Safra Toa Payoh, The Grandstand and Woodlands Civic Centre; Eatzi Gourmet Halal Restaurant in ITE Ang Mo Kio and Safra Yishun; online cake business Eatzi Gourmet Bakery; and Korean barbecue restaurant Kkongdon Barbeque at Djitsun Mall in Ang Mo Kio. The brands all come under the holding company of JP Pepperdine Group.
Still a family business
While the cafe is a huge step in the brand's effort to go contemporary, the company is not discarding nostalgia.
It is a marriage of old and new at the cafe, as its name is a "tribute to grandpa", says Mr Lim.
The late Say Lip Hai, his maternal grandfather and founder of Jack's Place, used to run a restaurant in 1967 called Cola, which served the British and Commonwealth troops and their families in the Sembawang area. He had come from Hainan, China, and worked as a cookboy with the British troops, learning how to make roast beef and Yorkshire pudding.
When a British housewife tasted his steak in 1968, she suggested he start a catering business in her husband Jack Hunt's pub in Killiney Road. Mr Say agreed, on the condition that he take over the whole kitchen operations. This led to the birth of Jack's Place Steak House, named after Mr Hunt, who sold the business to Mr Say in 1974 for $28,000 and went back to England.
The business started to expand in 1977, with a second outlet at Yen San Building in Orchard Road. Two years later, it ventured into the heartland with a third restaurant in Ang Mo Kio.
Three of Mr Say's 11 children are still in the business, making up the second generation of executive directors. He died in 2009 when he was in his 80s.
As a nod to the brand's British roots, the company has also tweaked the Jack's Place logo so that it features a stout cartoon chef with a cheerful expression.
Chuckling, Mr Lim says the figure in the previous logo was thought to be "more Italian". With some tweaks, the character is supposed to look "more British" now.
All these plans came out of a trip to the United States that he went on about three years ago, to learn about boosting productivity.
He and his two cousins, Mr Alvin Say and Mr Jason Ong, are the third-generation family team running the show. Mr Say, 33, holds the position of chief operating officer and he manages the catering, bakery and central kitchen. Mr Ong, 38, is the chief corporate officer and his role is to handle human resources, marketing and accounts.
The trio describe their working relationship using the analogy of a football team: Mr Lim is the striker, Mr Say is the midfielder and Mr Ong is the defender and goalkeeper.
As Mr Ong puts it: "Jerry handles operations so he has to score the goals. Alvin juggles the central kitchen, bakery and catering - he sees all sides like a midfielder. And for me, I handle the accounts and staff - I defend the backend. "At the end of the day, we are all trying to score goals."
They have also had to work closely with their parents, who form the second generation of executive directors.
Mr Lim, who started in the business in 2002 handling now-defunct Jack's Place openings in Shanghai and Malaysia, says: "When I bounce ideas off them, they still see us as their children and replies can be brutal, blunt and hurtful.
"But you can't fight back because you'll see them for family dinner the next day. As the younger generation, we feel we have a lot to prove and the older generation doesn't dare to let go."
In 2007, he took a sabbatical and considered leaving the company to gain work experience somewhere else. But he "found solace" in The Family Business Network, a global, not-for-profit international organisation that supports family businesses.
He says: "I met people who understood exactly what I was going through. They dealt with the same family dynamics and faced similar issues. The courses trained me to know when to be more aggressive and when I needed to be mellow."
With a refreshed perspective on working in the family business, he shared his newfound knowledge with his family members.
The three cousins note that their strong family ties were forged during their childhood days. Growing up, they would follow their parents to Jack's Place restaurants and play sports together. Friday dinners at their grandmother's home are still a ritual for the family.
Mr Say says: "Somehow, we work quite closely and well together. I see Jerry and Jason not as cousins, but brothers."
Speaking passionately, Mr Lim also tells Life about wanting to make an impact on his staff. For the company's annual dinner and dance, he encourages his 330 staff members to bring their spouses and children.
The economics graduate from the University of Western Australia says: "This may sound very cliched, but I really want to improve people's lives. When you help your staff, you not only impact one person, but you also impact the whole family." A tough point in the history of the business came during the mad cow disease crisis from 1996 to 1997.
Then still in his teens, Mr Lim recalls that the family was not sure if the disease, which started in Britain, signalled the start of worse times to come.
They decided to be more than just a steakhouse and started serving other dishes.
And even though their ventures abroad have failed so far, Mr Lim does not rule out opening overseas again, in South-east Asian countries such as Vietnam, the Philippines, Indonesia and Malaysia. He says the overseas ventures failed because the branding and food did not resonate with diners.
The current revamp, he believes, will help in exporting the brand.
On the strategy, he says: "With our Singapore-British heritage and nostalgic factor, it could be easier to bring the brand out of Singapore. People will then be able to identify with the history."
And as the company moves forward, the three cousins still require the expertise of their elders.
Referring to the new wooden panels on the ceiling of the Paya Lebar restaurant and on the walls, he admits that he could have saved money, after one of his uncles saw the interiors.
He says: "Using a laminate on the walls and removing alternate panels in the ceiling wouldn't have made a difference to the aesthetic and might have saved us half the cost."
His mother Susan Say, 60, one of the executive directors, who used to be the director of operations, is grooming her son to take over her role.
She says: "The cousins have to go through trial and error, and like us, they have to learn from experience. But they are young and can learn faster, and so far, the transition is progressing well."
Acknowledging the need for the revamp, she adds: "We have to make the changes to the menu and look of the restaurants because everyone is changing. And our generation has to accept the changes."
Mr Lim's 65-year-old father used to be a businessman and now works with the People's Association as a Pioneer Generation ambassador. He has two younger sisters aged 33 and 35, in the property and IT industries.
His Indonesian-Chinese wife Yunita, 34, is a relationship manager in UOB and they have two children aged six and four. The family lives in Bukit Timah.
For someone so entrenched in the food and beverage industry, Mr Lim is not quite the foodie he says everyone expects him to be. He says he has a great reason for it.
"We see food as revenue," he says. "If I eat at a fancy steakhouse, all I can think of is that I'm being charged an arm and a leg for wagyu.
"People always ask me where I go and eat and my favourite dining places, but actually, I don't like to eat out. It is not our lifestyle or tradition to go for fine dining."
However, the avid cyclist and runner is a wine lover, who stumbled into the world of wine when he was studying in Australia. He started out enjoying full-bodied New World red wines from Australia and has recently taken a shine to French wines.
He spends many mealtimes at the Jack's Place outlets trying the food and observing operations, and hopes the next generation will take over the business and keep it in the family.
But he admits: "It's been tough because the market has been going down. Customers are so spoilt for choice. I also get frightened to gaze into the crystal ball to predict our future. Sometimes, I can't even see the ball.
"But our family is watching us change and working with us to change. The business stays in the family and we will not sell out."
euniceq@sph.com.sg

This article was first published on July 26, 2015.
Get a copy of The Straits Times or go to straitstimes.com for more stories.