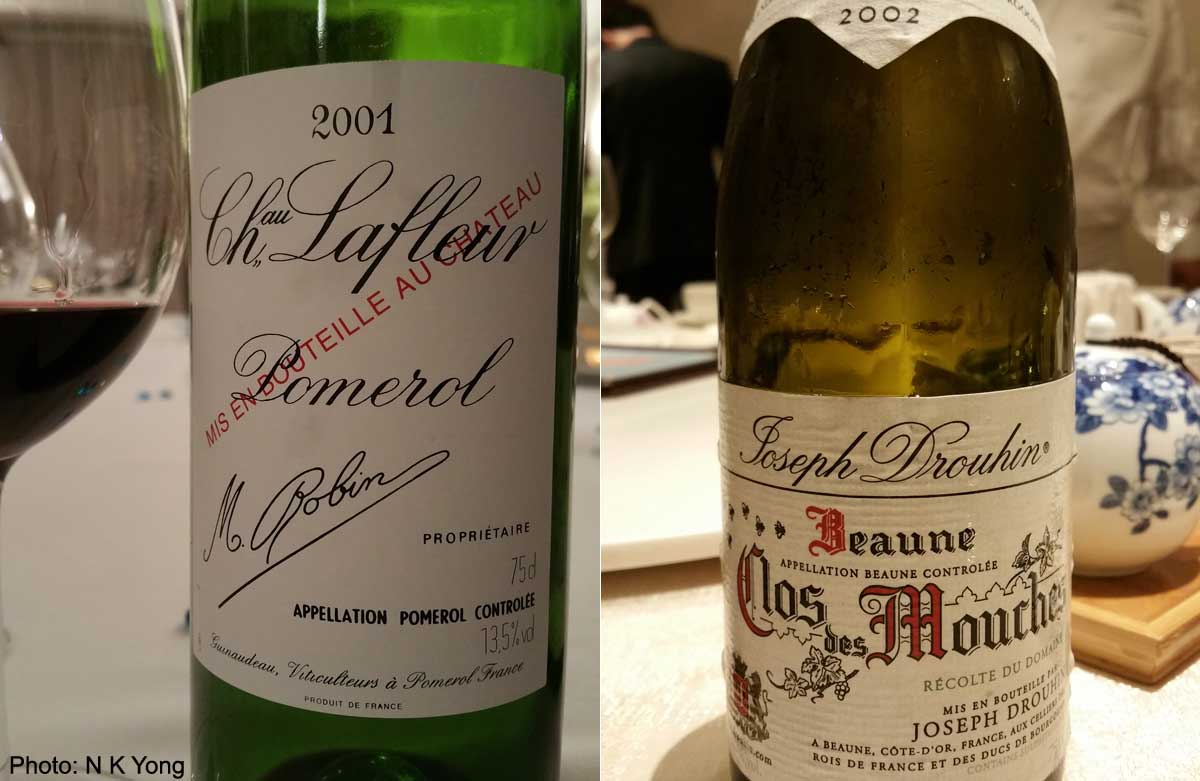 Ask any Bordeaux wine lover which are the best (and naturally, the most expensive) Pomerols and almost instantly, the answer will be Le Pin. Second? Petrus.
Both right. But there are those who keep their counsel because they know that while Lafleur is not in the top two, it is expensive enough - third after Petrus - and is their favourite Pomerol!
With a production of less than 1,500 cases per year, any surge in demand will send the prices skyrocketing.
It is interesting that the vineyards of Petrus, Le Pin and Lafleur - the three expensive Bordeaux wines - are within walking distance of each other, and until recently, all were distinguished by their unpretentious winery buildings.
It is no accident that they are all on the same plateau, and have therefore more or less the same terroir, or clay with gravel and sandy soil with iron oxide deposits.
Chateau Lafleur 2001
Merlot 50 per cent Cabernet Franc 50 per cent
I had not seen this wine for some time, so last week, decided that at 13 years old, it should be quite ready.
Colour medium-hued, dark brown-red, impenetrable. Rich dense aroma of ripe merlot, no cedar notes at all. On the palate, a soft, full-bodied wine, packed with fruit, still rather closed, very ripe blackberries, very dense and concentrated.
It did not lack freshness but seemed to need acidity to balance the overwhelming density of the very ripe fruit, red and black berries.
Two days later, from the re-corked half-full bottle, it was a different wine. It had become firmer, its great minerality more pronounced, making it even more complex.
Yet, this wine is still an adolescent. It has begun to open up but will need another four to five years to show its full potential, and from what has already been seen from this bottle, the final result will be quite spectacular. The minerality and the concentration of ripe fruit are quite amazing.
I cannot recall ever witnessing this degree of minerality. It is one of the first qualities of this wine that hits you with the first mouthful. You cannot miss it. I am not going to wait four to five years for the next bottle.
I first met the owners, Jacques and Sylvie Guinaudeau, at dinner at Chateau Figeac more than 10 years ago, when my wife and I were house guests at the Chateau. Our host, Thierry Manoncourt, now sadly deceased, introduced us to the Guinaudeaus, saying we had to visit Lafleur.
Thus began our association with Chateau Lafleur. It would be difficult to find more unassuming owners of such a famous chateaux as Lafleur than the Guinaudeaus.
Simple people, simply dressed, modest and even retiring in demeanour. If you did not know who they were, a visitor visiting Lafleur for the first time could mistake them for the housekeepers!
Last thought: a comparative tasting of Petrus, Lafleur and Le Pin would be mind-blowing. Should any reader be able to set it up, don't forget to call me!
Now for one of my favourite whites.
Beaune 1er cru Clos des Mouches 2002, Drouhin
Drunk at a Chinese dinner a week ago.
Very pale straw-yellow, with a lovely, light and wonderfully enchanting bouquet with just a touch of lime and lemon. On the palate, a refined, lightly sweet, lemony flavour, a bright freshness; the flavours just filled the mouth, its aromas escaping up through the back of the nose to reinforce the bouquet taken in from the front.
Glorious. My favourite wine, from a great vintage, a fresh young adult at 12 years! One of the best vintages of this wonderful wine.
Beaune is Cote d'Or's third-largest commune, and the slope of premiers crus extends from the boundary with Pommard to the south, right up to its border with Savigny-les-Beaune just at the northern end of the city.
The Clos des Mouches vineyard sits in the middle of the slope. Drouhin produces both white and red Clos des Mouches, but the white is by far the more celebrated wine. This bottle of the 2002 is glorious and is typical of this wine. I have never been disappointed by Drouhin's white Clos des Mouches.
How does it match up against the Pulignys and the Meursaults? Interestingly, I had two examples of a great Meursault recently, both from Comtes Lafon. Different animal. Bigger wine, denser where Clos des Mouches is delicate and fine.
Richer, more concentrated palate than Clos des Mouches. Both versions of white Burgundy demonstrate the fascinating range of palate colours one can find in white Burgundy. The choice is wide and varied, and makes life more interesting!
Finally, a simple Bordeaux.
La Fleur de Bouard 2009, Lalande-de-Pomerol
This Chateau belongs to the de Bouard family, its 17-hectare vineyard planted with 75 per cent Merlot and 25 per cent Cabernet Franc. The first vintage was 1998, a very good vintage for Merlot!
A black-red colour, impenetrable. Great and lovely freshness in the rich aroma, which was filled with the scents of very ripe red and black berries. A dense soft palate of very ripe fruit followed, great concentration, very lush, filled the mouth, result was a very lovely mouth-feel.
What was striking was that, notwithstanding the richness and concentration, it was such a nice drink that you instinctively reached for another mouthful even before the first one had gone down!
This is a very enjoyable wine. It has enough freshness and complexity to balance its denseness and richness; the result is that it does not tire the palate. It is almost like drinking very concentrated, very ripe grape juice, so easily does it go down. Except that this contains alcohol - 14 per cent!
All the above put together, with its very affordable price, about 20 euros en primeur, make this a very useful stand-by, a wine for all occasions. It will comfortably take spicy foods in its stride. Above all, it is a very nice drink.
La Fleur de Bouard also produces a tete de cuvee, Le Plus de la Fleur de Bouard, from the fruit of old vines planted on gravel. The first vintage was in 2000, with 4,000 bottles produced.
This wine is more elegant, with more complexity and pedigree. Also more expensive. Fleur de Bouard is just under 20 euros en primeur; Plus de la Fleur is three to four times that price!
As they say: "You pays your money and you takes your choice!"
This article was first published on March 20, 2015. Get The Business Times for more stories.