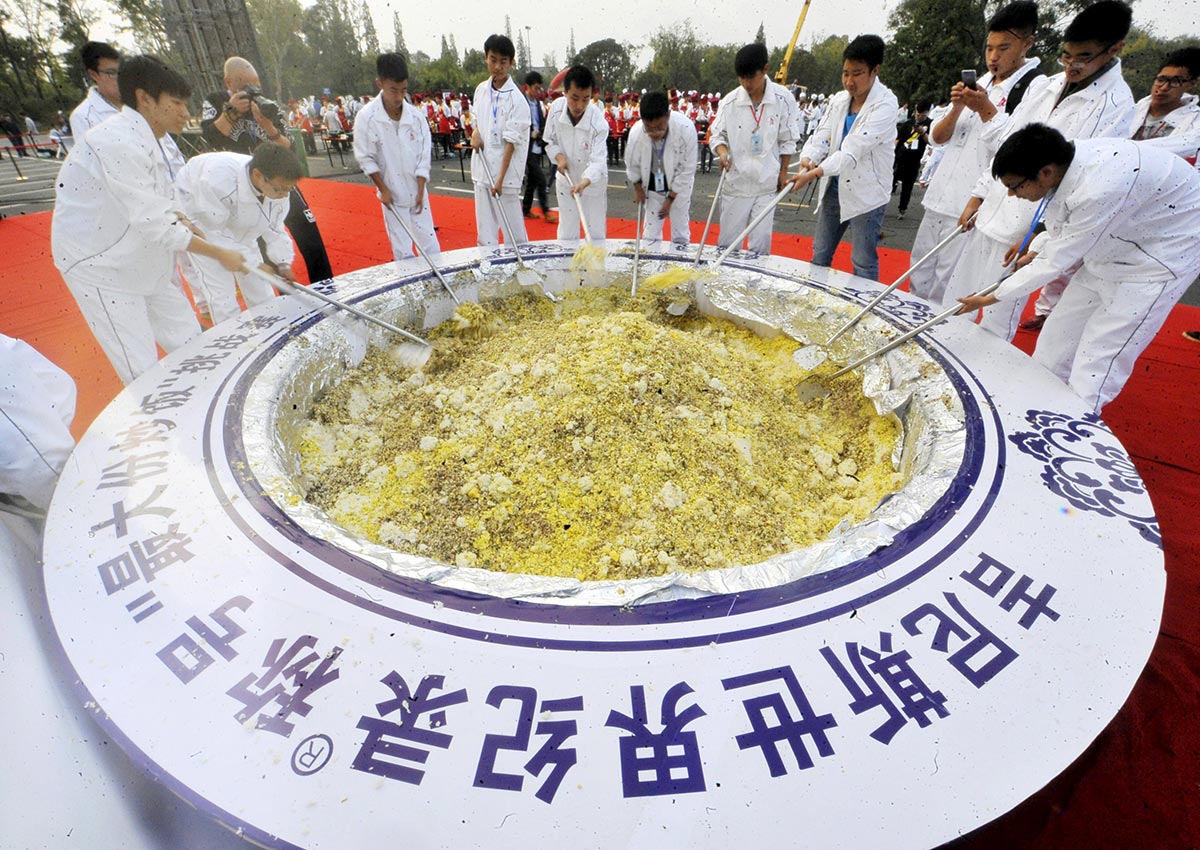 The recognition given by Guinness World Records to Yangzhou in East China's Jiangsu province last week for the world's largest serving of fried rice has been revoked.
In an announcement on Monday on its micro blog, Guinness World Records Ltd said the revocation was due to food wastage after the organiser failed to properly dispose of the fried rice as promised.
Sharon Yang, marketing director for Guinness in China, said, "We held back on publicising the results because we had been reviewing the information submitted by the organiser."
According to Guinness' website, the largest serving of fried rice on record weighed 3,150 kilograms and was achieved by the Turkey Culinary Federation in Bolu, Turkey, on Sept 27, 2014. As of press time, that record had not been replaced by Yangzhou's fried rice feat.
"Guinness received a statement from the organizer to show that the food of more than 4 tonness had been distributed to five recipients. However, the organiser disposed of 150 kilograms of fried rice improperly and violated the rule that food must be consumed by people and cannot be wasted in any food-related record events. Therefore, the company has notified the organiser of the revocation," Guinness World Records said on its microblog.
Yangzhou, which is observing its 2,500th anniversary this year, is famous for its fried rice flavored with eggs, sea cucumber and other ingredients. As part of the celebrations, Yangzhou tried to break the world record of the largest fried rice serving, an event hosted by the World Association of Chinese Cuisine in which about 300 people cooked more than 4 metric tonness of fried rice on Thursday.
Cheng Dong, a Guinness certification officer, presented a certificate to the organiser on the site on behalf of Guinness headquarters after he checked the fried rice with a final total weight of 4,192 kilograms.
The food originally was intended to be given to factory employees and students of four schools. However, some rice was not considered edible after four hours in the cooker. Then the organiser gave 150 kg of the rice to a pig breeding farm nearby, which violated the rules of Guinness World Records. The organiser admitted the negligence and called for continued support for Chinese cuisine.