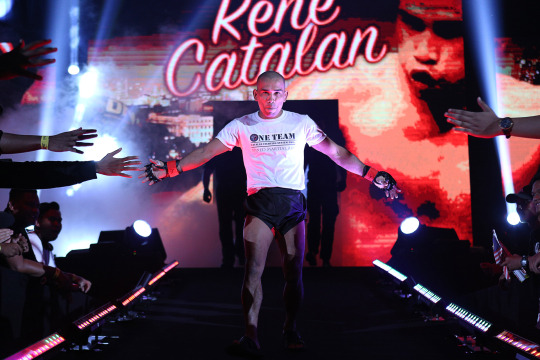 After securing his first professional win just four months ago, Rene "The Challenger" Catalan has regained his swagger, and plans to build momentum when he steps into enemy territory in two weeks' time.
The Manila, Philippines-based Wushu World Champion will return to the cage on Saturday Night, 14 January. He battles ONE Strawweight Indonesian Tournament Champion Adrian "Papua Badboy" Matheis at ONE: QUEST FOR POWER, live from Indonesia's Jakarta Convention Center.
"My confidence level is great, and I am so excited about this fight," the 38-year-old says. "I think that between both of our skills, we will definitely put on an exciting and explosive fight for the audience and viewers."
For a certain period in his career though, his confidence was shaken. Catalan experienced massive amounts of success in wushu, as he has won gold medals at the Asian Games, the SEA Games, and the World Wushu Championships. 
Despite his accomplishments, the Filipino had a difficult start to his MMA career. He lost two of his first three bouts, and the other was ruled a no contest. Something needed to change, and quick.
Things changed when he fought Zhang You Liang at ONE: UNBREAKABLE WARRIORS last September. Catalan controlled the fight from start to finish to capture his first victory via unanimous decision. Getting the win lit a fire within him.
"After beating Zhang and earning my first professional MMA victory, I felt even hungrier, and I want to continue winning," he explains. "I did not want to waste any time and I was eager to get back in the cage right away. I waited a few days, and then went back to training with my brothers and teammates to prepare for my next fight."
Martial arts has always been a cornerstone in Catalan's family. Growing up in the Filipino municipality of Santa Barbara, Iloilo, Catalan and his seven brothers and four sisters lived in poverty. Though his mother and father worked non-stop to take care of their children, they also introduced them to combat sports at an early age.
"My parents hustled like crazy to provide our family with what we needed," he recalls. "I began training in boxing when I was seven and my father was a practitioner of Arnis. He inspired me to begin training."
Like other kids growing up in his village, Catalan attended school and played sports to stay out of trouble. He boxed for Santa Barbara National Comprehensive High School, and after graduating in 1997, boxed in college for the Western Institute of Technology.
He attempted to get his Bachelor of Science in Marine Engineering, but ultimately fell short. It was then that he was introduced to wushu, which would change his life.
"Unfortunately I was unable to finish my college studies," Catalan states. "I could not find a good job, but I was presented an opportunity to begin training in wushu sanda. I was able to make a living and support my family's needs.
"My first coach was Yu Shi Bu, who is a famous wushu sanda practitioner and fighter in China. In 2002, I was recruited and started training for the Philippines' Wushu National Team. My former sparring partners included Eric Kelly and current ONE Lightweight World Champion Edward Folayang. They were also my teammates."
It did not take very long for Catalan to begin winning. He was dedicated and willing to put the work in to become successful. Despite all of the effort, talented training partners, and a great coach, Catalan never thought he would be anything special, let alone win multiple gold medals.
"I trained extremely hard under Coach Bu, and after a year, I captured my first gold medal at the 2003 World Wushu Championship," he says. "I was able to win several more titles in 2004, 2005, and 2006. I never realized or thought I was capable of the success I achieved. I strictly followed my coach's instructions and did whatever he told me."
Although it took a little longer, "The Challenger" also followed Kelly and Folayang into the mixed martial arts world. With the sport's growing popularity in Southeast Asia and already having a strong background in wushu sanda, it was the next logical step.
The Filipino made his highly anticipated debut against BJJ World Champion Alex Silva in April 2013 at ONE: KINGS AND CHAMPIONS, and though he lost via submission in the first round, the experience made him better.
"I was introduced to MMA in my first fight with Alex Silva. He gave me a really good introduction, and he inspired me to keep on training to improve my MMA skills," he recalls. "I was fortunate to sign with ONE Championship as they have been great. I am grateful for the opportunity the have given my brothers and myself to compete in an awesome organization in Asia."
Catalan may have had a couple of missteps early in his still-young MMA career, but he has recreated himself as a strawweight, and with momentum on his side, he is looking to take the division by storm.
The Wushu World Champion has a formidable combatant who will be standing across from him on Saturday Night, 14 January. He faces Adrian Matheis, a 23-year-old Indonesian prospect who made quick work of both his opponents last August at ONE: TITLES & TITANS en route to the ONE Strawweight Indonesian Tournament Championship.
If Catalan gets by this champion, he has his eyes set on another, that being ONE Strawweight World Champion Yoshitaka "Nobita" Naito. While he may be a few victories away from that golden opportunity, getting that belt is the endgame.
"I am shooting for a title fight," Catalan states. "With my ultimate goal to become a World Champion in ONE Championship."