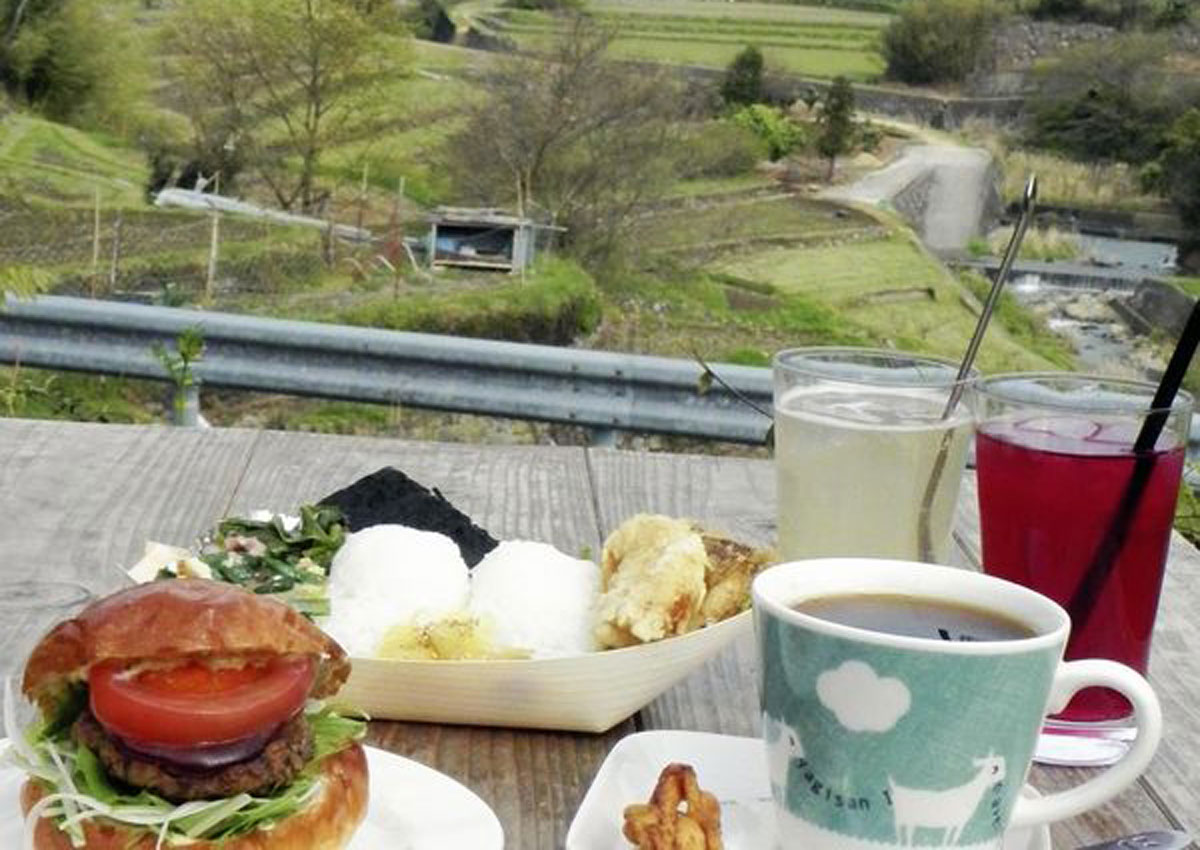 SHODOSHIMA, Kagawa - Nestled in the heart of Shodoshima island in Kagawa Prefecture, Komame Shokudo cafe is proud of its signature coffee brewed with springwater and a great view of 758 terraced paddies.
One of those fields is Nakayama Senmaida, which is located on a slope stretching 150 to 250 meters above sea level. It was named one of the "100 Outstanding Terraced Paddies in Japan" by the Agriculture, Forestry and Fisheries Ministry.
"It's nice to see that the cafe has become a place where tourists mingle with the locals," said Ritsuko Tachibana of Dream Island, the nonprofit organisation that operates the restaurant.
The cafe is housed in a renovated, 80-year-old rice mill equipped with rice-polishing and ice-shaving machines that date back to the Showa era (1926-89).
Komame Shokudo first opened for a limited time from July to October 2010 during the Setouchi Triennale art festival, in which artists from around the world installed artworks throughout the islands of the Seto Inland Sea.
The festival's organizers asked Dream Island, which plans sightseeing tours of Shodoshima, to open an eatery where people could take a break and get refreshments during the event.
The secret ingredient in the cafe's food and drinks is Yubune no Mizu, springwater that flows from a mountain with terraced paddies. The water is touted as one of the Environment Ministry's "100 Exquisite and Well-Conserved Bodies of Water."
During the event, Komame Shokudo used the water to brew its coffee. The cafe's rice balls were also made using the springwater, as well as rice from local paddies.
With the support of local residents who contributed vegetables from their fields to the cafe, it attracted as many as 300 customers a day.
In November 2010, after the end of the festival, the cafe closed. The town was once again enveloped in silence.
However, an idea to reinvigorate the depopulated town prompted the shop's reopening in April 2011.
The new menu includes a special blended coffee (500 yen / S$5.50) made with dark roasted beans from a coffee specialist in Tokushima Prefecture.
At Komame Shokudo, the beans are not ground until a customer places an order. As part of the cafe's slow brew method, the boiling water is poured into a metal container to cool it down. The result is a light, yet rich-tasting coffee.
In addition to its popular rice ball sets (from 320 yen), the restaurant serves several other dishes. An olive beef hamburger (420 yen) uses tender, low-fat meat. The wagyu Japanese beef comes from cattle that are fed leftover pulp from pressed olives.
The cafe also emphasizes using local specialties of the island, such as kinkan (kumquat), shiso leaves and lemon juice.
Komame Shokudo
Open: 11 a.m. to 5 p.m.
Closed: Tuesdays
Address: 1512-2 Nakayama Shodoshima, Kagawa Prefecture
Tel: (0879) 75-0806
English menu available