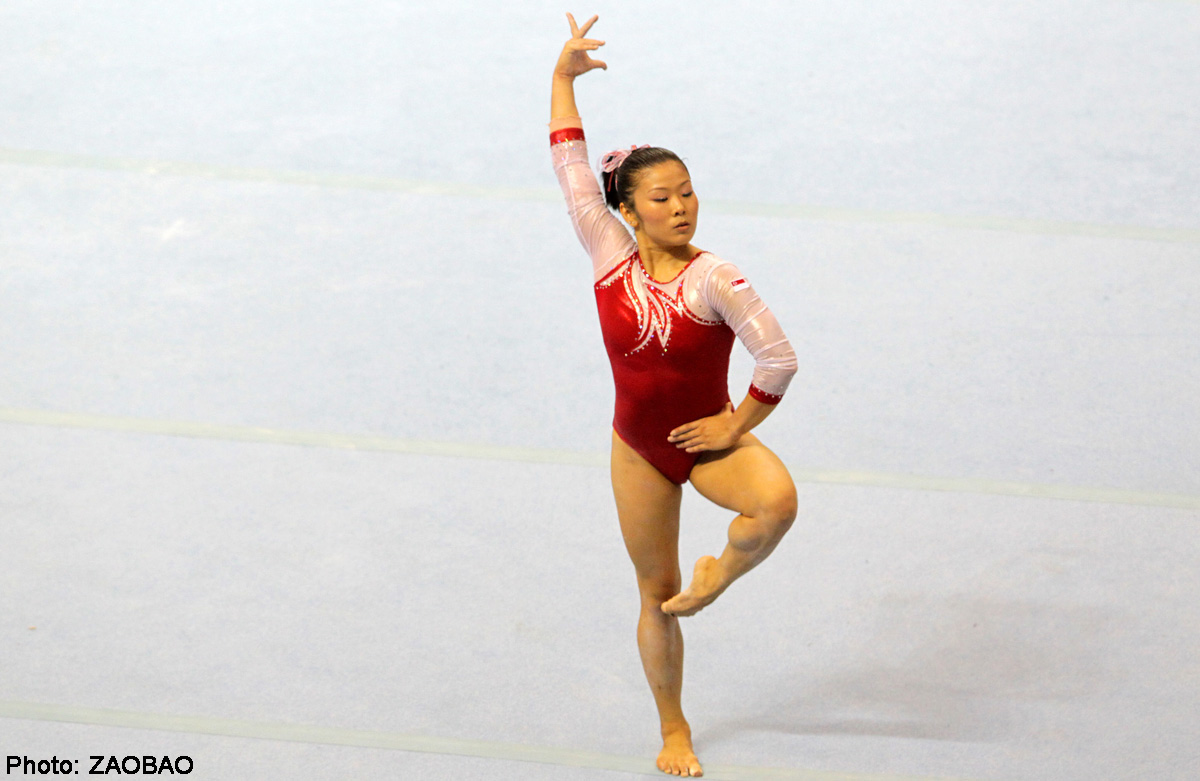 Singapore's Lim Heem Wei, barefoot, hurtles down the runway of the gymnastic vault. This is a few years ago and she is practising a routine called the Yurchenko.
At the end of her sprint, she must first do a hurdle - a sort of hop - to gather speed and power required to execute her move. It is followed by a round-off (a cousin of the cartwheel) wherein she twists and lands backwards on the springboard from where she will arch and explode into her vault.
But Heem Wei can't do it, she brakes like an over-speeding car at the edge of the springboard, crashes into the vault, hurts her arm. Like a striker pulling out of a tackle, she's possibly lost her nerve for a second. It's human. What is inhuman almost is that Heem Wei goes on. Digests fear. Finds composure. Starts again.
"You can't lose focus (in gymnastics) because it has very serious consequences," she says. To slip, to err slightly, is damaging. Canada's Taylor Lindsay-Noel broke her neck attempting a dismount from the uneven bars.
World champion Elena Mukhina lived as a quadriplegic because of a training accident. Says Heem Wei: "When I was younger and the difficulty of my moves was increasing, I had sleepless nights. Now I am more aware of the dangers. But if you want to remain in the sport you have to cope."
Beneath the elegance of gymnastics, lingers risk. Behind the effortless skill of cricket, rests danger. Sport is inherently deceitful. What we see is never the entire truth. Even in the most gentle arenas, athletes fight and conquer the invisible tendrils of fear.
It requires guts. Heem Wei has it. So did a young cricketer, only 25, whose death yesterday morning has shaken sport. Phil Hughes, the Australian batsman, fatally struck by a ball on Tuesday, is our latest reminder of the perils confronting athletes. And of how they meet them every day with a courage that is quietly concealed.
Some athletes appear obviously brave. The boxer, his life pledged to trafficking in pain, often uses conceit to hide fear. As Chuck Wepner once said: "If I survived the Marines, I can survive Ali." Racing, in every form, is a pushing of the human envelope till it tears. In October, three jockeys died in a single week and Julies Bianchi crashed his F1 car and now fights to live. It is tragic and yet it is their chosen life.
In cricket, courage is more unspoken. But it is there. For even as bodies don't collide, the ball has forever been aimed at bodies. A leather ball, five-and-a-half ounces, flying across 22 yards sometimes at 150kmh; a ball that has extracted teeth, fractured skulls, broken jaws. Only those who haven't confronted such skill at speed will laugh at tailenders who flinch.
Courage rests in sport where we don't always acknowledge it. Everywhere you might look, fear is being confronted, worn, swallowed. Divers, those talented topplers into water from three-storeys high, are cloaked in conviction. They must attempt more complex dives, of extreme difficulty, whose failure leads to pain and often lesions on the retina.
Whether an aerial skier or surfer, the pursuit of dazzle is dangerous. High art comes at a cost. A Discovery Science programme on the ice skaters' triple axel routine reveals that they rise roughly 23 inches - almost as high as a dunking NBA player - rotate thrice but land only on the tiny "edge of one blade". Hard ice awaits the fallen in practice. Under glittering sequins lies solid backbone.
No one traps the athlete into performing. He is daring by choice, carrying grit in his kit bag. In an ancient time, hockey goalkeepers wore no mask, batsmen wore no helmets and boxers, absent of mouthguards, fought bare-knuckle till a man fell.
Now, wise to sports' perils, boxing gloves are bigger and cricketers have guards for chest, arm, abdomen. It is prudent and professional but never faultless. As an athlete once noted: "To have total safety I think is absolutely impossible to call, in any part of life." His name is Michael Schumacher.
Schumacher, like all great athletes, was a cold calculator of percentages. Skill was his protection. He managed risk with practice and chance with preparation. So did Hughes. He, helmet on, was probably not even thinking of getting hurt that day, only of pulling the ball for four which he had done so often. But there is no protection against the freakish.
In July, a ball squeezed past Craig Kieswetter's helmet grille and bloodily rearranged his nose and eye socket. Here, the ball hit Hughes on the side of the neck, compressing an artery, in an area almost impossible to protect. To watch video of his collapse is to sink within.
Tragedy visits sport more often than we think. This year, Australian rugby league player Alex McKinnon, 22, was left in a wheelchair. Reports speak of three high school footballers in the US who recently died. So did Singapore boxer Shahril Salim yesterday, only 23. Each time we are stunned, for sport, more than anything else, celebrates the vitality of life, not a threatening of it.
Now a young cricketer has gone and only the familiar words of A.E. Housman's poem, To An Athlete Dying Young, resonate:
The time you won your town the race
We chaired you through the market-place;
Man and boy stood cheering by,
And home we brought you shoulder-high.
Today, the road all runners come,
Shoulder-high we bring you home,
And set you at your threshold down,
Townsman of a stiller town.
Always sport will have its dangers. Athletes accept them, for it is who they are. Today another bouncer will be bowled somewhere in cricket and cyclists will dash down slick slopes on thin tyres. We cannot stop them or, alas, sometimes save them. But we can at least respect the bravery and acknowledge the gallantry of those like Hughes who strive in arenas for our pleasure.
rohitb@sph.com.sg

This article was first published on Nov 28, 2014.
Get a copy of The Straits Times or go to straitstimes.com for more stories.