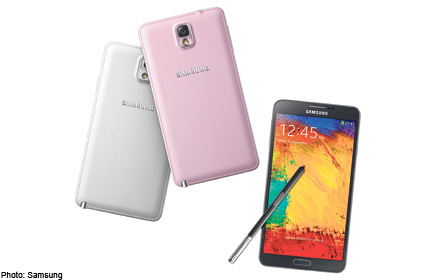 The Samsung Galaxy Note series of phone and tablet hybrids, otherwise known as a phablet, has grown from strength to strength, with competitors such as Huawei, LG and Sony coming up with their own versions of the giant smartphone.
But the edge this South Korean tech giant has over its rivals is the S Pen stylus, which enables quicker access to multitasking options.
With the Note 3, the use of the S Pen now brings up Air Command, a pop-up menu that appears on screen no matter what app is running. The menu has five quick-access options, allowing users to take notes, create a scrapbook, search, write on the screen and open up other applications within a window.
The new multi-window feature also allows users to open two applications at the same time, and it works faster and smoother than the version found on the Galaxy Note 10.1 tablet from last year.
A user can now open two messaging windows and chat simultaneously with two parties without having to switch between windows, and work between two apps. For example, I could open the phone's photo gallery and, with a swipe of a finger, drag and drop a photo directly into an open e-mail window.
The phablet uses the latest Qualcomm Snapdragon 800 chipset. Its 2.3GHz quad-core processor powers a 13-megapixel camera and a 5.7-inch full high-definition Super Amoled (1,920 x 1,080) screen.
It uses the latest Android 4.3 Jelly Bean operating system and heavy users will be happy to note that instead of a mere 16GB, the Note 3 starts with 32GB of internal storage memory and has an expandable microSD slot for additional storage of up to 64GB.

Get a copy of Digital Life, The Straits Times or go to straitstimes.com for more stories.