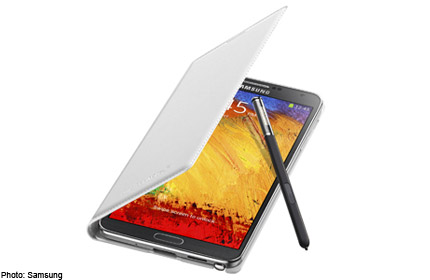 Trust Samsung to come up with something bigger, faster and better, yet also smaller, lighter and thinner.
While other companies have jumped on the phablet bandwagon, merging smartphone with a tablet form factor, the Korean giant has continually led the pack with its Note series and the latest Galaxy Note 3 is a wonder.
It beats the current 5.5-inch Note II with a 5.7-inch screen, yet it comes in a slightly smaller form factor. With the removal of the rear bulge and curved body, the Note 3 now shares more design aesthetics with its Galaxy S4 cousin, giving it a sleeker and more streamlined look.
The bezel has also shrunk, so the screen takes up a lot more of the real estate. The lone physical Home button is still sited at the bottom of the screen, flanked by the Back and Menu touchscreen buttons.
Overall, it is now easier to hold this large device in one hand and keep it balanced. This is essential as most will want to use the new S Pen stylus.
The stylus is housed neatly on the right of the phone. It has been reworked to offer users more functions, some of them similar to those of desktop computers. It is thinner than the one in the Note II. That stylus also works on the Note 3, which means all new features are implemented on the device itself.
A fan-shaped Air Command menu pops up whenever you pull out the stylus. You can do this at any time, no matter what is on the screen. Otherwise, simply hold the pen just above the screen and press the Home button and the menu will show up.
Air Command brings up five menu options, each establishing an action related to the pen.
The first, Action Memo, is the most common, as it reckons the first thing a user will want to do is to take notes. But rather than mere note-taking, the software interprets the written information and offers quick actions to act upon.
For example, you answer a call and write down a name, address and phone number. The software can recognise the new number and will let you call it right away, instead of first making you copy and paste it on the dialler.
There is also the option to save the name in the phone's Contacts, or click on the address and have it pop open in Google Maps.
The second short cut is Scrap Booker, which is my favourite. I have come across something I want to save - be it a picture, video, article or link - too many times, but doing so on a smartphone means opening multiple apps to do a simple task, unlike on a desktop computer, where a click of a mouse button can do the job.
Now, all I need to do is draw a circle around anything on the screen and it is saved to the virtual scrapbook on the Note 3. So, instead of taking a photo of everything, I simply activate Scrap Booker on my camera and circle the object I want to remember. This also works for videos on websites and portions of e-mail messages or articles that I find.
Screen Write is good for taking a screenshot and allowing users to write on the image before forwarding it or saving it. Think of it as the ability to highlight items by writing, instead of typing furiously on screen to point to a mistake on a portion of a document.
S Finder is more of a universal search, allowing users to sift through tags, notes, documents and files on the device, from one location.
The last of the five Air Command features is Pen Window, which allows you to open a smaller window on screen, for the multi-window experience. But instead of dragging the edges of the window to determine its size, you can now do so by drawing it.
Say you are reading an e-mail message and need to do some calculation. Simply draw a small 2cm by 2cm box on screen for the calculator app to appear on. Otherwise, make a window that takes up half the screen for watching videos on YouTube, while the main window displays a Hangouts chat window.
Some features, such as Screen Write, are also on the Note II, but have been refined to make them more accessible on the Note 3. The multi-window tray has also been improved. Rather than a mere listing of oft-used apps accessible from one location, it now lets you create your own short cuts.
If you send a lot of photos via WhatsApp, you can now create a short cut where WhatsApp and the Gallery will appear on a split screen, allowing you to simply drag photos to an open conversation, instead of having to make multiple taps to attach a photo. If you chat as much as I do, you can even open two WhatsApp or Hangout windows, to conduct multiple chats on screen.
There are plenty of other multitasking tools here, with or without the use of the S Pen, but suffice to say, the Note 3 is the best combination of phone and tablet with multitasking that finally feels natural on a portable device.
As for the build, part of me would love to knock Samsung for continuing to use a plastic backing on such a premium device. Despite the change in rear design that gives it a leather-bound look and feel, the case is undeniably plastic.
But given that Apple has also gone the plastic route with its latest iPhone 5c, I guess it does not bother other users as much as it bothers me.
One thing I did appreciate was that Samsung added an amazing 13-megapixel camera to this device. While gimmicky features such as Eraser and Drama, which were introduced on the
Galaxy S4, are unnecessary, the camera exceeds expectations with sharp and vibrant rear lenses that take great photos, but not in low-light conditions.
Instead of a 16GB base set, the Note 3 has 32GB of memory and a microSD slot for a 64GB card.
In terms of speed, the Note 3 registered a 21,190 rating on the Quadrant Standard benchmark test, which is representative of the Snapdragon processor.
In the Geekbench 3 benchmarking app, the Note 3 scored 947 (single-core) and 2,978 (multi-core). In comparison, the new Apple iPhone 5s scored 1,081 and 1,937 respectively.
Battery life was good, lasting 11/2 days with regular use of e-mail and social networking apps over a 4G network.
I wish I could try out the new Galaxy Gear smartwatch that pairs only with this phone (for now), but the watch goes on sale only next month. The options for a large-screen handheld have exploded in recent months, but if you want a device that does a lot more, the Note 3 has set a new gold standard in mobile multitasking.
TECH SPECS
Price: $1,048 without contract
Processor: 2.3GHz quad-core Qualcomm Snapdragon 800 Processor
Display: 5.7-inch full-HD Super Amoled (1,920 x 1,080 pixels)
Memory: 32GB + microSD slot (up to 64GB), 3GB RAM
Camera: (rear) 13-megapixel BSI sensor, autofocus camera with Smart Stabilization, LED flash, (front) 2-megapixel with Smart Stabilization, full-HD recording at 30 frames per second
Operating system: Android 4.3 (Jelly Bean)
Battery: 3,200mAh
RATING
Features: 5
Design: 4
Performance: 5
Value for money: 5
Battery life: 4
Overall: 5

Get a copy of Digital Life, The Straits Times or go to straitstimes.com for more stories.