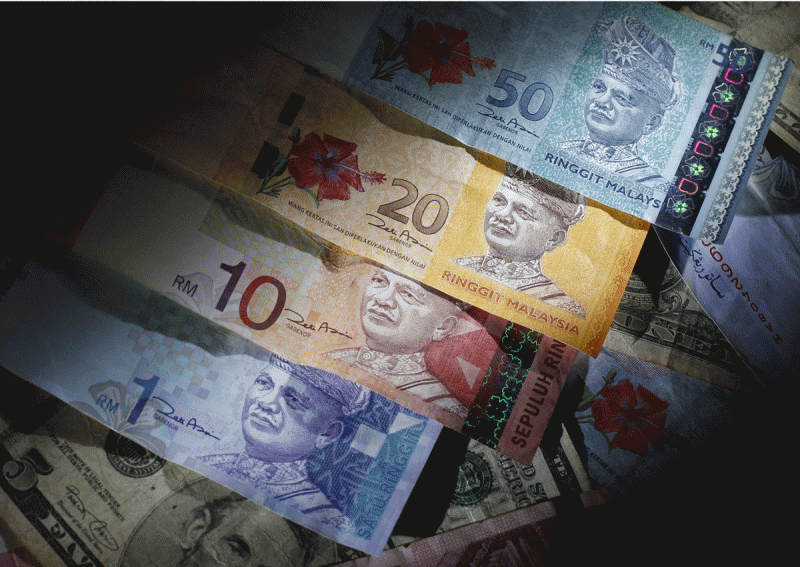 Malaysia's ringgit hit a three-week low on Wednesday, leading losses among emerging Asian currencies, as oil prices extended their slide, dashing investors' appetite for riskier assets.
Singapore's dollar, however, found support from stronger-than-expected fourth-quarter economic growth data.
Against the neighbouring Singapore dollar, the ringgit slid 1.1 per cent to 3.0156, its weakest since Jan 22.
Oil prices extended losses in Asia after top exporter Saudi Arabia ruled out production cuts and industry data showed a further build in US crude stockpiles.
That dented risky assets including Asian stocks. "Crude prices rule direction of overall risk assets," said Jeong My-young, Samsung Futures' research head in Seoul.
"Low oil prices weaken inflation expectations and have big impact on monetary policy amid sluggish global demand."
The ringgit lost 1.2 per cent to 4.2445 per dollar, its weakest since February 3, as falling crude prices underscored concerns about Malaysia's shrinking gas and oil revenues.
Most government bond prices fell with the 5-year yield up to 3.495 per cent, its highest since January 12.
The Malaysian currency came under further pressure from dollar demand linked to daily fixing. The unit is seen weakening to 4.2610, the 50 per cent Fibonacci retracement of its appreciation from January to February, analysts said.
SINGAPORE DOLLAR
The Singapore dollar started the day weaker but turned firmer after data showed the economy grew an annualised 6.2 per cent in the October-December quarter.
That was stronger than the government's initial estimate of 5.7 per cent and a forecast of a 4.0 per cent in a Reuters poll.
That caused investors to cut bearish bets, which they had increased after Singapore on Tuesday after the city-state lowered its headline inflation forecast for this year after a collapse in global oil prices.
Still, economist saw risks of further stimulus, limiting gains in the Singapore dollar.