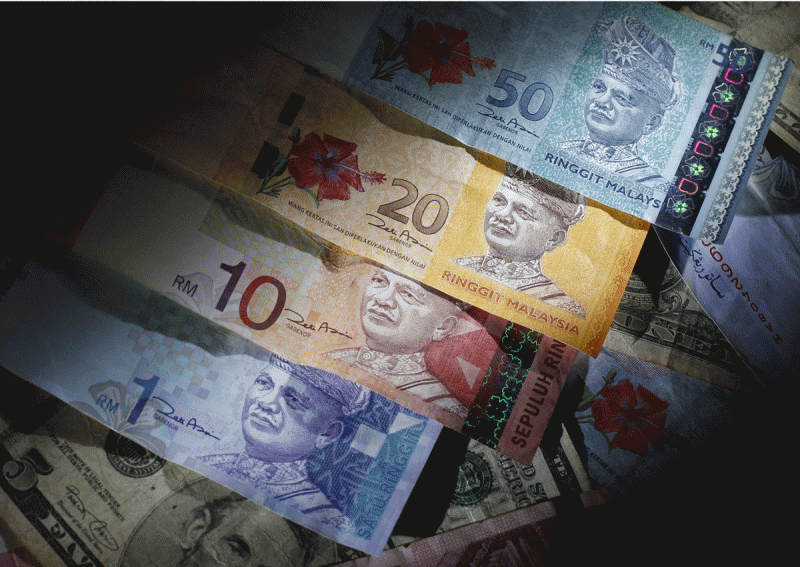 PETALING JAYA - The ringgit is on a roll, rising faster than its regional peers against the US dollar, as higher price of crude oil brightens Malaysia's economic prospects.
The returning tide of foreign money into the local bonds and equity markets after a huge sell-off last year would help keep the momentum going for the ringgit, said analysts.
"Market environment have turned friendly towards emerging markets over the last couple of weeks," said AmBank Group foreign exchange strategist Wong Chee Seng.
"Recent dovish central banks' policy stance will work positively for the ringgit through the improvement in risk sentiment and appetite," he added.
A survey by Reuters last week revealed that bullish bets on the ringgit by global fund managers and currency traders had hit their highest level since August 2014 as expectation of aggressive increases in US interest rates receded.
While the market has now assumed that the US Federal Reserve is in no hurry to tighten its monetary policy, the European Central Bank (ECB) last Thursday unveiled its latest round of easing package by lowering rates further and expanding its asset-buying programme.
The ultra-loose monetary policy has prompted global investors to exit safe-haven investment in search of higher returns in emerging markets.
A Bloomberg index tracking the US currency against 10 major peers hit an eight-month low last Friday, two days after Fd officials unexpectedly cut projections for interest-rate increases to two this year from the four they estimated in December.
Macquarie Bank Ltd and Morgan Stanley, two of the world's top 10 currency forecasters, are highlighting the risk of more dollar weakness.
The ringgit settled at 4.05 against the US dollar last Friday - its highest level since August last year.
This made the ringgit the best performing currency in Asia so far this year behind the Japanese yen.
The ringgit's exchange rate had appreciated 5.6 per cent against the greenback, strengthened 2 per cent against the euro and was 7.2 per cent higher against the British pound.
The local currency is also stronger against its neighbouring peers such as the Singapore dollar, rupiah and baht by between 0.8 per cent and 2 per cent year-to-date.
While sentiment has turned somewhat bearish against the US dollar, some analysts believed this to be a temporary adjustment in the market.
Schroders Multi-Aseet Investment team, maintained its positive view on the greenback, primarily against Asian and other so-called commodity currencies.
The firm pointed out that a weaker US dollar required an appreciation in other major currencies and it saw "little ability or willingness" for this to take place.
"We believe appreciation in either the yen or euro would slow these economies quickly, while both the Bank of Japan (BoJ) and ECB appear unwilling to allow meaningful strength in their currencies because of this," it said.
BoJ surprised the market by embracing negative interest rates in January, more than 18 months after the ECB became the first major institution of its kind to venture below zero.
But Malaysia's appeal to global investors is also linked to the price of crude oil.
At US$41.20 a barrel last Friday, the price of Brent crude futures, the benchmark for the product in Asia, had risen 51 per cent from its low point of US$27 a barrel in February.
"On the macro front, we believe that there may be room for some upside surprises if the oil price stays firm at current levels," AmInvestment Bank said in a strategy report dated March 18.
Latest data from Bursa Malaysia showed that foreign ownership ratio had increased from 22 per cent in January to 23 per cent in February 2016.
The net inflow of funds from overseas into the stock market amounted to about RM1.6bil as of middle of March, as the FTSE Bursa Malaysia KL Composite Index climbed above the 1,700 points level for the first time this year.
In the bond market, foreign ownership has risen from a low of 45.6 per cent in September 2015 to 47.9 per cent in January 2016.