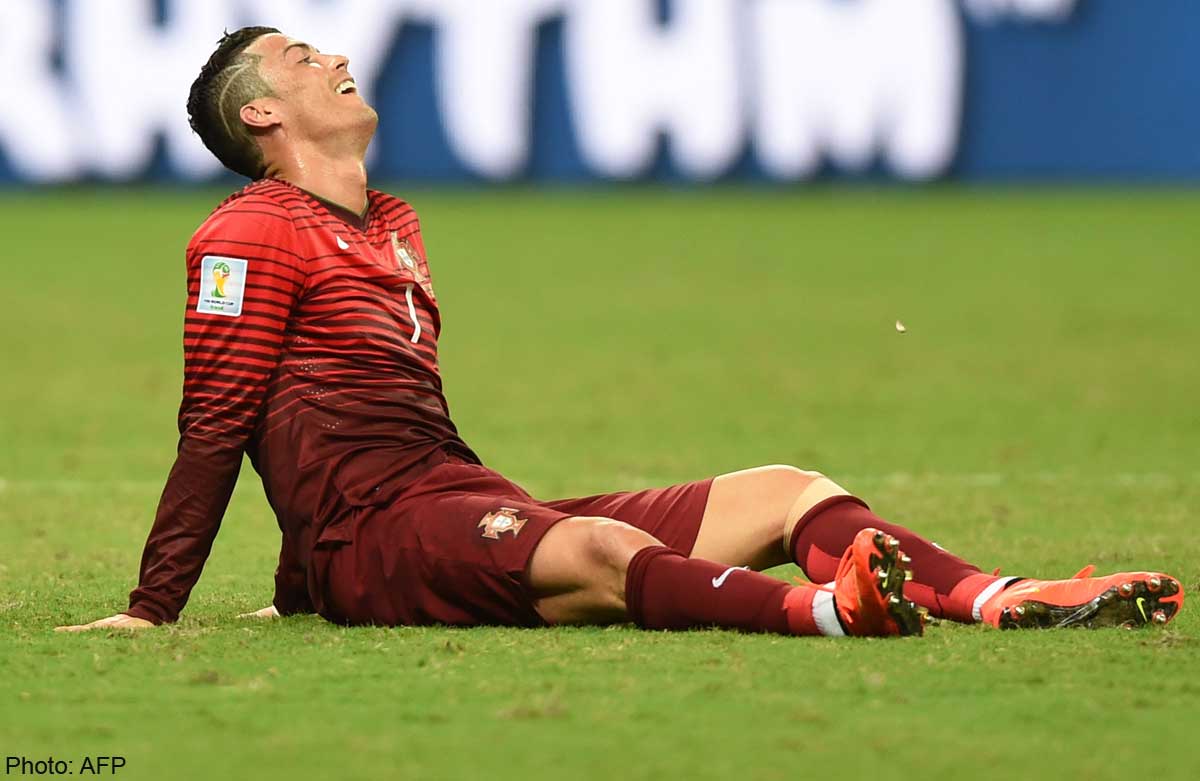 Call him an arrogant ass.
Call him a petulant peacock.
Call him anything you want.
But Ronaldo, injured or not, is not going anywhere. Not yet.
Just when Juergen Klinsmann and his American cavalry thought they had their passage to the Round of 16 booked, in the final minute of injury time, Ronaldo decided otherwise.
In the most dramatic way possible, he kept Portugal in the World Cup, sending over a cross that Silvestre Varela found tough to place anywhere else than the back of the net.
Just as Messi had saved Argentina from the humiliation of a draw with Iran, Ronaldo spared his Portugal the blushes of exiting the tournament after just two matches with their tails between their legs.
One exceptional man in a very average team, a fact that Ronaldo himself had to admit after the match.
"Maybe we're an average team," he said. "It would be a lie to say that we are a 'top' team.
"We have many limitations and suffer from injuries such as with Pepe (who was suspended) and (Fabio) Coentrao. This limits us a lot.
"We have a very limited team and we are not at the best level. This does not enable you to beat top teams.
"There are no miracles. We knew we would have a tough group, with perhaps teams better than us.
"I never thought we could be world champions, we have to be humble and know our level. I'm not a hypocrite, I never thought we could win the tournament."
That is a rare admission from a man used to winning things.
But perhaps Ronaldo is looking around the dressing room and realising that he is not surrounded by his Real Madrid teammates.
There is no Angel di Maria bursting down the wings, no Karim Benzema to pass to, no Luka Modric to split the defence and definitely, no Gareth Bale to share the goalscoring workload.
What he has, instead, is an inconsistent Luis Nani, and underperforming Joao Moutinho and the non-existent Helder Postiga to work with.
Getting out of Group G would be an accomplishment, forget about winning the World Cup.
And despite all the bravado and statements to the contrary, it is abundantly clear that Ronaldo is not fully fit.
He still tried those stepovers and the pace still looked impressive, but the World Footballer of the Year is definitely not his usual self.
Like all high-performance machines, when just one piston is out of whack, Ronaldo struggles to impose the power game that leaves defenders helplessly trailing in his wake.
Perhaps the three days of rest he will have before the crunch game against Ghana will help the healing process.
For Ronaldo is the only chance Portugal have of overcoming the Africans in that crucial group match.
I'm sure manager Paolo Bento will be wrapping his superstar in cotton wool in preparation for that key encounter.
And before you decide that Portugal are going nowhere in this competition, remember, that was what the Americans thought with a minute of injury time to play yesterday morning.
Never write Ronaldo off.
He's too good for that.
muralis@sph.com.sg

This article was first published on June 24, 2014.
Get The New Paper for more stories.