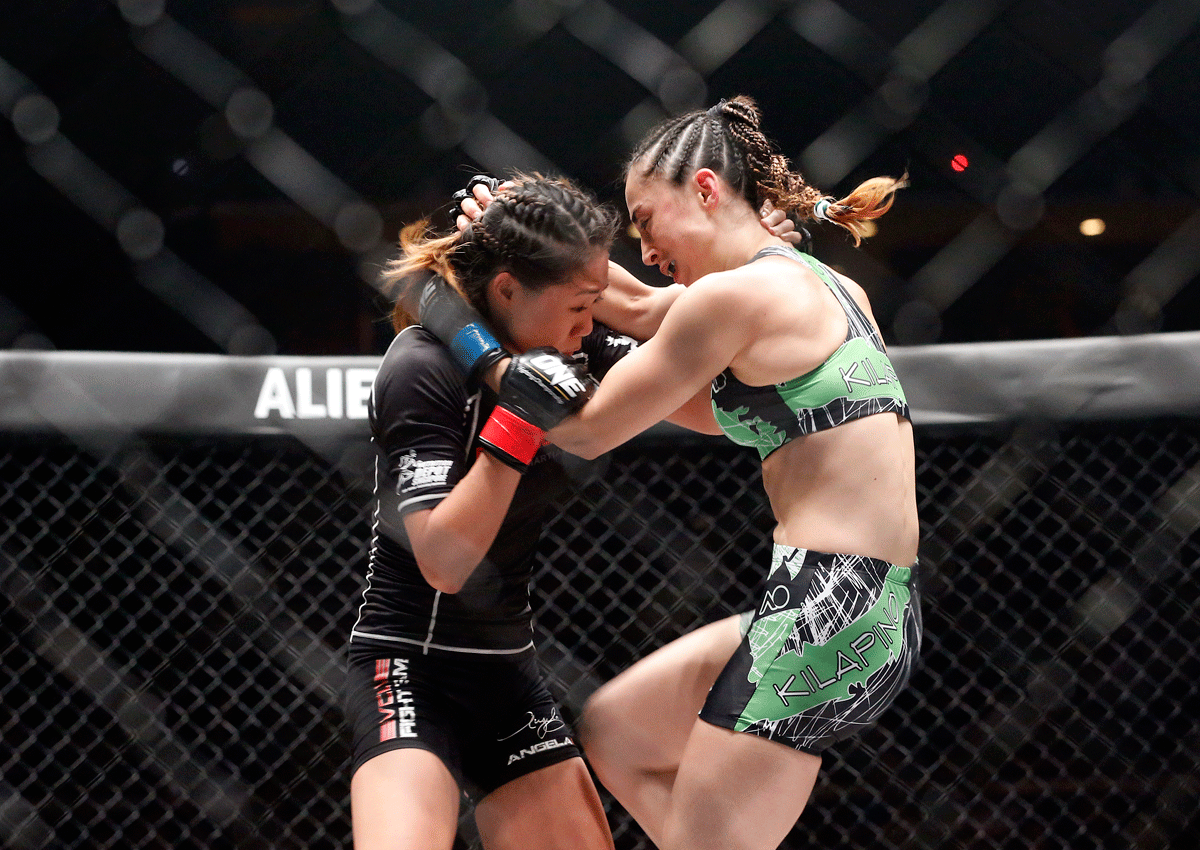 She may have only made her professional Mixed Martial Arts (MMA) debut in May last year, but Singapore-based fighter Angela Lee is already making waves in the international arena by getting nominated for the sport's highest honour.
With an unblemished professional record standing at 4-0, the 19-year-old has already won last week in two categories at the 2015 Asian MMA Awards - Submission of the Year, as well as Female Fighter of the Year.
To ice the cake, she is also up for the prestigious World MMA Awards for Female Fighter of the Year. She will be up against heavyweights like Ronda Rousey and Holly Holm, alongside other champions like Tonya Evinger and Joanna Jedrzejczyk.
Lee was born in Vancouver and raised in Hawaii. Her father, Ken, was born in Singapore and she is based in the Republic with the Evolve Fight Team.
Said the 19-year old: "I am so happy to have won these awards. My fight style has always been very exciting to watch... and when I found out I was the winner for both categories, I was ecstatic and extremely grateful for all the fans that voted."
"It's really amazing to see myself among such prestige fighters... and to be going up against these girls who have already earned their world titles, when this is only my first year is pretty amazing." "I'm extremely proud of myself for where I'm at and what I have yet to accomplish", Lee added.
Heath Sims, Lee's coach and Evolve's head coach, also said the awards and nomination were well deserved but had low expectations when it came to winning at the World MMA Awards.
"I believe she has undoubtedly earned the awards with her outstanding performances last year, along with a spectacular submission finish (against Natalie Gonzalez Hills at ONE: Pride of Lions)," he said.
"Her performances speak for itself. But I think it's a little too early in her career to win this year (at the World MMA Awards) but I expect her to win this award multiple times in the near future."
The youngster is definitely working towards being crowned the best female fighter, but she also has a bigger ambition in mind, and that is to become the youngest world champion. That record is held by American Jon Jones, who won the Ultimate Fighting Championship (UFC) light heavyweight belt in 2011 when he was 23 years and eight months.
In order to fulfil that dream, Lee has floored the pedal even though she has no fights planned this year, training up to five times a week, for four hours per session, while currently on a break in Hawaii till February.
"I never let up because there is no perfect fighter. Even the most experienced fighters still have room for improvement," said Lee. "I go pretty hard on myself and I criticise myself pretty harshly. I am always trying to improve every aspect of my fight from ground work to my game plan.
"I want to be the youngest MMA world champion and the first Asian female MMA world champion."
It may be a lofty aim for the 1.63m strawweight but she is willing to do whatever it takes and fight anyone to reach the summit.
The fighter, who is nicknamed "Unstoppable Lee", said: "It doesn't matter if I fight an experienced fighter with a huge record, I don't care, because at the end of the day, they are just another person I have to get over to become the world champion."
Apart from winning title belts, Lee also hopes to be a pioneer to inspire the next generation of women to take up this brutal sport, saying: "It's crazy how much MMA and the growth of women's fighting has skyrocketed in Asia and around the world, and I can only hope to be a part of that and influence and impact the world in a positive manner."
With her career set to rise, the question remains whether Lee will move from ONE Championship to the more lucrative UFC any time soon, but Lee reassured: "I don't see UFC in my future."
"I love fighting with ONE Championship and I love fighting in Asia. Asia is where my roots are, it is who I am and it is a part of me so I'm sticking to ONE."
vankang@sph.com.sg

This article was first published on January 13, 2016.
Get a copy of The Straits Times or go to straitstimes.com for more stories.